Creating Your Logo and Theme Design
Designing a Logo
Coming up with a logo you're happy with can be very time consuming if you don't already have an idea in mind for the design. I spent days paying attention to various logos I came across and tried to figure out why certain ones stood out to me more than others. I knew I wanted my logo to convey my brand well, but wasn't exactly sure what it would look like… I just knew I was drawn to logos (in general) that were simple and clean.
Colors
What colors match my style?
I have always liked (or loved) the color black. Jadyn told me one day when we were shopping, "Mom, I know your favorite color is black because that's all you buy." lol! At least I have a favorite color, if that even counts. Vibrant colors are just not something you will not see me in very often, so it didn't make sense for my logo to be bright.
Choose colors that best represents who you are and what your blog is about. Really try to keep the colors to a minimum (don't try to fit 10 colors into one design).
Action: Write down your top 3 colors.
Font
Picking the color was easy for me, I knew I wanted black and white from the beginning. Choosing the font is really what I got stuck on for a bit. I wanted the text to be bold, simple and chic, and didn't want an image incorporated with the text. Again, keep in mind I was going for clean and simple.
Action: Pick 3 logo designs that best represents the style you're looking for.
Outsource Your Logo Design
Most items with my blog I can do myself, but right from the start I knew designing a logo was one area I needed help with… I'm not a graphic designer. A logo is a very important piece to branding your blog and if graphic design is not your expertise or you are struggling with what to create, then outsource.
I decided to use 48HoursLogo. It was a pretty neat and simple process as I've never done anything like this before. Basically you post a contest (your logo job) and designers will submit their design concepts based on the criteria you provide.
You can start a logo contest for $29 (I was thinking I was going to get a professional logo for that amount, ya right) the minimum contest prize for the logo designer is $99.
I set my price at $110, just to make myself stand out among the other contests posted (More designers = more logo concepts to choose from). I also added the "Featured Contest" option for $19 to attract more designers.
Start Contest – $29
Contest Prize – $110
Featured Contest – $19 (optional but recommended)
In total, I spent $158 for my logo. I had concepts submitted to me within 2 hours of putting up my contest, which was exciting to see what type of submissions I received. Also seeing my blog name in a variety of fonts allowed me to visualize what logo style would fit my brand best. I set the contest duration to 2 days (48 hours), but you are able to set it to a maximum of 7 days for an additional cost.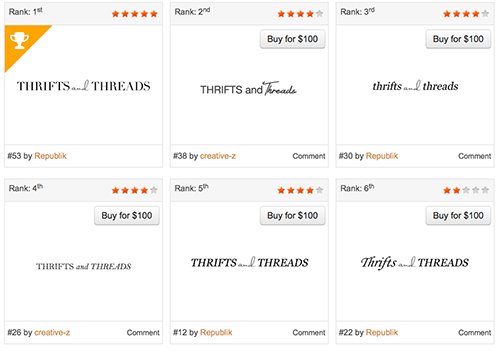 Once you start receiving submissions, you rank them with 1-5 stars. There's always open communication between you and the designers if you feel like one of the designs is on the right track, but needs a few modifications.
Once you pick a winner (yay), he/she will provide a chance for any last modifications or changes necessary for your final logo. They will then provide you with all the design files and you're done!
Now if you are looking to spend less than $128 (or $158 in my case) on a logo there's another route…
Cheaper Option
Another option is Fiverr. If you haven't heard of Fiverr before, it's basically a marketplace where people offer services (gigs) for $5. Totally random sidenote: my hubs and I offered random gigs on there (i.e, proofreading a thesis sentence, converting a JPEG pic to Vector, etc.) about 5 years ago and it was actually alot of fun… basically anyone can offer quick, helpful services for $5 bucks.
But buying a logo for $5 will come with a catch.
The way these designers are able to make their money is through add-ons (pictured below). So yes, you can buy a logo for $5, but you will only receive a jpeg/png file (you'll need a vector file aka .ai or .eps). Also normal delivery time is 7-21 days for most of these gigs and only one revision to the logo. You're also confined to the ideas of one designer once you pay for the gig, rather than with 48HoursLogo you have multiple options before you pay the designer you pick.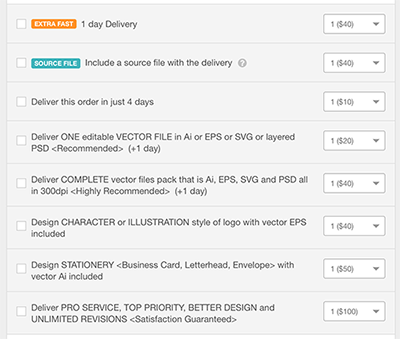 It's truly is up to you which route you would like to take, but with my experience with both, 48HoursLogo is a more efficient route.
Also don't feel like you can't make changes to your logo if you end up not liking it or have a better idea down the line. My logo has gone through many revisions until I was truly satisfied with how it came out.
Here is what my original logo looked like, from Fiverr: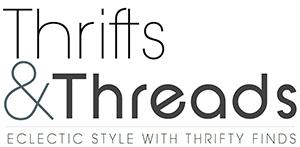 Picking Your Website Theme
When looking for a theme, there are a few questions to keep in mind:
Do I want a free or premium WordPress template?
Does it fit what I want my site to look like or does it require tons of customization?
Is my theme responsive? (mobile friendly)
Is the website structure beneficial for SEO?
Free vs. Premium
When deciding between a free or premium WordPress template, consider the benefits of paying for a theme.
Benefits of Premium over Free:
Support – Premium templates come with their own support team just in case you have any issues
Typically more options for cusomization
Updated on a regular basis
The cost won't break the bank, typically between $40-$80.
I use a premium template and it's been really great!
Top Theme Resources
ThemeForest: Such a wide range and option of WordPress templates I've seen. Depending on the template, average costs can be between $20-$80. They also offer a wide range of plugins and additional website goodies.
Elegant Themes: For the more 'artsy' and beautifully designed. Get access to over 87 themes for the price of $69*.
StudioPress: Professional clean designs with a reputable support staff. Built on the Genesis framework.
When reviewing a template that you've seen from the websites above or another site you stumbled on, make sure you can answer yes to Question 3 and 4 listed above.
For example, if you visit this theme from ThemeForest, you will notice all the features described below. It covers SEO, Responsiveness, last updated August 25, 2015, and has a great support team.
Also pay attention to the comments and reviews people are leaving, that speaks volumes on the theme quality.
Summary
When choosing a logo and theme, first and foremost, make sure it represents what you and your blog is about. The colors, font, layout, etc. not only does it need to flow together but to create a personal connection between you and your audience. If you need a refresher on uploading your theme, check out my previous post on WordPress basics.
Resources:
Logo Design
Website Theme Templates
Next week I'll be discussing how to transfer WordPress.com to WordPress.org, as I've received quite a bit of e-mails asking me about this topic- I think it would be best to go more in depth with it in a post!
Please let me know if these posts are too short or too long within the comments below. I would appreciate any feedback on the length or style of teaching!