Top 10 Instagram FAQs
I wrote a post on how to grow your Instagram following at the end of July and today I'm doing a follow-up post on frequently asked questions I've received since then.
I do want to note one thing first: While Instagram is amazing at building a social presence and style credibility, keep in mind you don't own the content on there- Instagram does. While I get asked about Instagram pretty often… my advice would be to use Instagram to build your blog readership as that's the only content you truly own if anything was to happen to Instagram. I don't believe Instagram is going anywhere anytime soon, but social media changes very quickly and you never know what is next (aka, don't place your eggs all in one basket… unless you own the basket #justsayin).
More on that later, but here are my responses to the most frequently asked questions:
1. What filters do you use?
I love VSCOcam and put this fun step-by-step guide together as to what filters I use:
2. What's your take on loop giveaways?
I participated in a loop giveaway a few months back for $1,000 Nordstrom gift card and a year supply of jeans (brand sponsored). It was a small group of girls with pretty large followings and all of our feeds were very similar. I gained about 14K followers initially and retained about maybe 4k. I lost most of them once the giveaway was done and people realized they weren't the winners. However, I did gain a solid group of followers that really wanted to find bloggers similar to ones they already followed. That being said, I possibly could've gained the same amount of followers (that aren't following me specifically in the hopes to win something) from a few solid brand features.
Typically, from talking to other girls and my own experience, a loop giveaway retention is around 10%, ultimately not worth it unless you really feel strong about the prize or partnered with a brand that is using it as advertising as well. I don't plan on doing anymore at this point. The only giveaway I plan on doing in the future is one that's in collaboration with a brand (like here for example), not a loop- but offers my readers a chance to win something I really love as well. If you haven't done a loop before, there's no harm in trying it out! But just keep in mind, you'll lose followers consistently for the following week after the giveaway ends, just don't take it personal.
3. Do you post photos mostly taken from your phone or your DSLR to post on Instagram?
All photos on my Instagram (besides blog photos) are taking with my iPhone 6. My blog post pictures are taken using a Canon 6D, so anytime I promote a blog post on my Instagram, that's the camera that was used.
4. Do you recommend posting the same blog post multiple times in a day?
Yes, I recommend promoting it at different times of the day with different shots. Try not to use one zoomed out and one zoomed in of the same picture- I think it looks too repetitive. I would also recommend a candid/non blog photo in between any promotions.
5. Do you think I should invest in a photographer if I don't have anyone to shoot my looks?
I think clear, high quality blog photos are a must to really grow and they also stand out on your Instagram apart from candid outfit shots. I think it helps if new followers can quickly spot an image quality difference between blog photos and everyday Instagram shots. Just for me personally, a healthy combo of both is what I look for when following style bloggers (for example, Happily Grey and Harper and Harley do a great job featuring both high quality and candid photos on their feed).
However, there are a few style bloggers I've noticed that are mainly just Instagram bloggers. Meaning, their blog posts consist of Instagram photos, they don't post blog posts very often, etc… the focus is mainly Instagram overall. You can decide what works best for you. In my case, I include iPhone photos on my trip recaps and blogging tips posts when my hubs isn't there to shoot the photos, but I really avoid doing that as much as I can.
Another point to keep in mind when thinking of the importance of photography are good quality blog photos are a great way to be reposted on other fashion news blogs… I don't believe your chances of getting reposted on credible fashion sites are as high if you don't have high resolution photos on your blog.
To be frank, it's going to be difficult to grow as a style blogger if you don't have anyone to take photos of you in general, whether it's daily outfit shots or blog photos. Having someone help with photos will take the headache out of creating content. My hubs helps me but when traveling alone, I've asked a stranger to take an outfit photo for my Instagram- that would be difficult to do everyday though.
If you don't have a photographer handy, the best thing would be to invest in a good point-and-shoot that takes great photos on auto… that way you can be more flexible with who shoots your blog photos.
6. How do you get featured on a brand's Instagram account?
Well, I would start out with using the brand hashtag if you're wearing any of their clothes. Again, leave your hashtags in the second comment (more about this in my previous Instagram post). One way to figure out a brand's hashtag is go to their Instagram account and read the bio for any specific hashtags they mention or check out a few of their recently posted photos… What hashtags did they use? Make sure to incorporate those. Collaborations with brands also help with features as well.
Here's a few brands I frequently wear and their hashtags:
ASOS: #asseenonme
H&M: #hmootd
Forever 21: #f21xme
Nasty Gal: #nastygalsdoitbetter
Nordstrom: #nordstrom
Urban Outfitters: #uoonyou
7. I'm wondering if you recommend to have a separate Instagram account just for your blog- different from a personal Instagram?
I actually have a personal account that I used to check from time to time, but now I don't find myself on it at all. I just ended up following my close friends on my @thriftsandthreads account to make it easier and they follow me there too so I don't feel like I'm missing out on anyone.
The reason I started my @thriftsandthreads account was because my personal account following was not looking to follow a style blog, they originally followed me because either I grew up with them or knew them from high school, etc. I thought it would be a good idea to start my own handle to track my growth from starting fresh and also have people follow me that wanted to follow a personal style blog, not annoy people who weren't even interested in style in the first place. That being said, I still post my blog posts from time to time on my personal Facebook account and usually get a huge referral spike to my site (which is interesting because people clearly still want to know what I'm up to whether or not they follow my @thriftsandthreads Instagram account) and that's one way you can incorporate some of your personal following if you prefer.
It's really just up to you but for me, it was easier to separate the two. I also recommend having your Instagram the same name as your blog or as close to it as possible- it's better for branding.
8. It's hard to stay motivated when I see people unfollowing me, did you ever face that when you were starting your Instagram?
First of all, I still get unfollowed errrryday. For example, according to my Iconosquare analytics for the last 7 days:

I gained 8,278 followers and lost 1,260, with a net of 7,018. You can't spend energy focusing on unfollowers, you can't please everyone… as long as you're gaining more than your losing- you're doing something right. If your losing more than you're gaining then maybe it's time to re-evaluate your content or the number of times you post each day. If you want additional help, review my post about how to create great Instagram content.
One thing that's really important to keep in mind: if people unfollow, they were most likely never going to read your blog in the first place #byefelicia. I'd rather have a smaller group of highly engaged followers than a larger group of those who don't ever follow call-to-actions. If growing blog readership is truly your focus, then it will be easier for you to not take it personal when you get unfollowed on Instagram.
9. How do you get your Instagram following to visit your blog?
Promote blog posts consistently throughout the week. I would save your best content for Monday-Friday when people are reading blogs the most either before work or at lunch (or at work, if they're bored). My plan is to get to 7 blog posts a week in the next few months, but right now Monday-Friday is working well for me and you'll notice Monday-Friday I promote my blog post consistently around the same times each day on Instagram.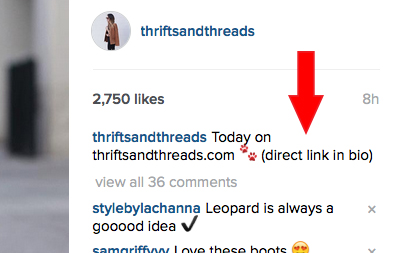 Use the verbiage "direct link in bio" in your blog photo caption, this will help convert them over to your blog because it's an easy one click.
Always use your website name in the caption when promoting a new post. I always say in my first Instagram about the new post, "new on thriftsandthreads.com" very rarely will I ever say "new on the blog" unless the caption is a bit longer than usual due to brand tags that are required- I want new followers to know I have a website and continually branding of the full name will help.
I also incorporate items in my "shop" section so readers need to visit my blog to find it easier, and you'll notice I do that when I don't have a new blog post that day to keep website traffic up. I've noticed on my Content Drilldown analytics for days when I promote my shop, the majority are landing on my shop section then visiting the other pages on my blog… so it's a great way to get your new followers to visit your website in general if they've never been on before. Here's an example of a recent one I did: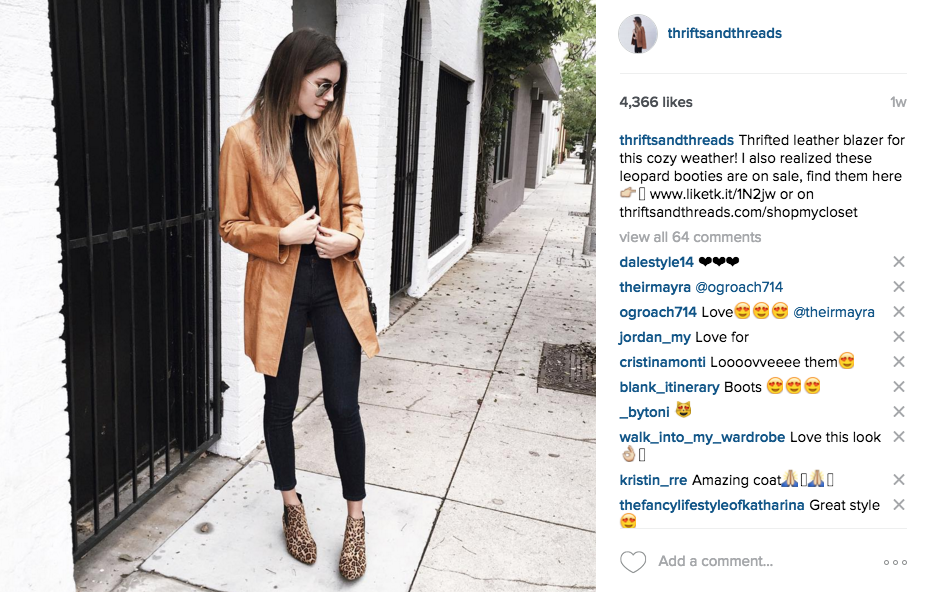 For this photo, the original caption was
Thrifted leather blazer for this cozy weather! I also realized these leopard booties are on sale, find them here ???? www.liketk.it/1N2jw or on thriftsandthreads.com/shopmycloset (direct link in bio)
and I changed the link in my bio that day to "thriftsandthreads.com/shopmycloset" so it took them straight there. I also posted this on a Sunday when I didn't have a new outfit blog post- but it helped keep traffic up regardless (I also changed the link back to my blog homepage once I had a new outfit post to promote).
Keep in mind though, once you get followers on your blog you want them to come back…post clear photos and useful information on a well designed, user-friendly site. If they can get everything from your Instagram caption there's really no reason for them to visit your blog. Make it worth it, be a resource to your readers.
10. How do you feel about using the new landscape and horizontal options on Instagram?
It's a great update! Especially for high quality blog photos, it's my favorite. You just need to be aware that it centers the photo to a square on your overall feed, so if you don't like what it's cutting off when it puts it to your feed then I wouldn't use it.
Here's an example of when I've used it HORIZONTAL and VERTICAL in my feed. You'll notice there was enough background on the sides that when it created it to a square for my feed it still looked centered and nothing major was cut out.
One of my fav blogger baes, Michelle from @michelletakeaim does a good job of incorporating this into her style posts. The key is to always have a good amount of background in order to have it centered just right within you feed… check out her examples HERE and HERE.
That's it for my top 10 questions! Make sure to comment below any that weren't addressed and I'll get back to you as soon as I can!
Many questions I received also revolved around my photography and I didn't get into that as much here because… next week my hubs (who shoots all my blog looks) is guest posting about what techniques he's learned since I started my blog! #lovehim 🙂
xx Brittany