How to Grow your Instagram Following
This is a question I get asked quite often and would like to shed some light on.
"How do I grow my Instagram following?"
You just have to hope for the best and see what happens…
Just kidding! Imagine? That would be nice! I think the main question you have to answer first is why do you want to grow your Instagram in the first place? For me Instagram was used to build awareness of my brand, get traffic to my blog and it's a great way for you to build engagement with your readers and give them a little look at your life beyond blog posts. Instagram has opened the doors for various brand collaborations and campaigns as a mini portfolio of my work.
Here's one major tip:
DO NOT BUY INSTAGRAM FOLLOWERS!
It will only hurt you long-term. I can spot when someone buys or has purchased followers right away… and you can also tell the ones that are buying likes. Obviously there will be some fake accounts that follow you…it happens. Fake or spam accounts usually will end up just being deleted once Instagram figures it out.
There's really no point in faking your following- especially when you need the engagement to continue to grow. Fake followers don't help your brand, they only make you feel like you need to keep up appearances. Growing organically is much more strategic and even though you will have a slower start than the person who purchased 5k or 10k to look better, your engagement and readers will be real- that's what you want!
All this to say, I've narrowed it down to my top 5 tips that helped me grow my Instagram account to over 850,000 followers.
Content
Understand your audience and what you are promoting. For example, If you're a fashion blogger, then you need to keep your Instagram specific to your niche. You shouldn't be featuring 100% food or interior photos. You need to understand what works and keep doing that. Why are people following you in the first place? For example, my niche is mixing low/high end pieces without breaking the bank. Don't feel the need to change your style completely in order to gain a following. Stick to your niche and understand your audience- that is HUGE.
Also, take clear photos and keep a consistent look of filters and overall vibe. Instagram images need to look nice but also stay true to your brand.
Be Consistent
Stay consistent with your posts. When I first started my @brittanyxavier Instagram account in November 2013, I didn't know what I was doing- but I did know one thing: I wanted to grow my blog awareness and readership (I started my blog a month before my Instagram account). That being said, I commit to posting 1-2 photos per day, usually with a schedule similar to this:
Photo 1: Promoting my blog post for the day
Photo 2: Daily outfit photo or what I'm doing (i.e, interior or food photo)
However, this changes a bit when I'm working on campaigns or sponsored posts that have deadlines. A content calendar helps me keep everything organized and is a total lifesaver!
This is not strictly how I post all the time, but it gives you an idea that every time I have a new blog post I will promote it at least once on my Instagram that day.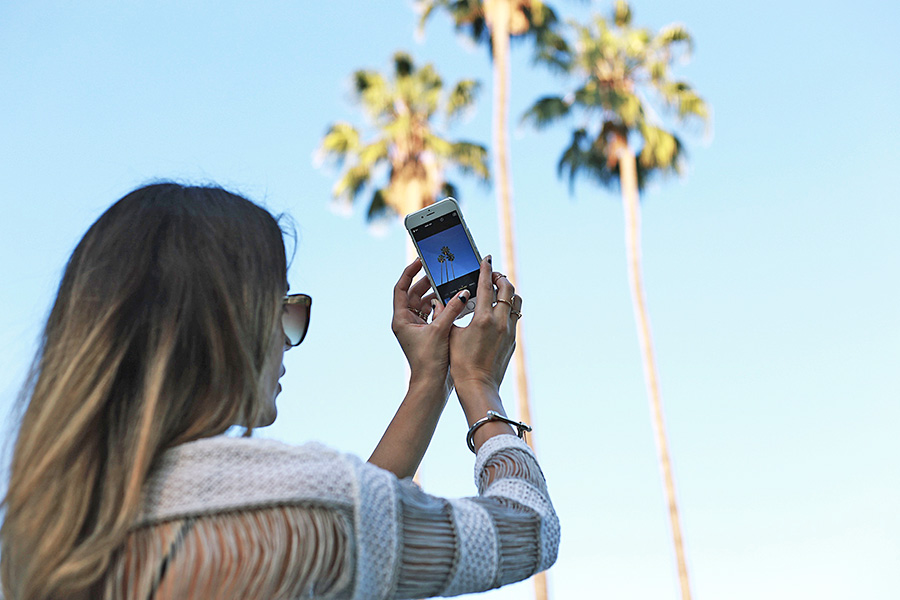 Utilize Iconosquare
Iconosquare analyzes your Instagram statistics and lets you know which photos had higher engagement (like/comments) and at which times they were posted (among various other data they offer, but I won't get into that now). Posting times is a huge part of your Instagram growth. You will gain followers by having others like and/or tag their friends in the comments and the best way to do that is to post at times that most people (for your region) are on their phones. I use Iconosquare to analyze which times work for me and to make sure I get the most out of each post. That being said, of course there are times when I'm doing something that I post when it's most convenient for me- but my growth is definitely better when I stick to popular times for my followers.
Here's a look at my Iconosquare stats: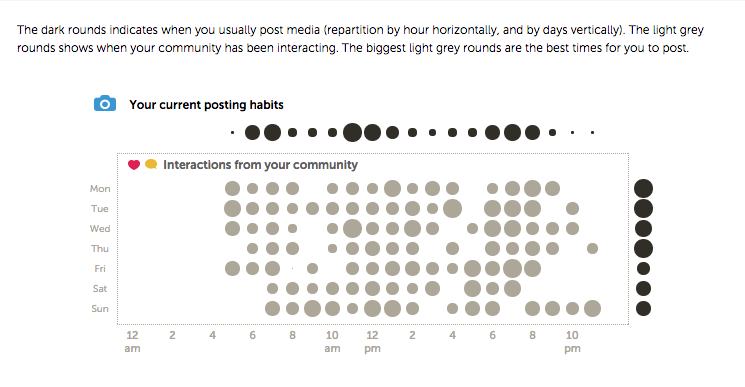 My most popular posting times:
Mon – 5am, 1pm, 8pm
Tues – 5am, 4pm, 8pm
Wed – 5am, 11am, 2pm, 7pm
Thurs – 5am, 12pm, 8pm
Fri – 5am, 2/3pm, 7pm
Sat – 12pm, 7pm
Sun – 5am, 9am, 1pm, 11pm
The times above seem to work best for my audience, but may not fit yours. You don't want to become too analytical as trends/habits tend to change over time. Trial and error is the best approach to really finding out which days/times work best.
Use Hashtags
I have been using hashtags since the birth of my Instagram. However, I put them as a second comment in my photo so my photo is still categorized but the bulk of hashtags are hidden at first glance once I get other comments. These are the ones I use most frequently:
#fashionblogger #fashionblog #styleblogger #blog #styleblog #wiw #outfitpost #ootd #vsco #vscocam
You can also use Iconosquare to analyze your most used tags and also top tags currently on Instagram.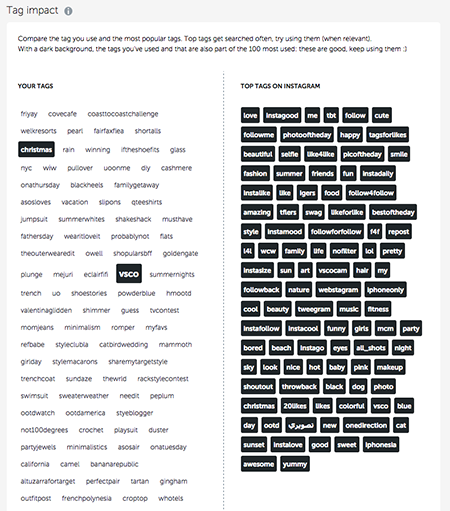 I also include anything relevant to what I'm wearing.
For example, if I'm wearing loafers and boyfriend jeans in a particular photo… I make sure to add additional hashtags: #boyfriendjeans #bfjeans #loafers #flats. Or if I'm at a certain location, I make sure to use the city hashtag and the place. Same goes for the brand I'm wearing… know the brands you wear and check which hashtags they use for features.
Brand features have helped a ton with my growth and I owe a lot of that to integrating hashtags. Especially now that Instagram changed the way they categorize hashtags (for each hashtag, the most liked photos are at the top under "Top Posts") it really helps with user engagement and for others trying to find specifically what you're promoting. I've worked with several brands who said they found me on Instagram via their hashtag- it's a great resource!
Outreach
Find others in your niche and engage with them. I remember spending an hour a day reaching out to other bloggers via comments and finding other bloggers to follow via hashtags. If you are hoping others will engage with you, you need to be willing to comment and put the time into becoming a productive member of the community through the use of positive comments, likes etc.
That being said, don't spend hours commenting/liking with the sole purpose to only gain followers. Instagram is an amazing community with very creative individuals. Use the platform to create, engage and have fun. People can see through the fake.
There are also places to submit your photos to be featured. When I first started, I was featured quite a bit on @ootdmagazine and that helped get me in front of my target audience.
Here's a brief list of Instagram accounts below that can help you get started:
ootdmagazine
ootdsubmit (same submission process as above)
Wearit_Loveit
AboutALook
ootd.fash
ootdfash
ootdWatch
ootdPage
StreetStyleInspirations
Chictopia
It takes a ton of work in the beginning just to get the hang of what works for you, but once you have a system down and feel comfortable that your Instagram represents your brand well- stick to it! It will continue to grow exponentially after that.
Please feel free to ask any questions in the comments below!
Hope this helps! 🙂
xx Brittany