How To Wear Activewear Outside The Gym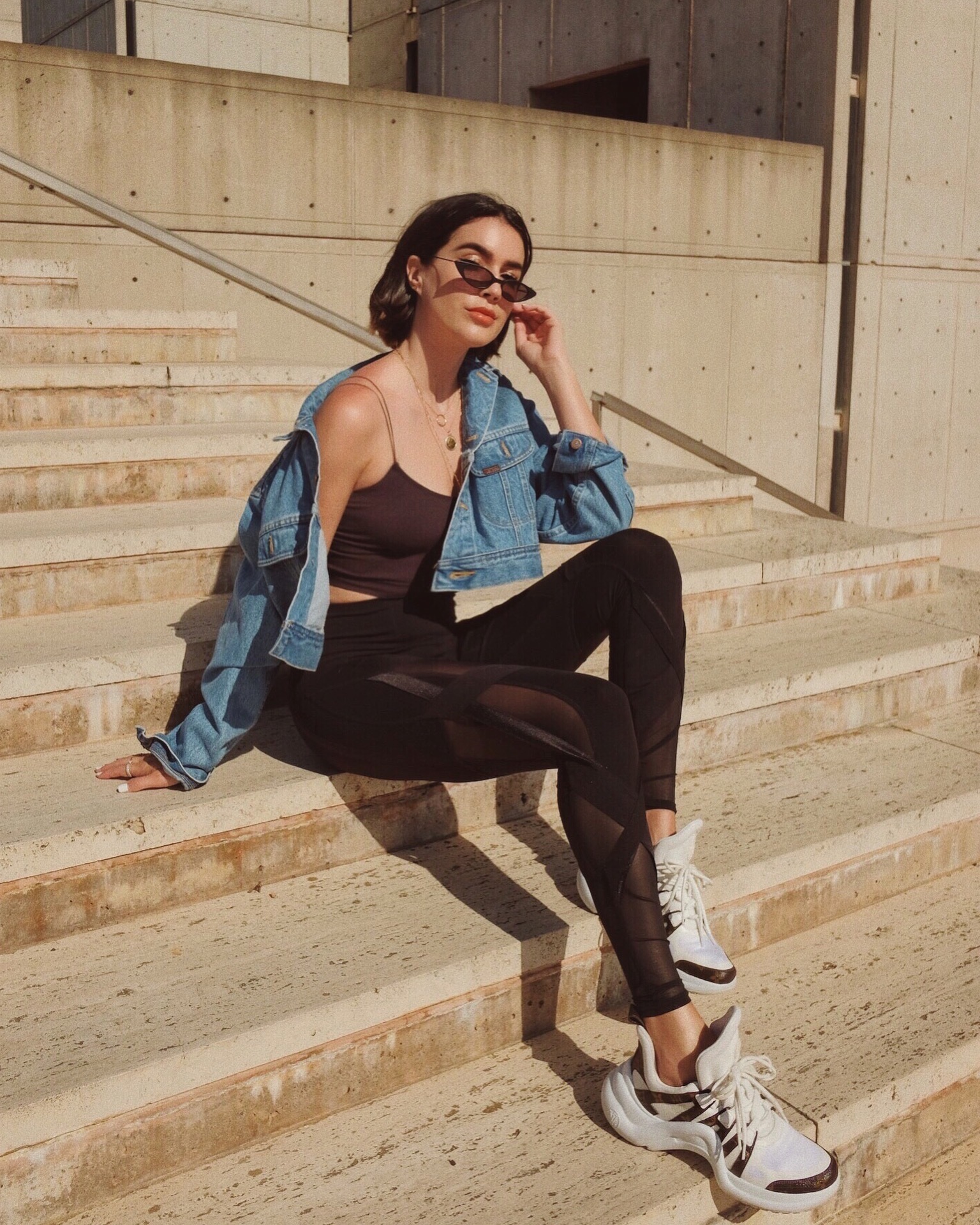 Sunglasses: ILLESTEVA | Jacket: EB DENIM | Leggings: ALO YOGA | Sneakers: LOUIS VUITTON
Activewear is no longer reserved only for the gym and I'm all for incorporating athleisure into your wardrobe. It's now considered socially acceptable, even on trend, to rock your leggings and sneakers out and about. With this being such a huge trend, brands and retailers have caught on and have started making cool workout clothes that almost feel too stylish to sweat in.
I love throwing on a denim jacket with leggings and chunky sneakers! Retailers such as Bandier and Carbon38 are a couple of my favorites for trendy pieces for both in and outside of the gym. They offer a variety of my favorite brands!
There's also an art of how to achieve gym-wear chic. Below I have noted some of my top tips of how to seamlessly transition your gym clothes from workout class to lunch date:
1. Mix Materials 
Leave the full lycra outfit for spin class and miss out on the matching track suit. The key to a chic activewear look is to mix your traditional gym wear materials with non-gym appropriate materials. I mixed these mesh and lycra Alo Yoga leggings with a denim jacket to give an edge to my otherwise fairly sporty look.
2. Opt for a neutral color pallet
Neutral tones and black will be your best friend in succeeding this effortless yet still incredibly stylish look. Wearing your activewear as regular clothing is all about minimalism and comfort – and will go well with any colored sneakers.
3. Accessorize carefully
Accessories are the key to elevating your workout clothes, but choose them carefully. A few key pieces will take your look to the next level. I accessorized with specific trend driven pieces, such as these thin sunglasses and Louis Vuitton sneakers in order to combat the relaxed style of my leggings and tank top.
4. Have clean, quality pieces
When I say athleisure I don't mean the pair of sneakers you've had since high school or your oldest workout t-shirt with holes. In order to achieve this trend, it's easier to style fresh pieces that are in pristine condition and fit you correctly. You can still have all the comfort and ease of workout clothes, just make sure they are in tact.
5. Layer
Just wearing a tank top and black leggings doesn't exactly scream chic, so opt for layering pieces to add more dimension to your look. Adding an unexpected jacket or tying a cool sweater around your waist gives you more opportunity to style up your casual activewear look.
What are your thoughts on the athleisure trend? Comment below!
xx Brittany