My MFW 2018 Recap
This past week I was in Milan for Milan Fashion Week, it was my first time ever attending and being in Milan! Even though I was only in the city for a few days, (as I was working on a project with Givenchy Beauty in Paris prior) I loved every minute of it!
During MFW, we stayed at UNA Hotel Cusani which was near the the downtown and Duomo. It was in a great location and made getting to and from shows easy, especially because Uber is limited Milan and they always take longer to arrive than expected. Even though my trip was short I got to see some of my favorite designers, attend so many memorable shows and wear some amazing pieces. I broke down some of my favorite shows I saw during MFW. Below I listed some of my faves and of course trends to keep an eye out for for spring/summer 2019:
My first show of MFW was Tod's and it could not have started any better. The brand is known for its amazing and meticulous craftsmanship on its leather goods and apparel. What was so special about this show was that it was the very first time Tod's  combined its men's and women's collections all in one runway. I loved how casual all the pieces were but it still entailed Italian elegance in the best way. The leather patchwork went really well with the fringe and I was in love! The collection was definitely inspired by "An Italian Attitude" because of its fabrics and leather accessories. It was amazing to see the designer's story behind the whole collection, which consisted of suits in different silhouettes, colors, and patterns- I especially was obsessed with the cobalt blue and blush tones throughout the collection!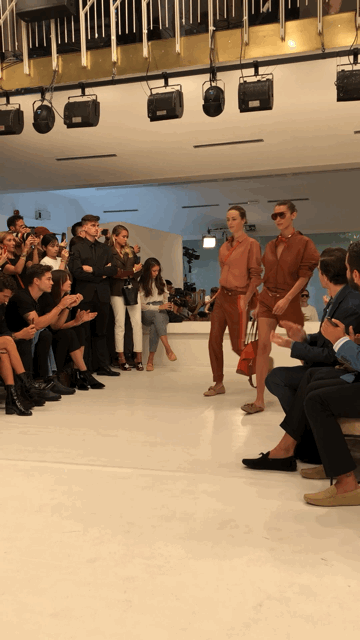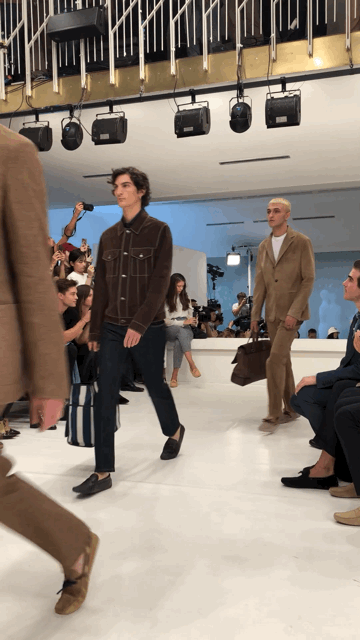 KEY TRENDS: Earth tones, cobalt blue & fringe accessories
This show was probably the most intriguing one I've seen so far because the designer decided to mix swimwear with womenswear. It was anything but a conventional spring collection because I got more summer vibes than ever! The designer used different colors ranging from hues of grey to blue and even red. His inspiration was drawn from surf culture and he wanted all the pieces to embody that lifestyle. I loved the layering of every look—from the jackets tied over the board shorts to the blazers over the bikini top. This collection definitely got me thinking about how to bring a few bikini tops into my fall wardrobe as well!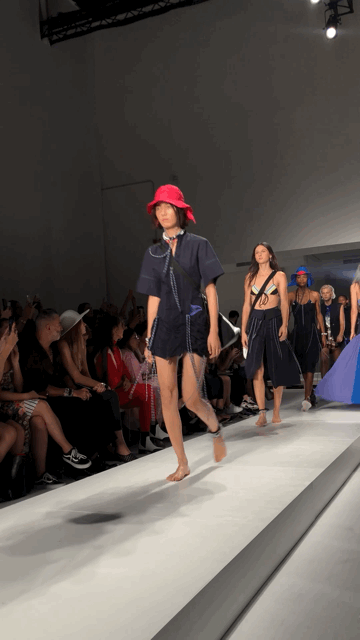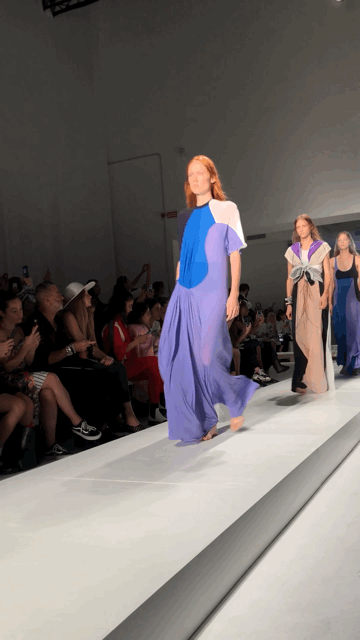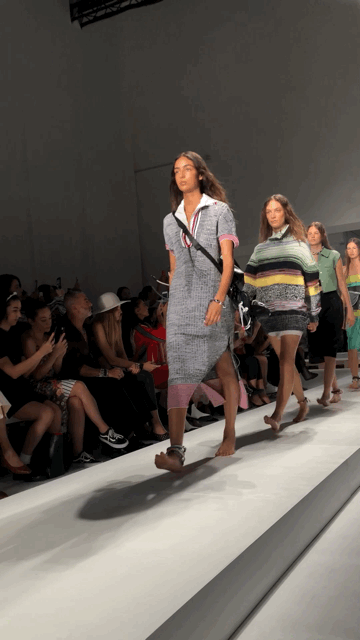 KEY TRENDS: Metallic, wetsuit detailing, & boyfriend style shorts
For this season in Milan, Veronica Etro decided to use different inspirations from paisley-patterns, which originated from Persia to Western fashion as far back as the 16th century. Many of the pieces were full length print dresses as well as neoprene swimwear. This season consisted of the skate and surfing scene of California incorporated with the denim and calligraphy of Japan. While creating new sensations with the pieces this season, Etro still stays true to the origin of the company by using paisley-pattern.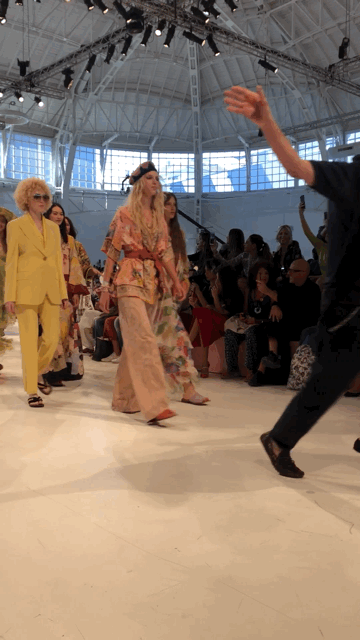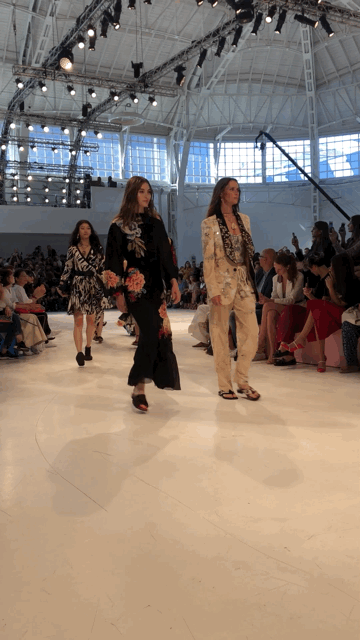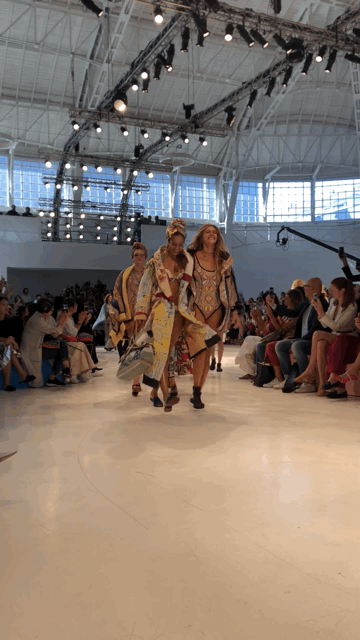 KEY TRENDS: Bohemian, paisley-print, & multi-pattern patchwork
MSGM produced prices full of vibrant colors, floral prints, and tie-dye. Massimo Giorgetti created many pieces that resembled his wrapped and draped stretch jersey dresses from the earlier days of his brand. I love how each piece flowed on the models' bodies. He used body wrapped silhouettes for his floral pieces and the tie dye on his pieces was done by hand in Milan. Everything was consistent by the continuity of bold colors, floral prints, and his motto "Dream! Dream! Dream!" Even the invite looked like a box with a sleeping pill inside.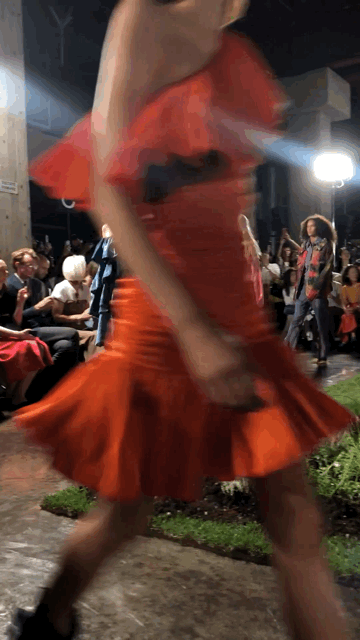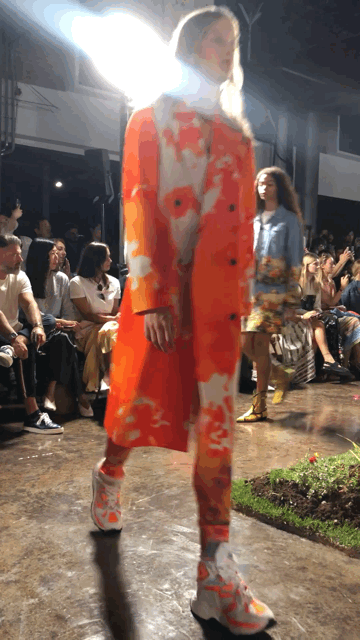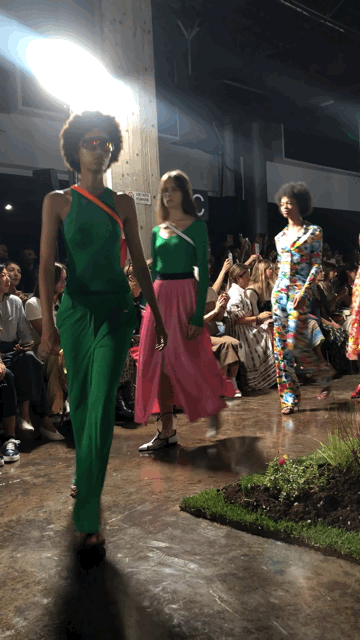 KEY TRENDS: Tie-dye, saturated pink florals and ruched patchwork dresses
The collection was filled with bright colors and florals both draped loosely and form fitting on the models. I loved how the floral prints were in different shades and clashed with the other patchwork on purpose. The whole idea of combining different patterns into one look is definitely going to be a trend I will be rocking. Another look I loved was the slinky body con dresses and the playful shoulder details. There really was a look for everyone and I really loved how 90's supermodel Shalom Harlow, Edie Campbell and Kaia Gerber walked in the show!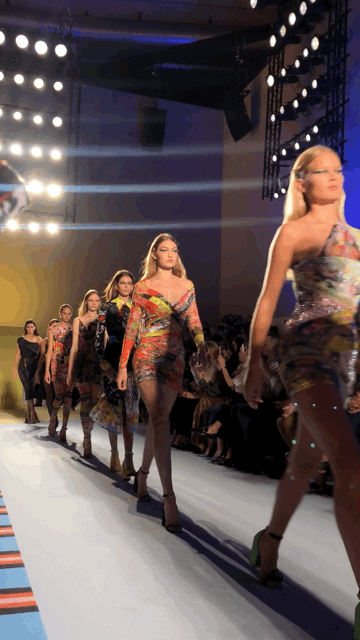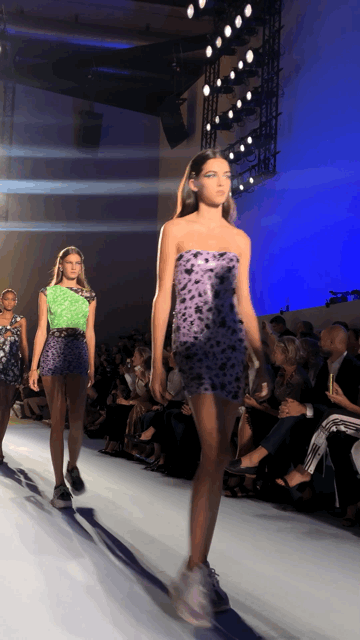 KEY TRENDS: bodycon dresses, eclectic floral prints, one shoulder tops/dresses
I love it when a designer can turn something so minimal into something filled with such tasteful complexity. This season, Gabriele Colangelo went with different textures and fabrications to bring his ideas to life. His inspiration was drawn from a painting technique called pliage. You can see every detail of the pleating that looked like a crumpled up texture. The pliage was on several pieces like the blazers and the pleated dresses. I definitely favored this collection because of the many blazer pieces and the slip dresses were unique because they were pleated and layered on top of pieces like leather green pants. This collection had such an amazing color palette and really made me feel like I was looking at real-life art pieces.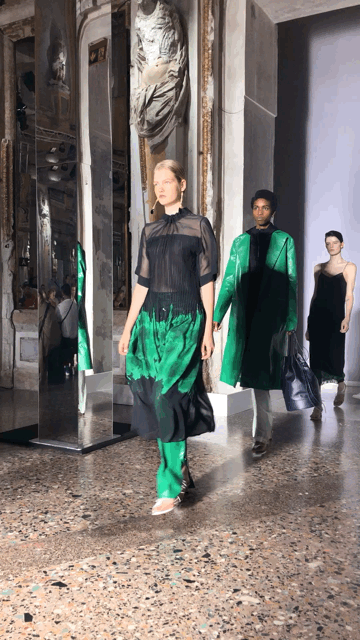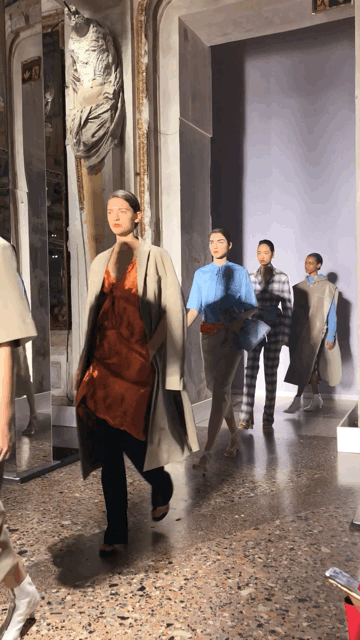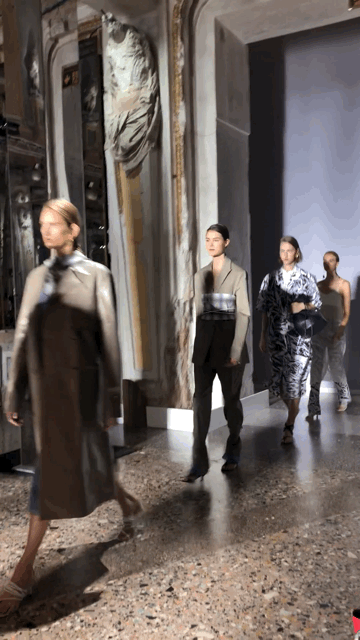 KEY TRENDS: Abstract art, slip dresses, & transparent fabric
Paul Surridge brought streamlined minimalism with bold prints to this season of Roberto Cavalli. Straying away from the sexy look as other brands are doing also, Surridge set the mood with minimalist styles with various prints, making women feel beautiful and strong without the need to be overtly sexy. Majority of the pieces also held neutral greyscale and earth tone colors with the exception of a few pieces that were vibrant. Many sets composed of prints from zebra patterns to hexagon overlays. The pieces were mainly fit with the body structure and didn't seem too fitted by using overlapping folds of fabric. Simple, modern shapes in monochrome palette were key.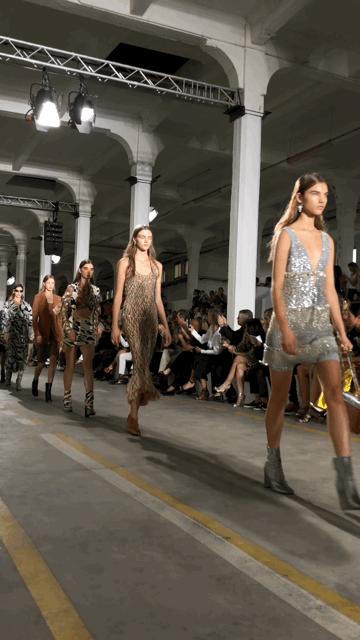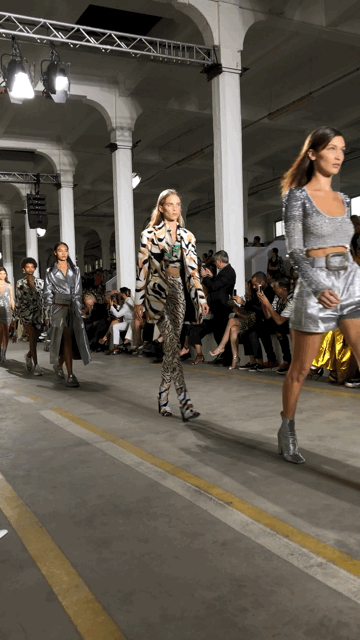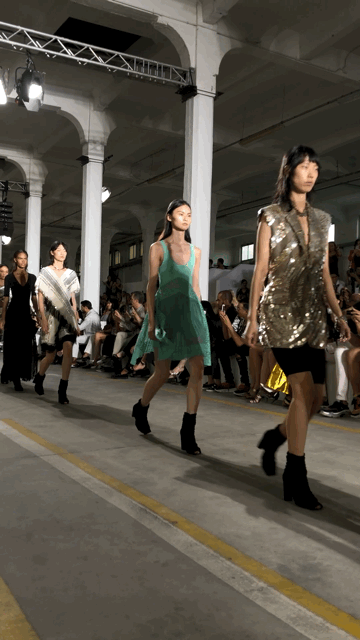 KEY TRENDS: bold prints, streamlined minimalism, & neutral palette
The show was the 65th anniversary and everyone sat at cafe tables surrounding the runway. Every piece from this collection made me feel like I was in an enchanted dream in the future. The pieces were all very light colored and seemed to look lightweight as well, effortless yet futuristic. The knitwear was so intricate and delicate looking I couldn't help but want to touch it from my seat (of course I didn't haha) The glimmering and sparkling knitwear pieces were also a standout because they looked lightweight but yet still evening appropriate. The whole color palette was whitewashed and I really loved everything from the setting of the show, to the live piano music, and the dreamy collection! After show, attendees were invited to have dinner and drinks at their tables- it was a great way to celebrate their anniversary!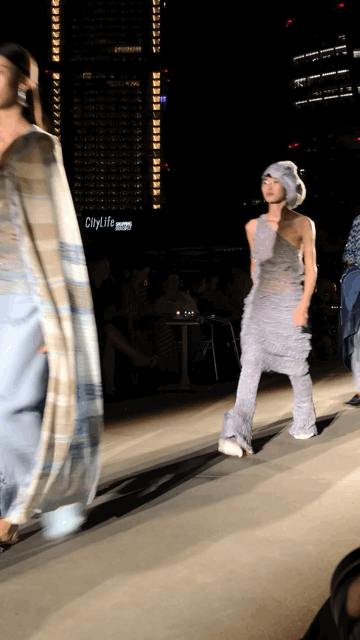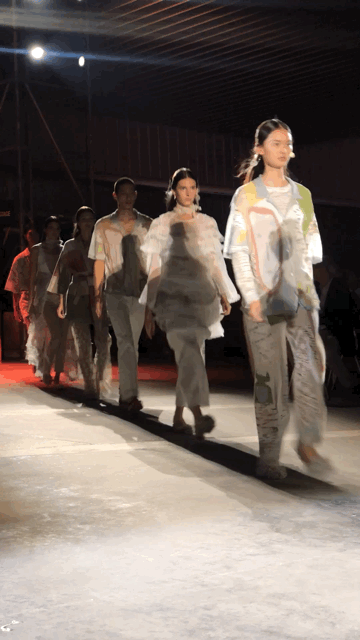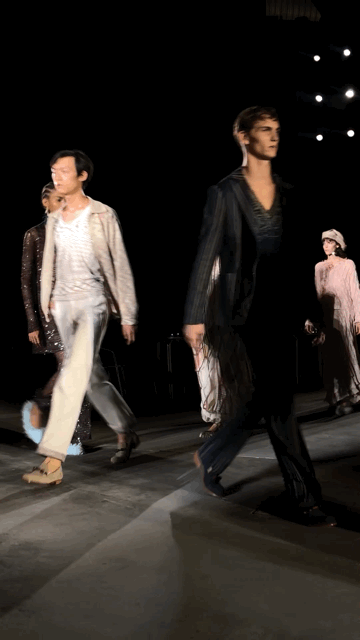 KEY TRENDS: beaded fishnet, intricate knitwear, & whitewashed color palette
xx Brittany