My NYFW 2018 Recap
As you know, this past week I've been in New York for NYFW. September fashion month is probably one of my favorite times of the year, I always leave New York feeling super inspired and excited for Paris! This season, I'm headed to both Milan and Paris Fashion Week, it will be my first time EVER (can you believe it?) in Milan so I'm excited.
I love the fast pace vibe of New York and I always feel like I get so much accomplished whenever I visit! Anthony and I were pretty busy this season but I attend some amazing shows/presentations which of course made me excited for spring/summer 2019. I actually flew to New York a day early to work on a super exciting project! I can't really share too many details but I can't wait for you guys to see what I've been working on- I'll be able to share over the next few months! Any guesses? 🙂
This season for NYFW, we stayed at the Arlo SoHo hotel. It's located right in the heart of SoHo with amazing views of the Hudson River. They offer various room sizes all of which are decorated very chic, with modern furniture and efficient storage space. Anthony and I loved using the co-working space just past the lobby at night to get work done and we had a murphy bed in our room so we would put the bed up during the day and use the couch it turned into. They have a super cute rooftop and courtyard too! For NYFW, the hotel was in the perfect location and super close to Spring Studios, it was nice to be walking distance to so many shows. Location is really important to me when deciding on which hotel to stay during NYFW and I always prefer the Soho area for convenience to most of the shows.
While my days were packed with meetings, shows, presentations and shooting, I broke down some of my favorite shows I saw during NYFW. Below I listed some of my faves and of course trends to keep an eye out for for spring/summer 2019:
My first show of NYFW was Self-Portrait. This brand has been a favorite of mine for awhile now, as I'm sure you've seen me wear it on my IG! I love how feminine the brand is and how they create such beautiful, flattering pieces. This season, the show did not disappoint, as it was filled with cut-outs, crochet pieces and of course the signature lace. While the models wore very minimal makeup, the blue, pink and yellow pieces stood out to me especially. Many of the looks had mixed prints, from floral to geometric. I was obsessed with the detail sleeves and asymmetric necklines and skirts.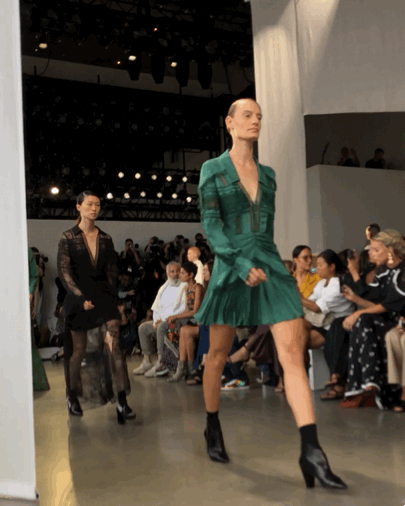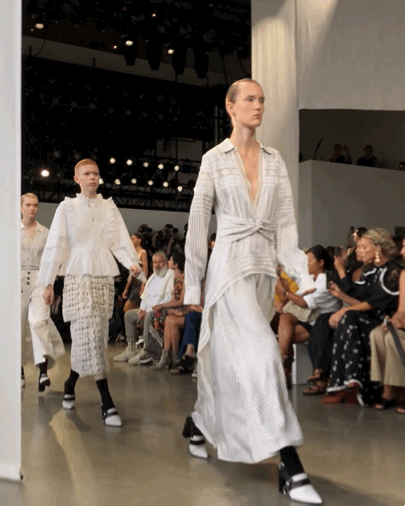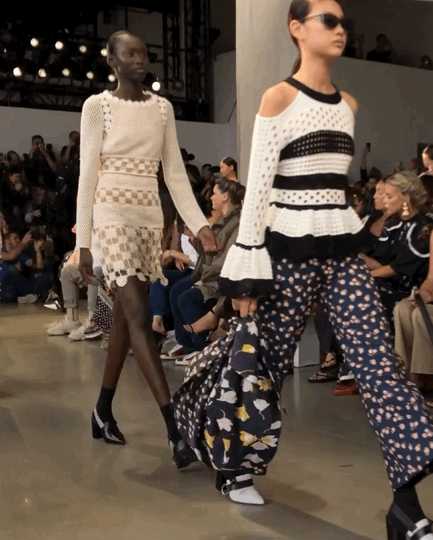 Key trends: mixed prints, crochet & asymmetric detailing
This season, Jonathan Simkhai completely re-thought his format for NYFW Spring 2019 and had a presentation. The models walked around a foliage-filled room with live music, it was truly a super cool experience. The clothing pieces were fit for a warm weather countryside and had an ethereal prairie vibe. I loved all the gingham and tulle. The color palette was filled with pastel shades and the entire collection was so romantic and beautiful. Some of my favorite pieces included the military parachute pants and corset tops, and sleeveless trench dress that was worn over belted trousers. I loved that there were still menswear inspired pieces throughout.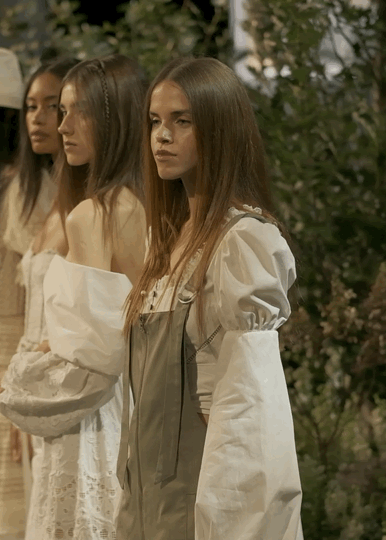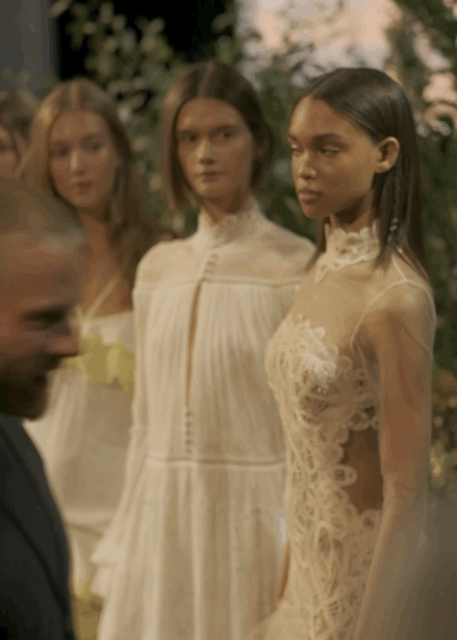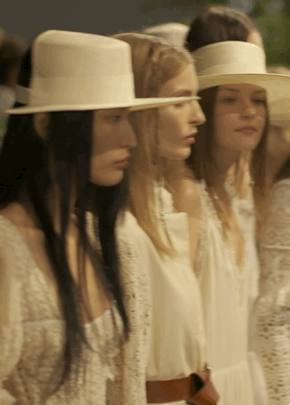 Key trends: gingham, pastels & military inspired pieces
During day 2 of NYFW, I attended the Mansur Gavriel runway show. The brand seriously brought Paris to NYC and the location was filled with floral arrangements, macaron towers and tables to sit at filled with french desserts. The collection fit perfectly within the pink-hued room and I loved how playful the entire show was. One of the reasons I like this brand is because of their clean-cut, minimalist silhouettes and of course chic handbags that skyrocketed them to popularity. This collection was actually a fall/winter show and was filled with so many wearable, classic pieces. The iconic bucket bag was updated with shearling and many of the ankle boots were glittery. Even though it was for fall, pastel pieces still filled the runway along with a mix of neutrals.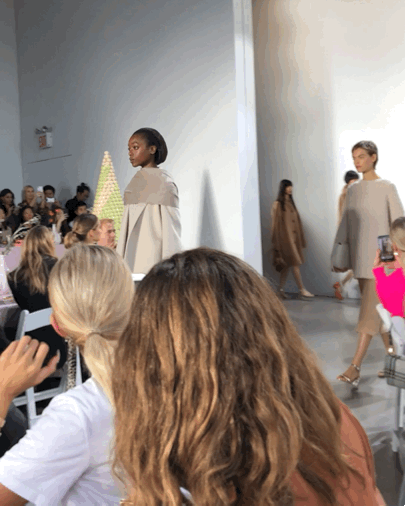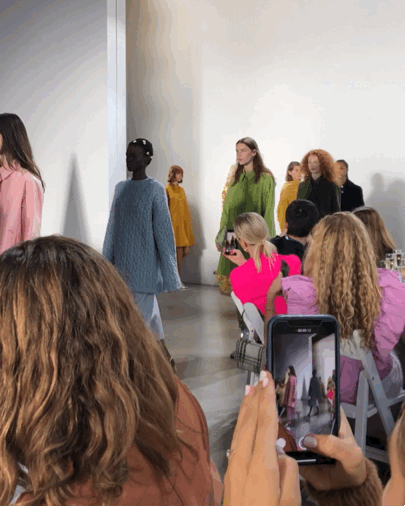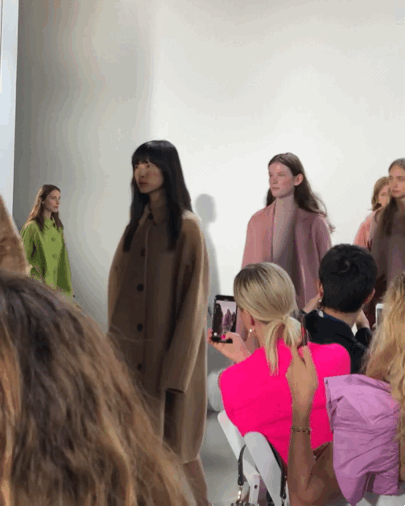 Key trends: mini bags, glitter & classic outerwear
One of my favorite presentations I attended during NYFW was Chanel. As you know, I'm a huge fan of the brand and the fall/winter Haute Couture presentation did not disappoint! The collection was inspired by Karl Lagerfeld's view of the Seine and Institut de France. Steely coloring filled the collection and was influenced by the stone facades and grey skies. The collection was built around what Karl Lagerfeld called "high profile" which are long skirts that unzip to the thigh and narrow sleeves that unzip. I loved the unzipped skirts with the miniskirt beneath. One of the first pieces I noticed were these amazing sequin booties. So many of the pieces had sequins and high shine fabrics- perfect for a kirakira moment! As you know, I love a blazer/suit vibe and the collection had no shortage of strong shoulders and high neck details.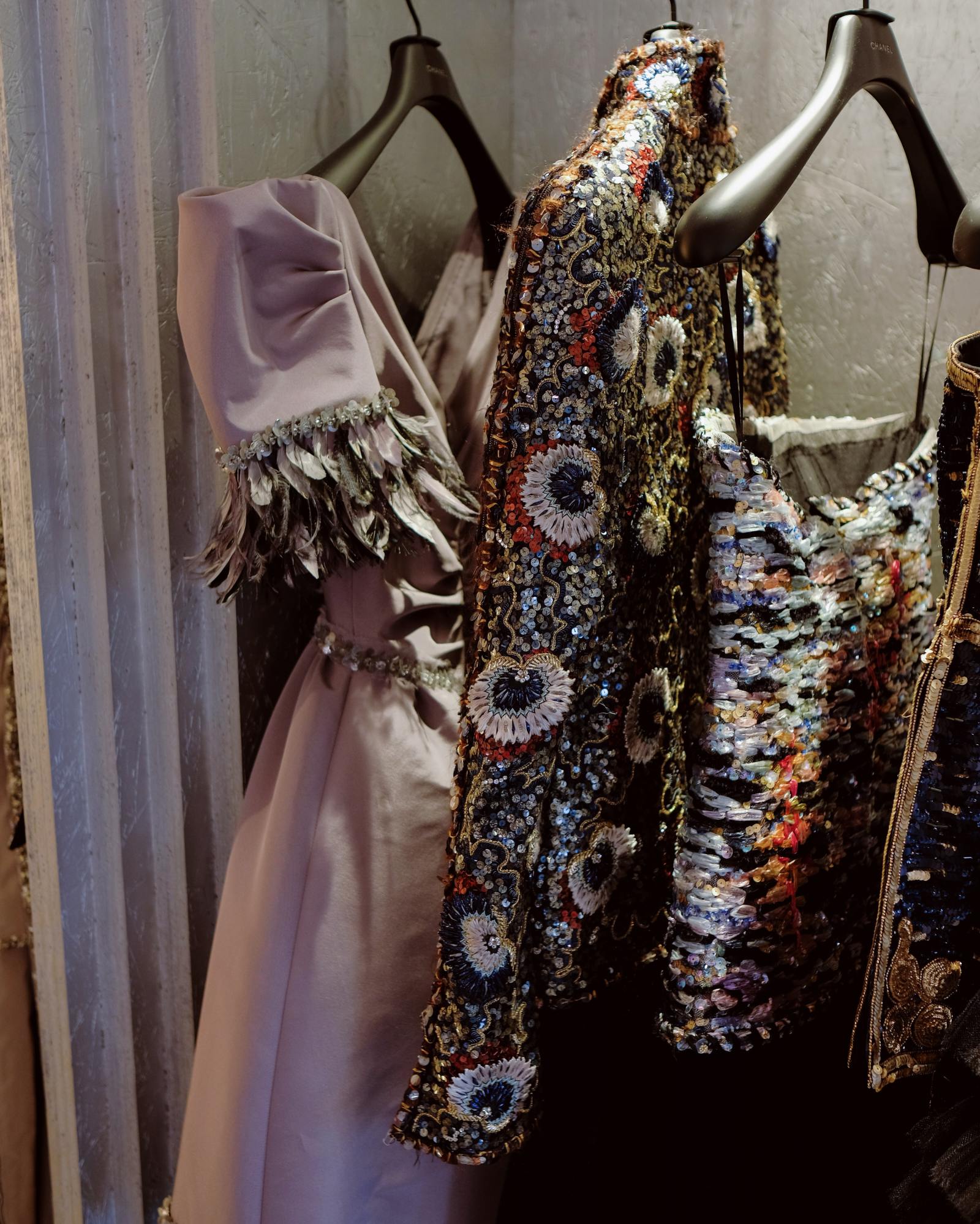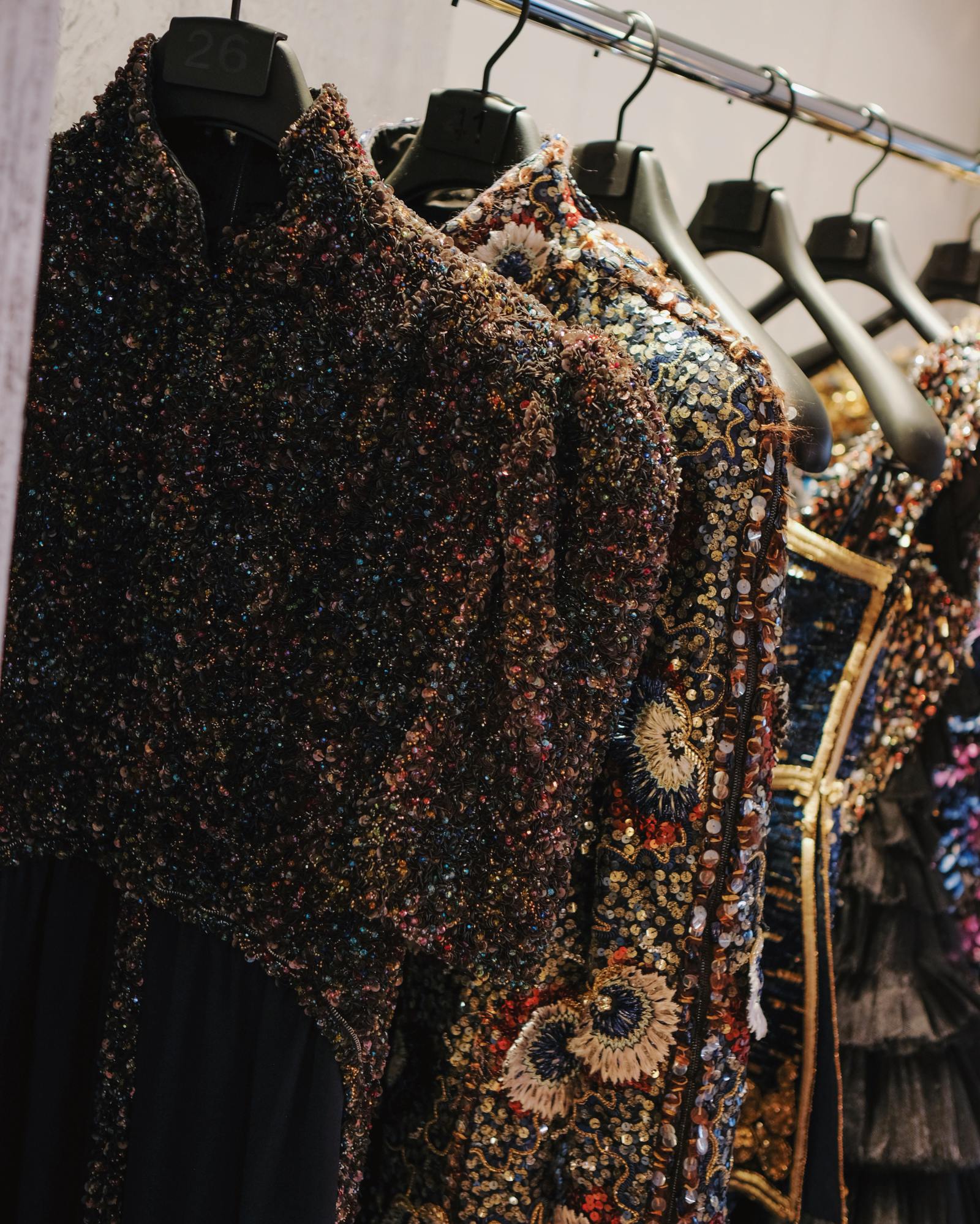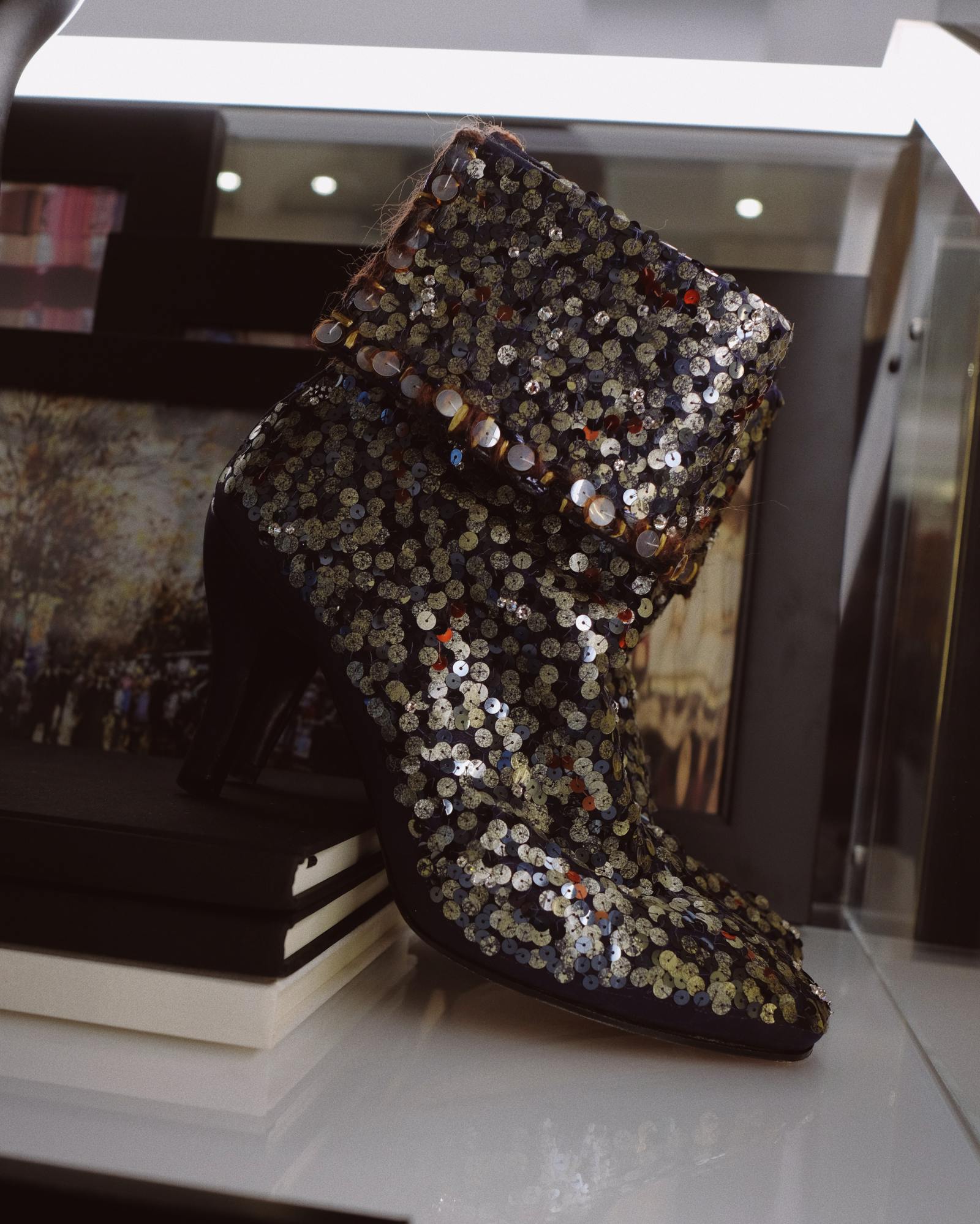 Key trends: high shine fabrics, sequins & strong shoulders
The Zimmermann runway show, was another show I was looking forward to this NYFW. Despite the rain on the way to the show, the collection gave me major spring vibes. The collection was filled with a mix of  boho and retro- it was very 70s! It was inspired by a TV soap from Australia that aired in the late 70's called Number 96. I loved all the fringe and pattern play throughout the collection. The mix of denim and plaid were some of my favorite combos and I loved the flowy silhouettes.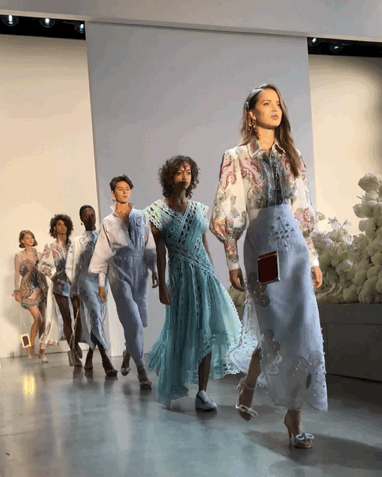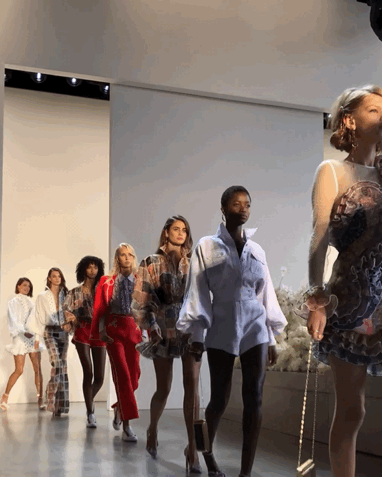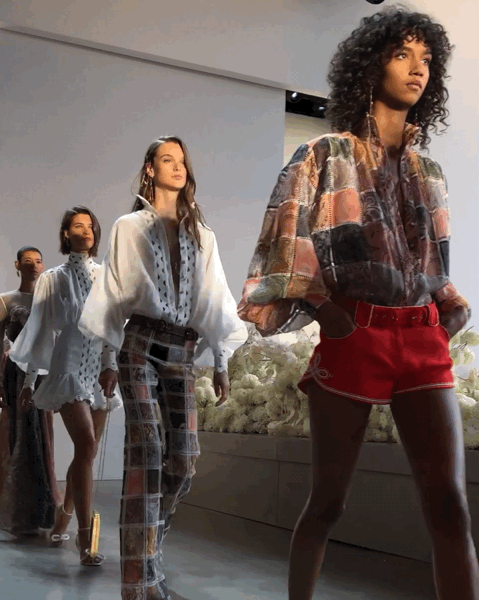 Key trends: fringe, paisley print & safari suits
Another favorite show of mine was the spring 2019 Oscar de la Renta runway show. The show took place on a gorgeous rooftop and the collection brought a warm-weather vacation vibe to the city. The collection contained ikat prints, fringe (on earrings, shoes and gowns) and crocheted pieces. I loved all the wide-leg pants and the super chic sandals worn throughout. All the embroidered pieces and feather embellishments were stunning! While the collection was filled with a ton of color, there were still signature black and gold looks. The collection was so beautiful, both Gigi and Bella Hadid walked in the show as well!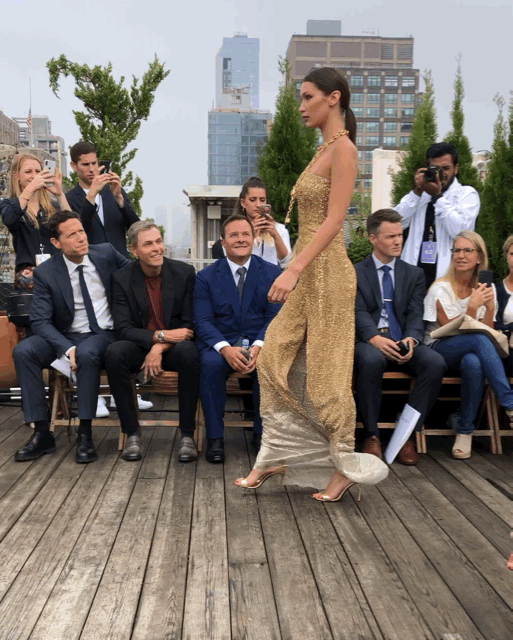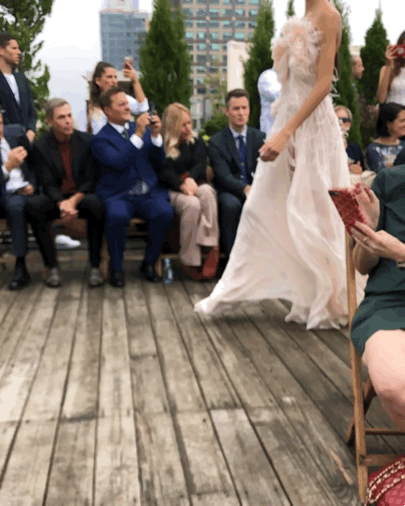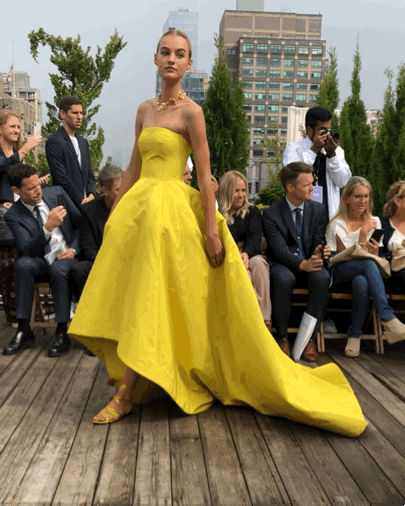 Key trends: patchwork, fringe & ikat pattern
After Oscar de la Renta, I headed to the Sally LaPointe show. The collection was inspired by the comic book series "East of West" and took inspiration from past and future elements. I loved how the collection had so many reinvented classics, I was obsessed with the PVC trench coat and vinyl pants. Many of the sweaters were cropped with unfinished hems. I was also obsessed with the hint of western vibe throughout, many of the denim jackets had western decorations. To give the collection a space-age
feel, there was a lot of allover sequins and beaded fringe.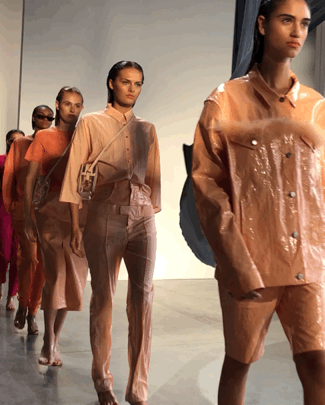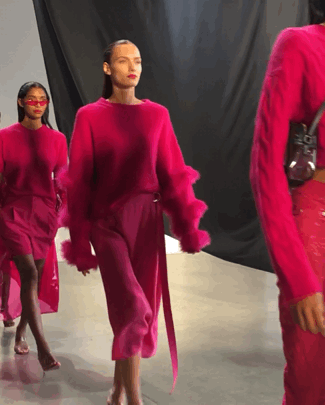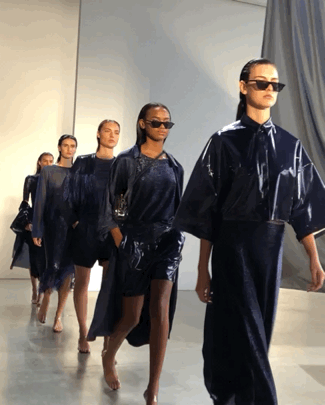 Key trends: feminine pink, fringe & PVC
One of my final shows of NYFW was Michael Kors and it did not disappoint! Gigi Hadid opened the show in an amazing black, full length, cut-out dress, followed by Bella Hadid in an ultra chic black and white combo. The runway collection had so many fun, colorful prints and cool sunglasses. Fringed accessories also made an appearance and while some of my favorite pieces were black and white staples, there were also pops of color throughout.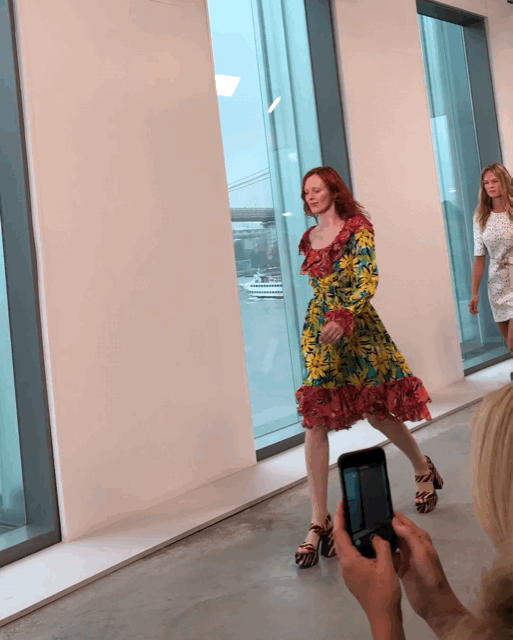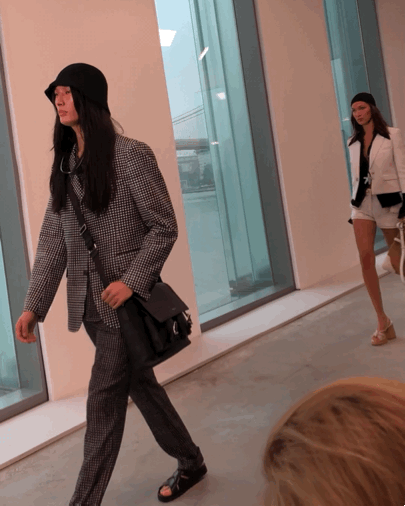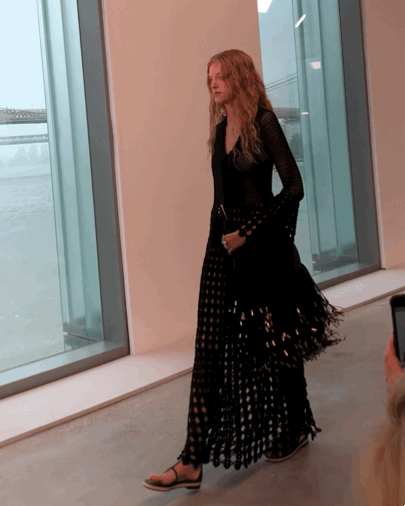 Key trends: mixed prints, bucket hats & fringe (clearly this is going to be a huge spring/summer trend)
In case you missed it, check out some of my favorite NYFW street style trends HERE. Stay tuned for an outfit roundup post with all of my favorite outfits I wore during NYFW! Also, special thanks to our driver and Lexus SUV for getting me around safely and on-time this week, it's beyond convenient to have the same car all week- I was able to change on-the-go and I saved so much time not having to order and track down an uber, it was really great! PS. the SUV was super chic too, check out my NYFW car here!
xx Brittany