My PFW 2018 Recap
After Milan Fashion Week, Anthony and I headed to Paris. I honestly love Paris and even though I was just there before MFW (for a project with Givenchy Beauty), I was excited to be back!
We stayed in one of my favorite areas, Champs-Elysées at Hotel du Rond-Point des Champs-Elysées. It's actually a newly opened hotel and located right next to Avenue Montaigne in a great location. I loved the Art Deco vibe of the hotel and the staff were all extremely friendly and made us feel at home. Normally hotel rooms in Paris can be small but the room we stayed in was the perfect size and comfortable. The ambience was very chic and the hotel itself was ideally located especially getting around from show to show.
Below check out some of my favorite shows I attended and of course trends to keep an eye out for spring/summer 2019:
I kicked off day 1 of Paris Fashion Week with Dior and the show was something I will never forget, it was a runway dance performance. Rose petals fell from the ceiling and dancers moved in and out of models during the entire duration of the show, it was so beautiful. For her spring 2019 collection, creative director Maria Grazia Chiuri was inspired by dance and the movements of the body. Upon entering the show, the venue was covered in quotes that inspired the collection. The color scheme of the collection included earthy muted tones and many of the pieces flowed from the body. I loved the lace-up ballerina-inspired shoes and stunning tulle gowns. Of course, the Dior saddle bag made an appearance along with gorgeous floral prints and lace. It was truly a magical show and was the perfect kick off to PFW.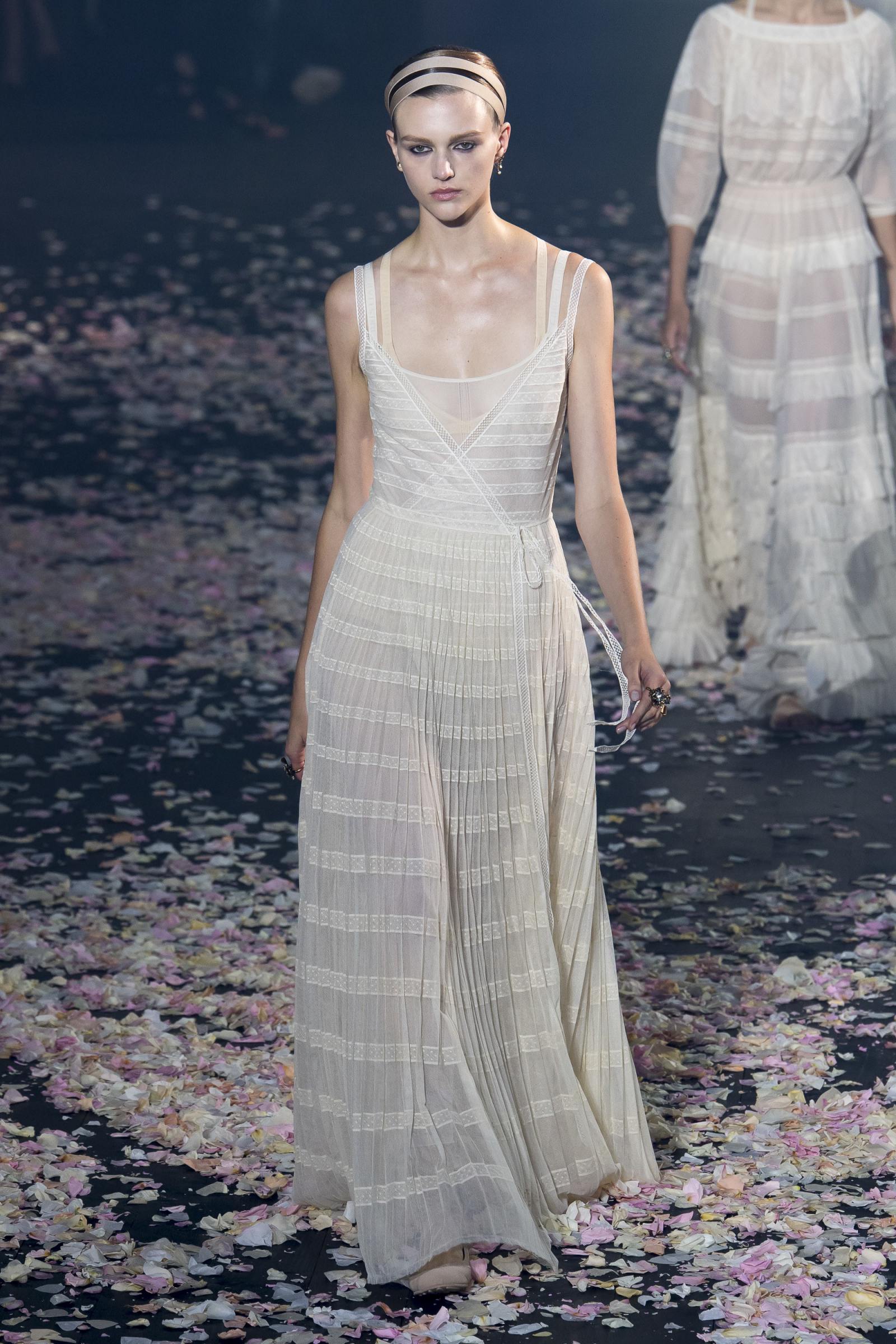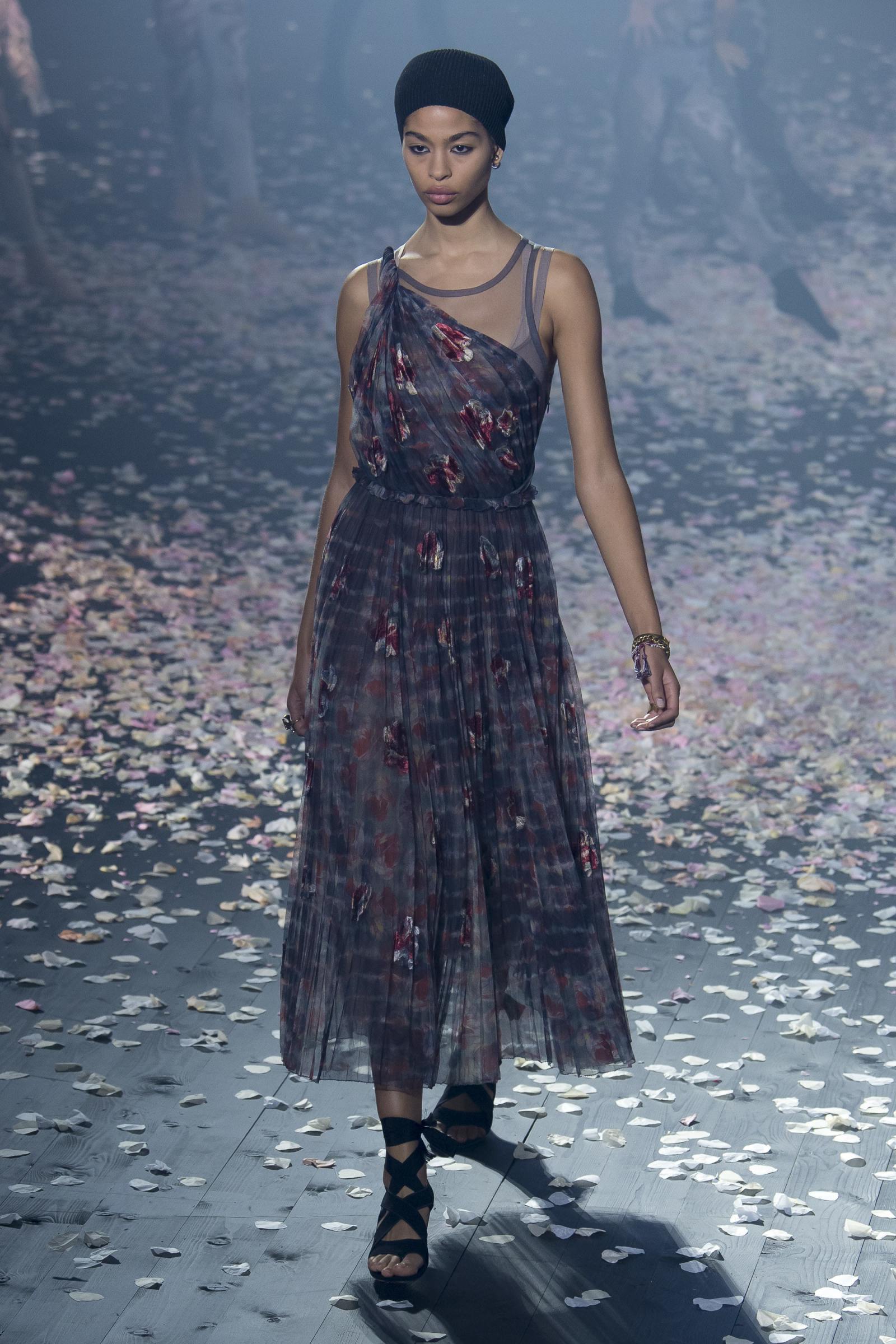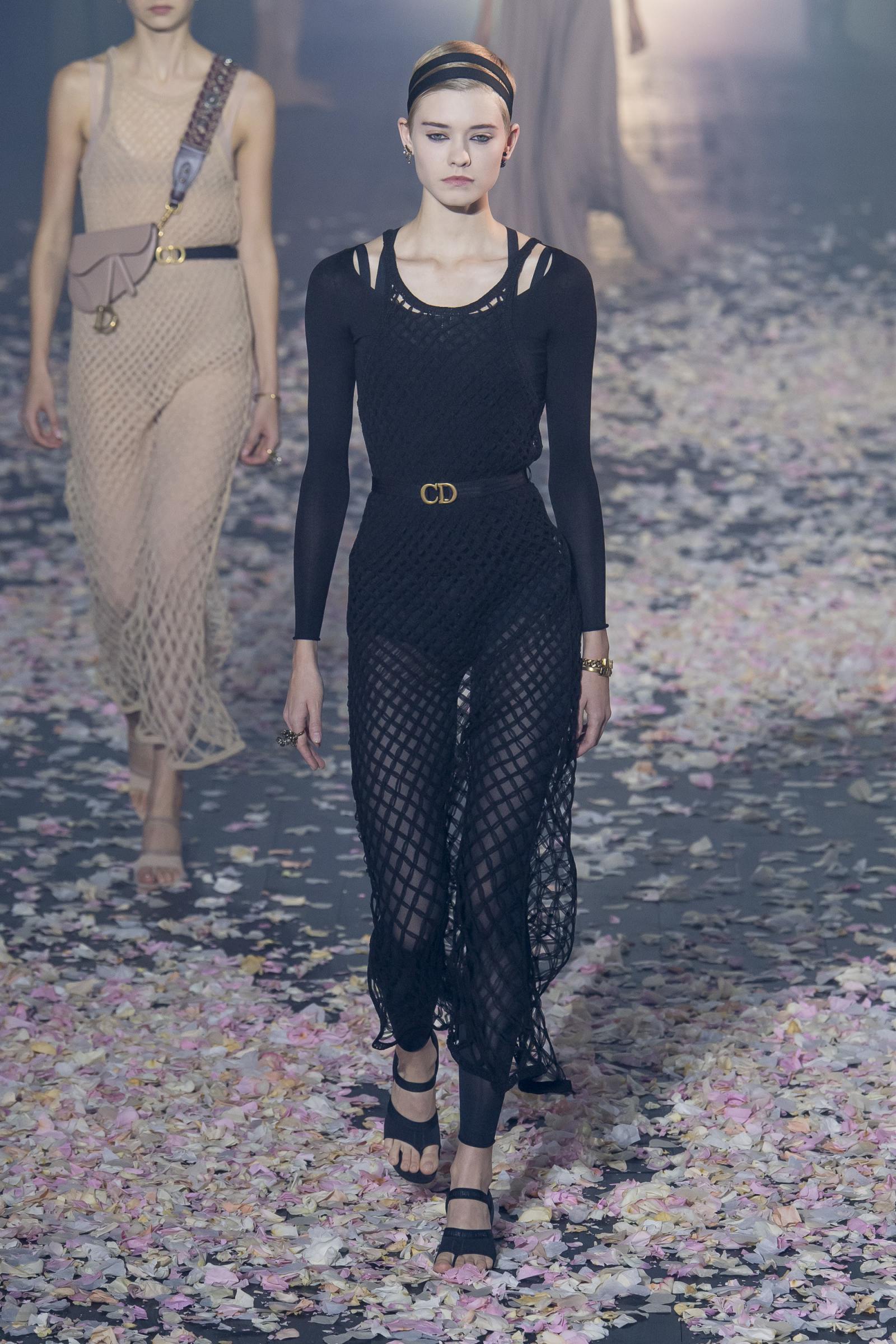 KEY TRENDS: Tulle, leotards & sheer
At this year's ETAM live show, many bold and inspiring pieces of women's wear was presented for the SS 2019 collection. Pieces featured mesh overlays, fish net, and decorative shoulder arrangements bringing a sexy yet classy look. In addition to the stunning pieces presented, rapper/ singer Cardi B gave a show of her own at the ETAM live show which definitely livened up the crowd even more. The show really demonstrated what ETAM can do from lingerie to swimwear to long extravagant coats. This year, ETAM really came out bold and featured a eye turning lineup.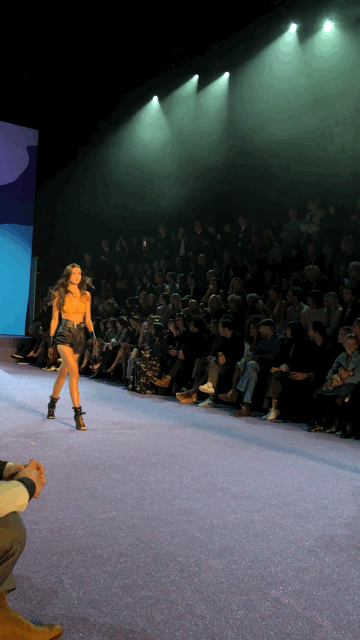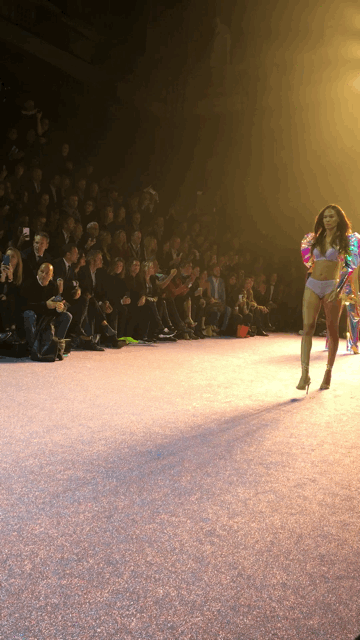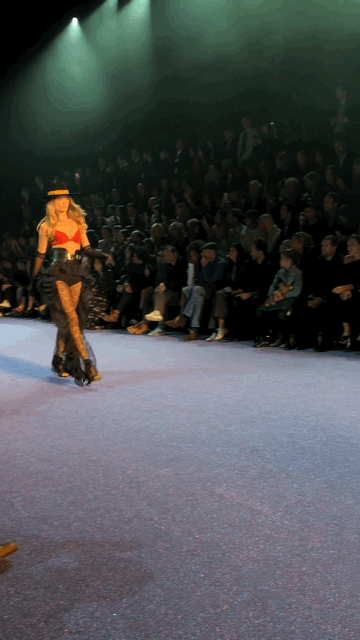 KEY TRENDS: Mesh, fishnet, & high-waisted
This season, Unravel had their runway outdoors, which went so well with their collection. I love how each piece was layered on top of one another brilliantly. The different looks that the models had were definitely looks I want to wear. So many of the pieces included track pants and utility jackets in shades of blue and red. One of my favorite pieces was the denim jacket over the blue track pants and crop top. The collection was definitely inspired by street style and activewear, but I love how the designer put it together in such wearable ways!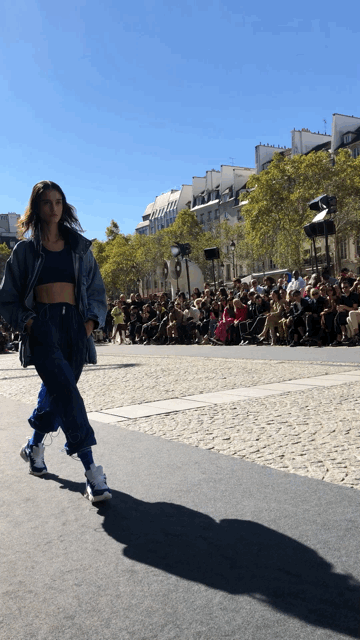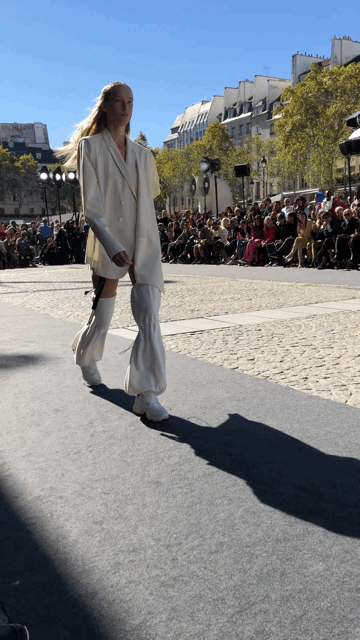 KEY TRENDS: Track pants, denim & sportswear
I loved how elegant and fancy the Rochas runway was this season. The whole show was a masterpiece and I felt like I was in a royal palace. Simone Rocha definitely went all out with the leopard print this season with the print being featured on dresses and outerwear, I loved it all. The silk dresses were also amazing and looked so comfortable and easy to throw on. The fringed pieces were also so interesting and fun to see because the movement on each piece was amazing! One of my favorite pieces was the yellow ensemble, a bright yellow coat paired on top of a yellow fringed dress. I loved how cohesive the collection was and I am definitely excited to try on these pieces for the season!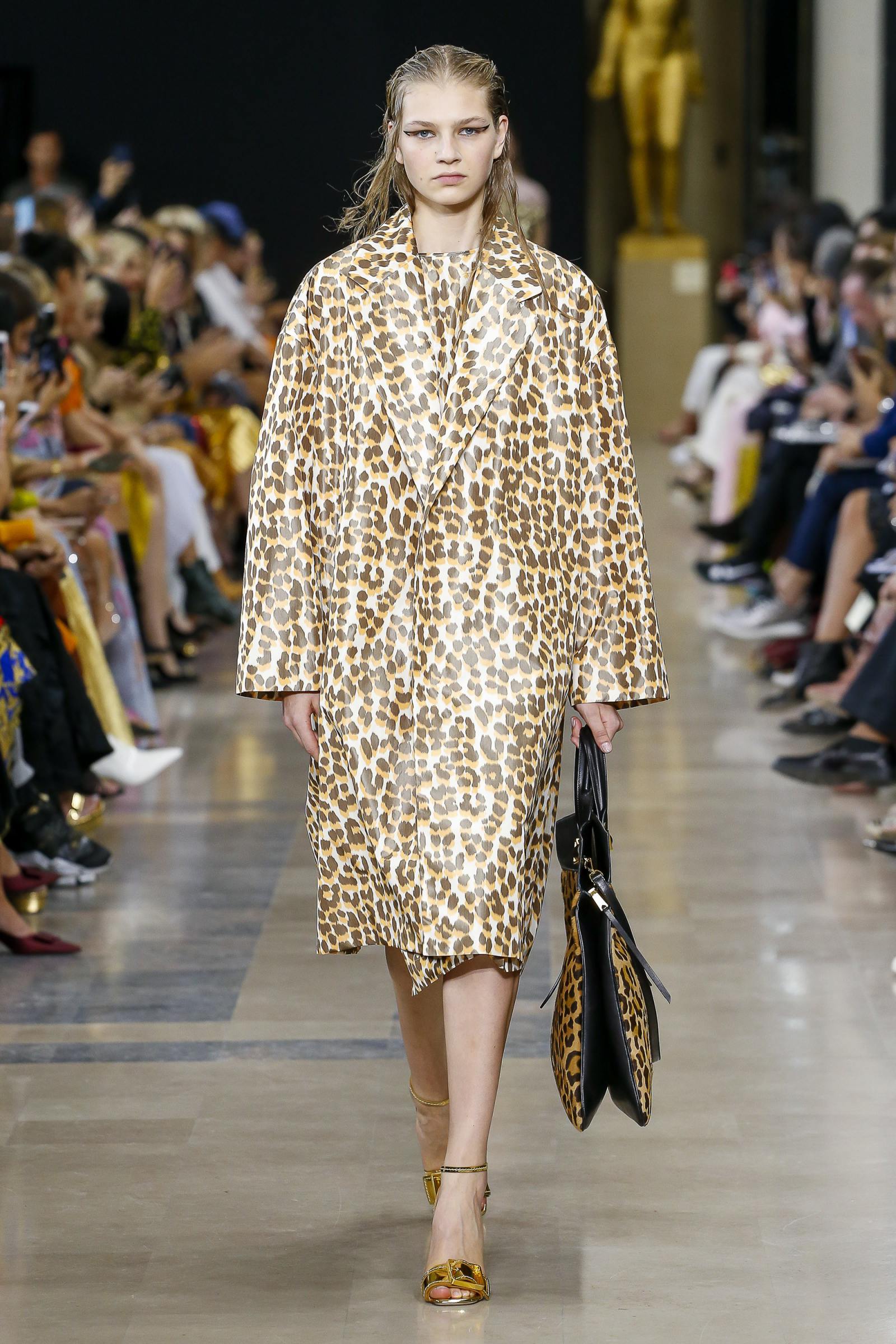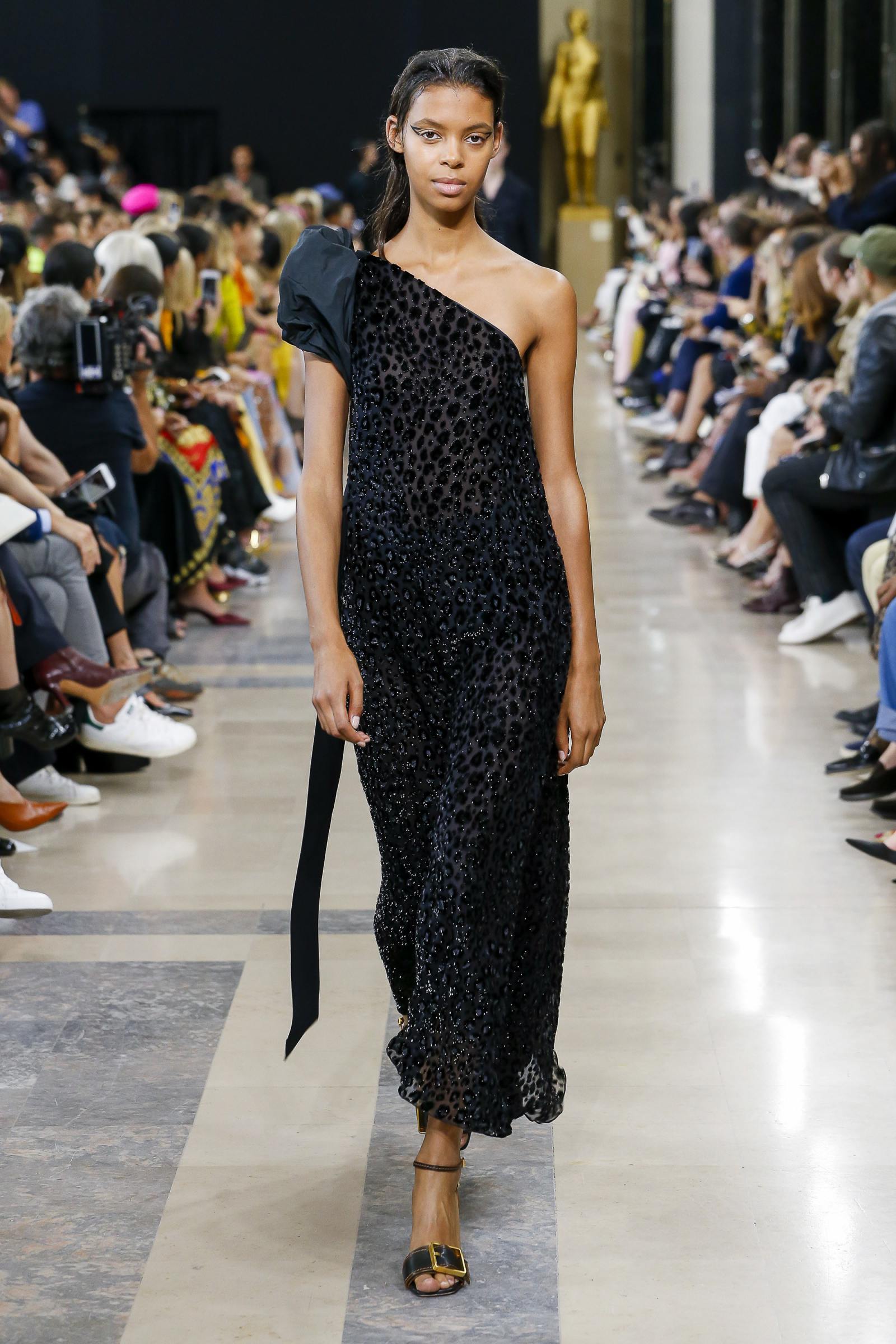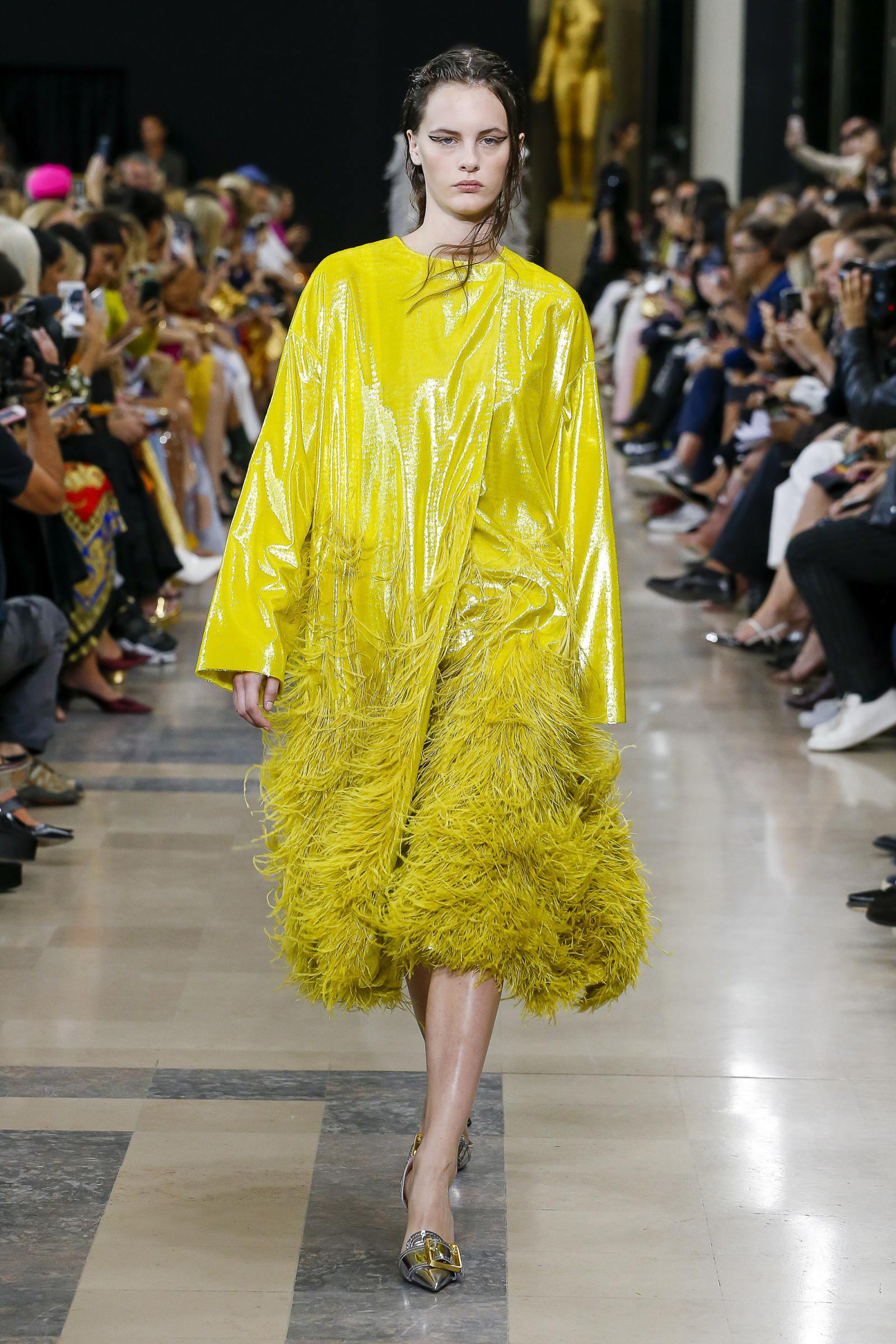 KEY TRENDS: Leopard print, silk dresses, & fringe
One of the best all-black collections I have ever witnessed. From the environment to all the pieces and looks of the show, everything was so raw and provocative. It was definitely very rocker-chick with pieces that were edgy and bold. The minidresses, the sheer tops, and the sequins were all so edgy and glamorous at the same time, I could not take my eyes off of anything. The designer was very inspired by the 70's genre and the direction of the president. He wanted to tie his collection into what was happening in the world today and wanted every piece to reflect that!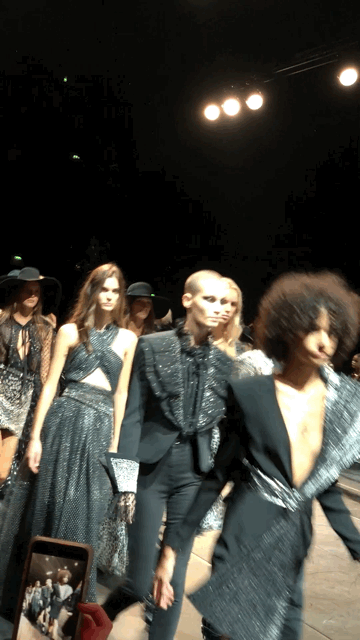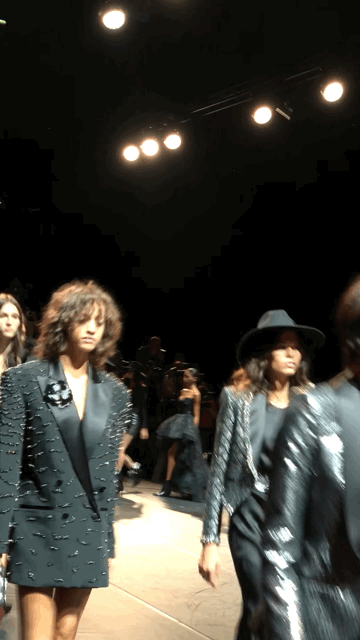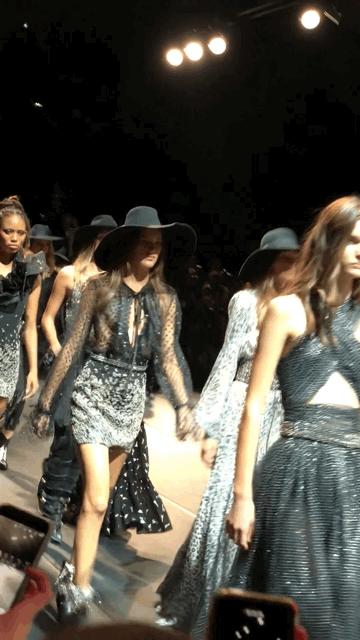 KEY TRENDS: Monochrome black, sheer, & sequins
Isabel Marant is undeniably one of my favorite designers and this collection wowed me once again. Think disco party filled with silver and dazzling pieces! I loved it from the beginning to end and I felt like I was at a party! Not only did she mix and match the metallics with the denim, she also made all the looks wearable, which is a huge plus in my opinion. Many of the looks were baggy with some form of fit in the look, whether it was a jumpsuit accentuating the model's waist or strong shoulders. The overall collection was filled with acid washed denim, bomber jackets with amazing quilted detailing and rompers and jumpsuits.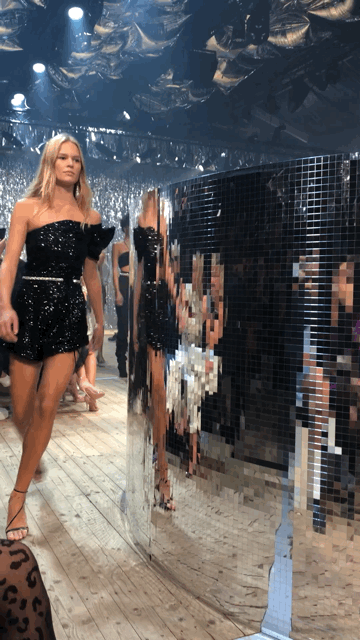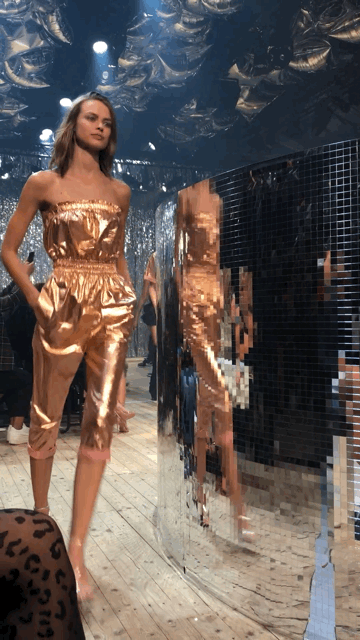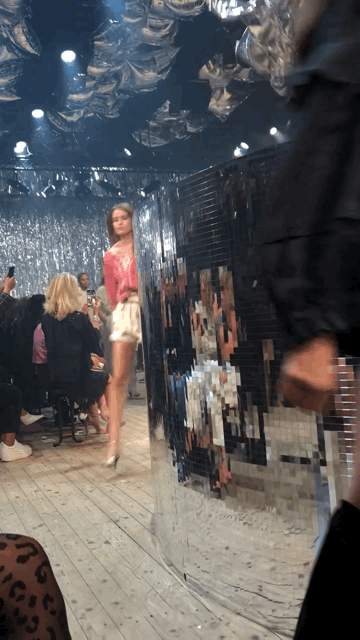 KEY TRENDS: Metallics (gunmetal lamé), acid washed denim, & thigh-high boots
Talk about avant-garde and authentic head-pieces! This collection had garments and fabrics that were definitely artful and seemed so hard to work with, but the designer totally pulled it off! The pieces had colors of red, blue, and purple, and overall had a whole rural vibe because of the straw hats. Each piece looked like it was molded to fit each model and I thought it was brilliant. I can see the designer was inspired by something totally out-of-the-box and he created all his looks with a new material called Dough Dough, which can be modulated into any shape and form, from twisting to crumpling and I think that's how each look was transformed during the show.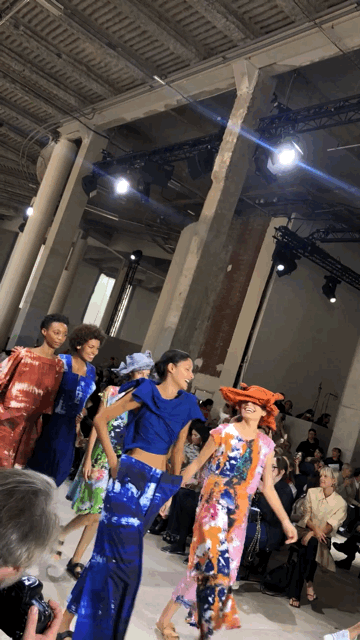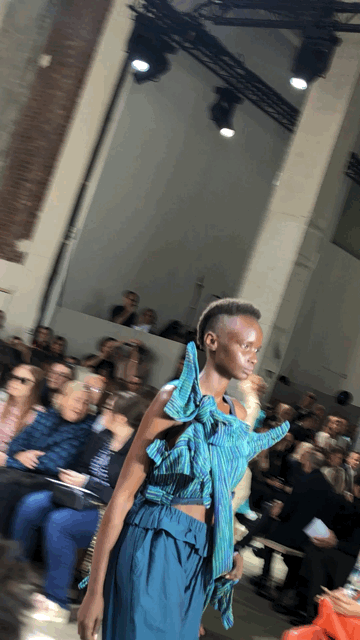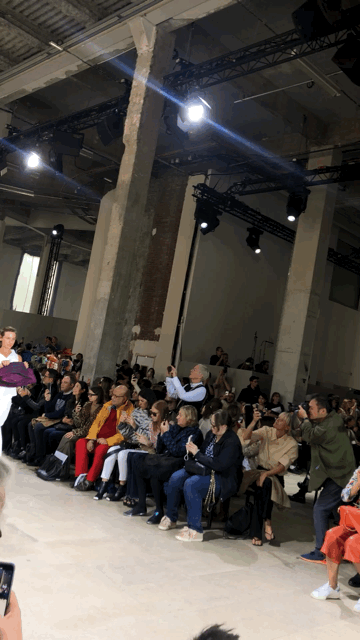 KEY TRENDS: Straw hats, paint splatter, & wavy stripes
The designer described her collection as "boring" but I thought it was so stunning. Her collection featured a classic, timeless woman who wore cashmere cable-knit skirts, sweaters, and pearl-buttoned cardigans. It was a bit more casual than your usual fashion week but I loved it. The presentation and environment worked so well for the entire show and it definitely had country-club vibes. I loved how intimate the show was and the audience and models were very close together. You can see that her inspiration was drawn from the 80's yacht culture, featuring the polka-dot dresses with big collars and striped blazers. I loved how the looks were accessorized with chunky jewelry and headbands. The show was the perfect vision of a mixture between modern and vintage!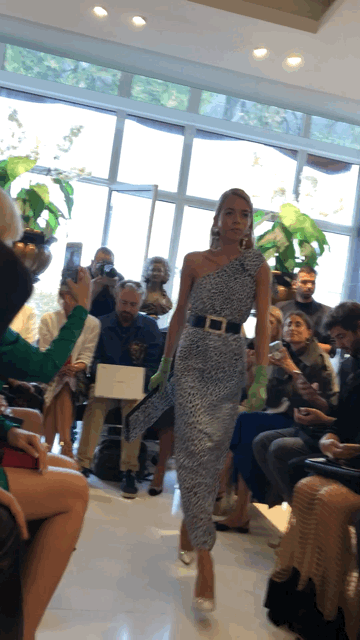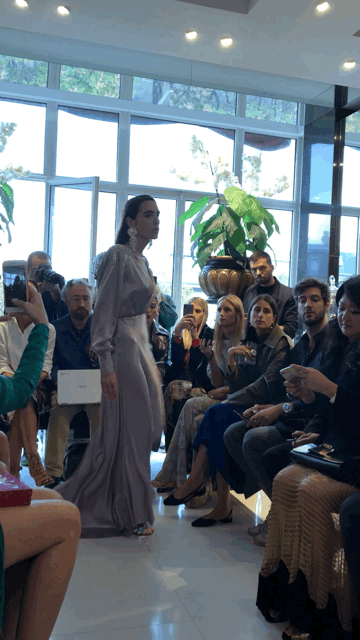 KEY TRENDS: Cable-knit skirts, polka dots, & oversized collars
This collection was hands-down the perfect fantasy. Everything was exuberant, optimistic, and colorful. I loved how the show made me feel so bittersweet about the summertime. The models were all wearing bikini tops with fitted jackets and skirts over them. My favorite part was definitely the floral patterns on some of the pieces. They reminded me of beautiful paintings featuring bright colors like yellow and pink. I also loved the plaid patterns shown in several different colors. This collection definitely gave me major vacation vibes.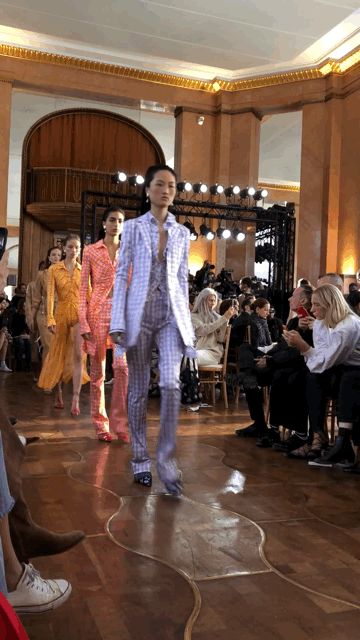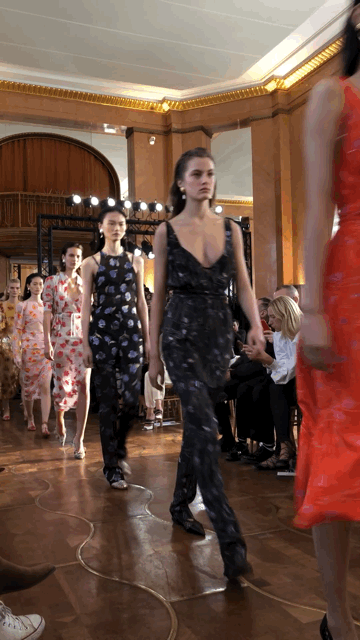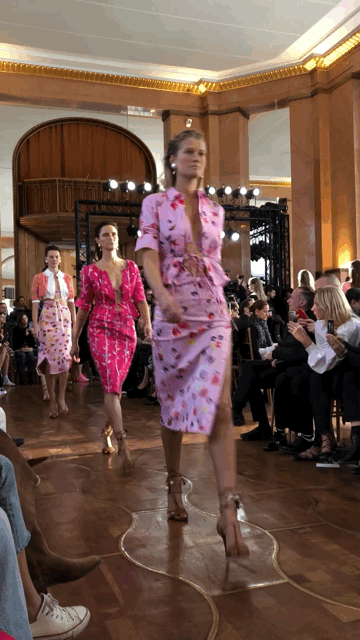 KEY TRENDS: Plaid, floral prints, & pink
This show was the 50th anniversary of the Sonia Rykiel label and even the Mayor of Paris, Anne Hidalgo attended the show, as a street was named in her honor. The show took place on the street "Allee Sonia Rykiel" and Creative director Julie de Libran was inspired by a market she goes to on Sunday mornings, she was inspired by the food but also the people it attracts. She recreated the vibe and included children walking dogs on the runway. Many of the pieces had a very comfortable weekend feel to them from a lace nightgown and trench to stretch-knit sandals and jogging suits. I loved the fishnet tights and stripes on sweater dresses and a coats. Some of the pieces even used recycled polyester and organic leather.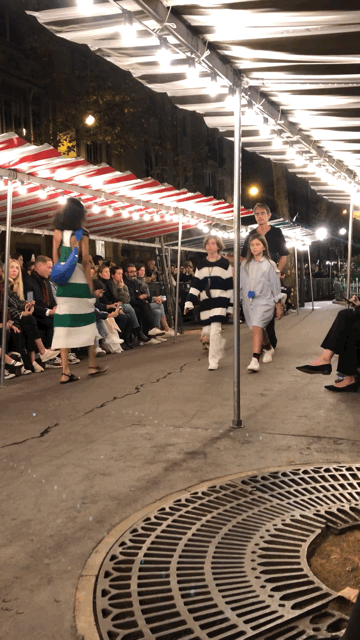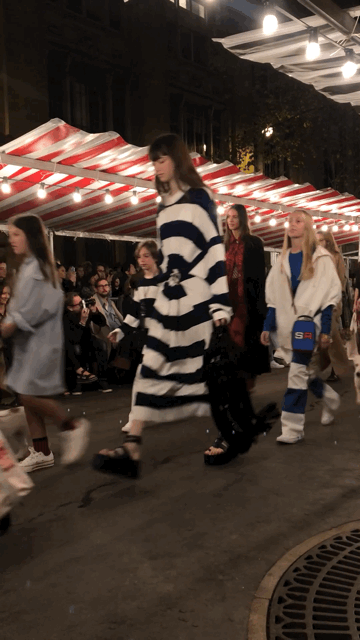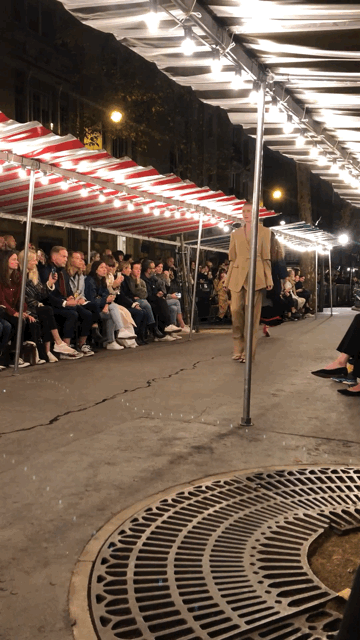 KEY TRENDS: Stripes, fishnet, & fringe
Designer Albert Kriemler at Akris gave everyone a history lesson during his PFW show. The designer was so intrigued by Romanian multimedia artist Geta Bratescu that they collaborated on the collection. He reproduced her photographed magnet sculptures on dresses and separates and also used them as hardware closures on suits. In addition to the prints, the collection was also filled with pleats. The designer did sunray pleats that were stitched flat. I also loved the pieces that were made from a collaged self-portrait in bright yellow with red lips and googly eyes. While the collection contained more muted colors, I loved the pops of yellow and red throughout.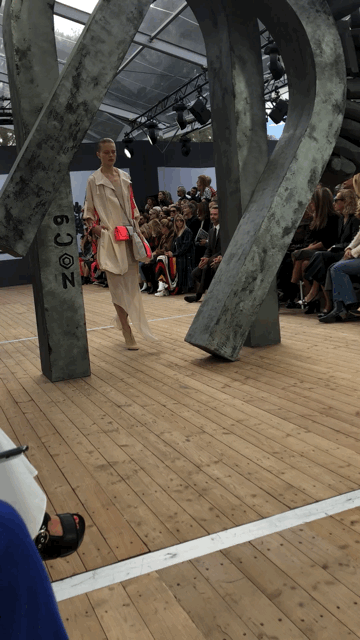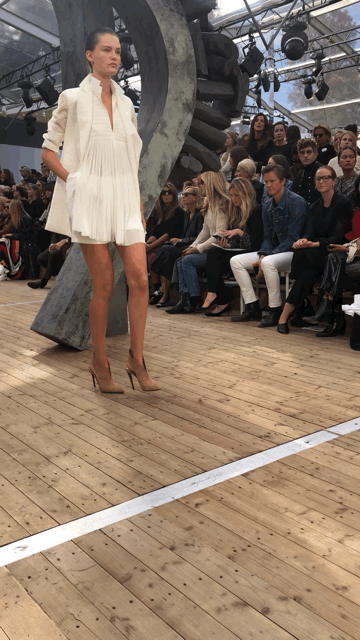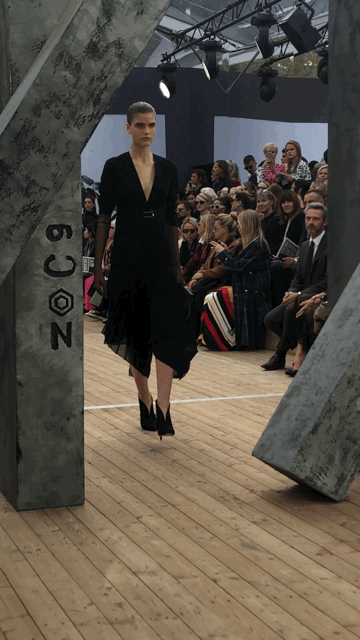 KEY TRENDS: Pleats, sheer, & asymmetric
Esteban Cortazar's collection was inspired by breezy warm days and sultry summer nights. Ibiza and his father inspired his collection, as his father always told him understand the feeling and the most beautiful colors are all around you. The collection contained a lot of tailoring mixed with draping, I loved the structured VS unstructured pieces. Dusty rose trousers, sleeveless blazers, tent dresses and a full-length pajama shirt created the perfect vacation vibe. The collection also contained a lot of knitwear, from body-contoured knits to full-length dresses. It was such a beautiful collection!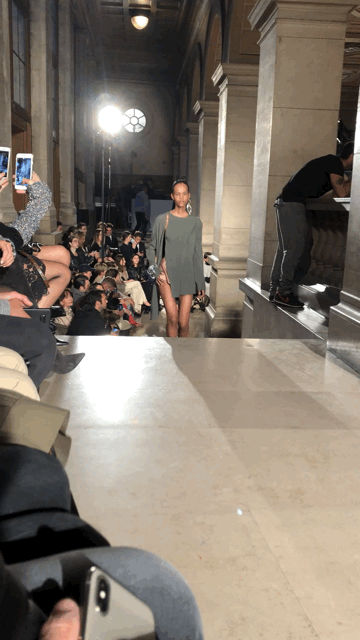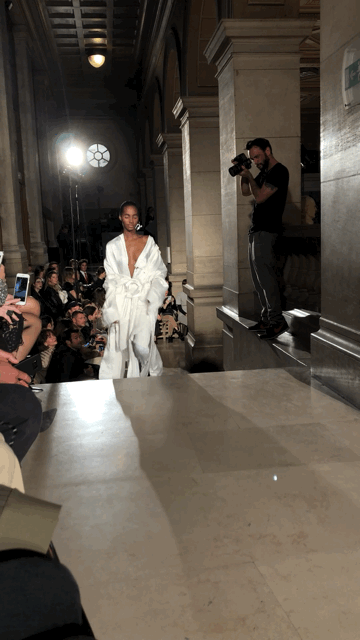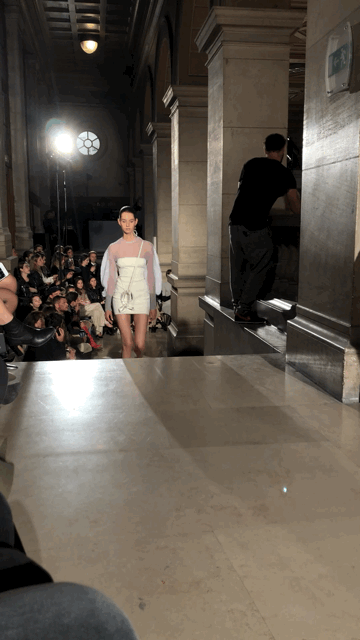 KEY TRENDS: Dusty rose, puff sleeves, & pajama blouses
My PFW ended with the Chanel show, it was my first time ever attending and I was blown away with how beautiful and stunning the collection and atmosphere was. Karl Lagerfeld transformed the runway into a tropical beach, powder soft sand and soft waves included! The models walked the sandy runway barefoot with shoes in hand, while the runway was set on a tropical vacation the clothes were Parisian chic. Keeping true to Chanel classics, the collection included beige, suits, silk dresses, chain bags and logos on everything. Some of my favorite pieces included the tweed jackets, cropped cashmere sweaters and double quilted bags. I was seriously obsessed with the entire collection and loved how it was inspired by the carefree French girl who loved stealing pieces from her mother's closet. Chanel brought the beach and brought back the 90's to Paris.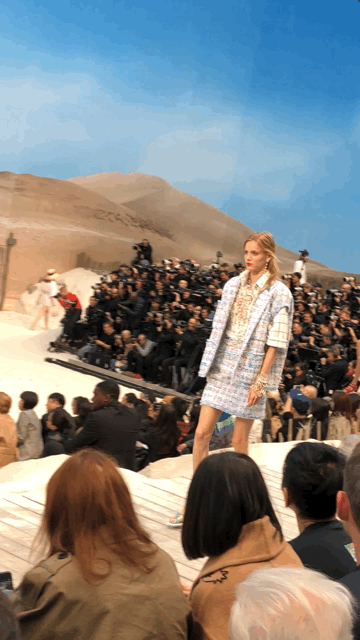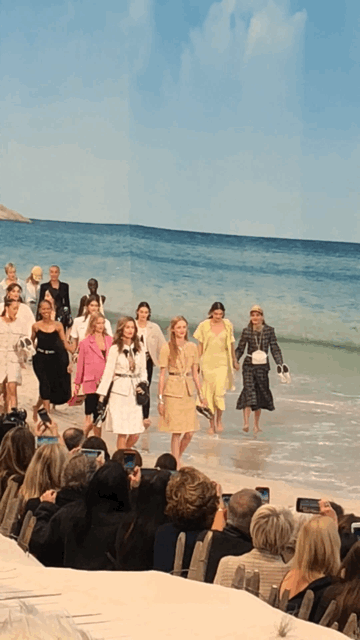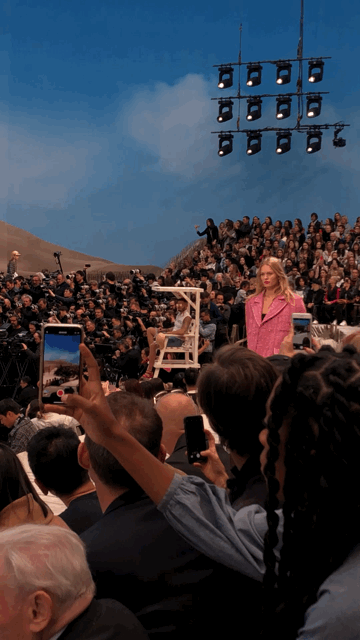 KEY TRENDS: Logos, denim cut offs, & two bag energy