Coachella 2017
I can't believe Coachella Weekend 1 is already over, such a fun weekend! I stayed at the Foray Collective house in Indian Wells and this place was massive, it had 18 rooms- I kinda got lost walking around it at one point! The pool area was also really nice- it was fun to have so many of my favorite people staying in once place as well.
Every year, Coachella always has so many events, but I like to not drive myself crazy and try to be at everything, also the main point for me was making sure we also made it to the festival before it got too late in the evening and we were able to see everyone we wanted to see play!
Here is everything I did and what I wore for the weekend:
Day 1
There was a big pool party hosted by Emily Ratajkowski at our house on Friday so everyone hung outside with yummy food and drinks. It was also really hot that day so of course I was also drenched in sunscreen! 🙂
Top: URBAN OUTFITTERS (sold out, similar HERE)
Skirt: ZARA
Necklace: DYLAN LEX
Face Jewels: BODY BAUBLE
After the party was over we headed to the festival as it was almost dark! A few of my favorite performances were The xx, Phantogram and Empire of the Sun.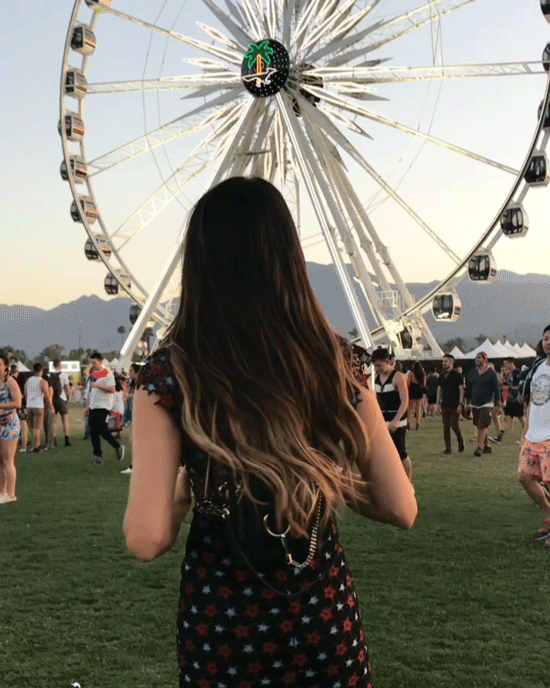 Dress: SANDRO
Backpack: CHLOE
Face Jewels: BODY BAUBLE
Day 2:
I attended the CFDA Popsugar brunch followed by visiting the Nordstrom Cabana.
Top: TOPSHOP
Shorts: TOPSHOP
Booties: JEFFREY CAMPBELL
Bag: REBECCA MINKOFF
After it cooled down, Paola and I (along with our hubbies and Jeff) went to the festival and literally stuffed our faces with food and danced the night away! A few of my highlights of performances were Martin Garrix, DJ Snake and Lady Gaga.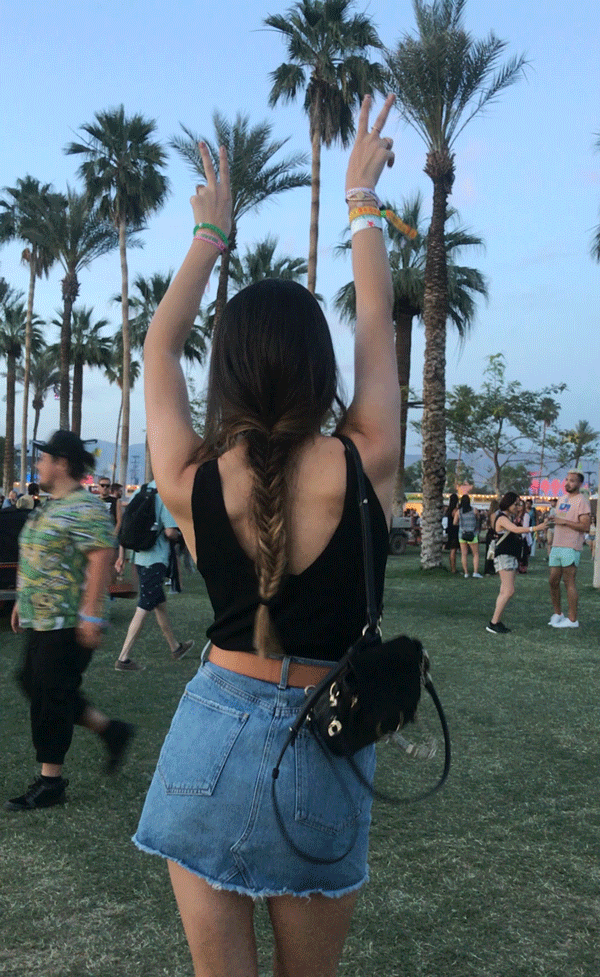 Top: ZARA
Skirt: GRLFRND DENIM
Belt: TOPSHOP
Backpack: CHLOE
Necklaces: ZARA, MARIDA, CHILD OF WILD
Earrings: ADORNMONDE
Cuff: ODETTE NY
Face Jewels: BODY BAUBLE
Day 3:
This was Easter Sunday which typically I would be at church and doing an egg hunt with Jadyn, so we brought Easter to Coachella! Jadyn stayed with her babysitter at a resort nearby where Anthony and I were staying, so that morning we went over there for swimming, resurrection eggs, Easter basket and an egg hunt- it was really nice to be together as a family! She also had school off on Friday and Monday so she spent the whole weekend swimming at the resort with her swan rafts and was in heaven! 🙂 Even though I would have loved to bring her with me inside Coachella, I don't think it's an appropriate place for a 10 year old girl- I told her she needs to be a bit older before she can come with us.
Later that evening we went to the festival for our last night and saw so many of our favorite people! Highlight performances for me were Porter Robinson & Madeon, Lorde and Kendrick Lamar.
Dress: FREE PEOPLE
BAG: COACH
Necklace: DYLAN LEX
Boots: BALENCIAGA
Face Jewels: BODY BAUBLE
xx Brittany