My Trip to Cuba and What You Need to Know Before You Go
We recently got back from Havana, Cuba with Lancôme– celebrating the launch of their newest lip color the Matte Shaker.
Our trip was well coordinated with the best local spots and we were really able to immerse ourselves in the Cuban culture while we were there. The Four Wives Cuba (who worked on organizing the Rolling Stones concert in Cuba, the filming of Fast and Furious in Cuba, and organized Madonna's recent birthday trip to Cuba) helped organize our trip, they offer luxury experiences within Havana and they customize the trip to what you hope to do while visiting. If you're planning on going to Cuba soon I would recommend you work with them (as they know most of the local businesses and are very knowledgable about good spots) to help you plan out the itinerary. You can see from what we did below they helped plan such an awesome experience for us while we were there!
Day 1:
We checked into the Saratoga Hotel (Paseo del Prado #603 Esquina Dragones, La Habana Vieja, La Habana, Cuba) which is considered the most luxury hotel in Havana and I really liked the service- the staff was always friendly, there was a rooftop pool and bar and the indoor bar area was a nice hangout spot as well!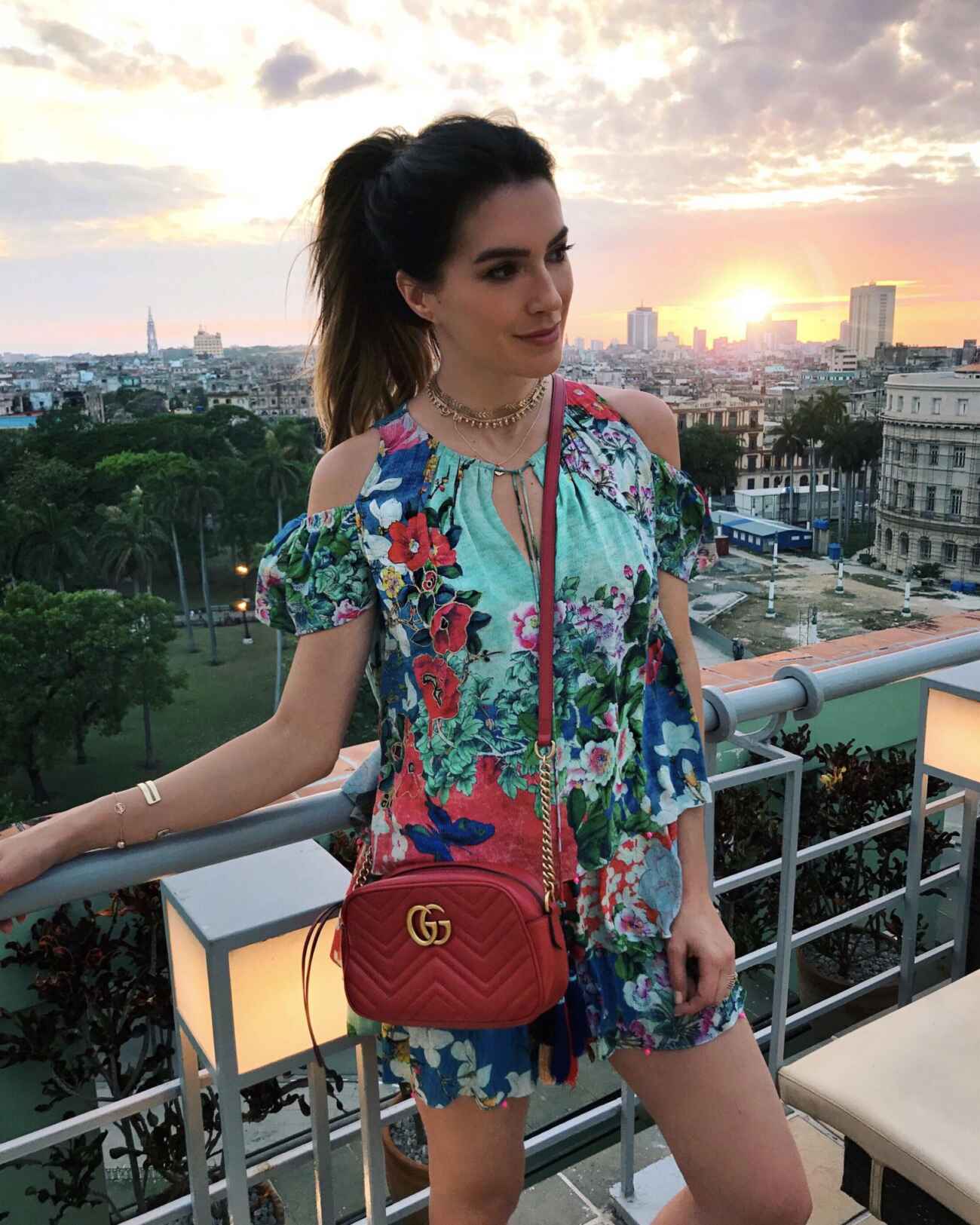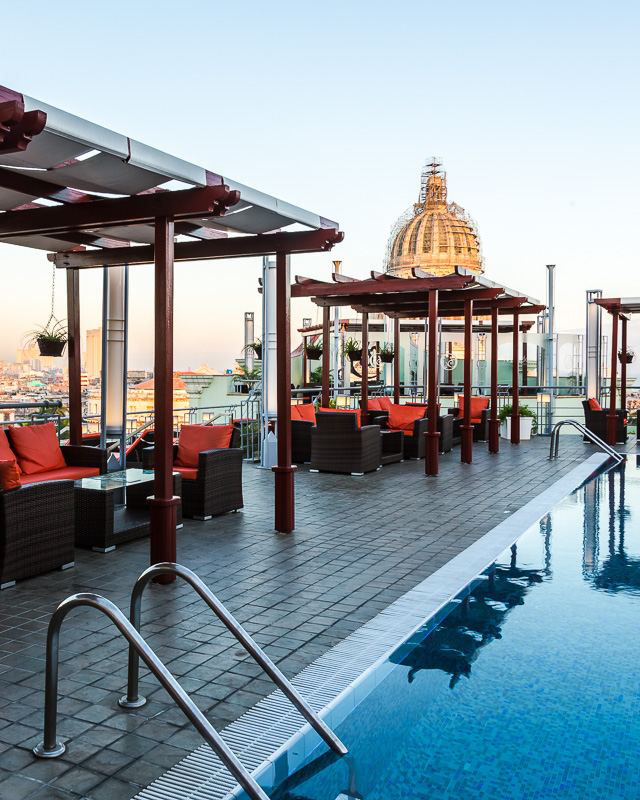 We then took convertible classic cars to the home of Cuban actor, Jorge Perugorria for dinner.
Day 2:
We went on a walking tour of Old Havana (a UNESCO World Heritage Site) with an architect knowledgeable not only about the city's history, but also the restoration work taking place in the area. I highly recommend that- I learned so much and it was really interesting!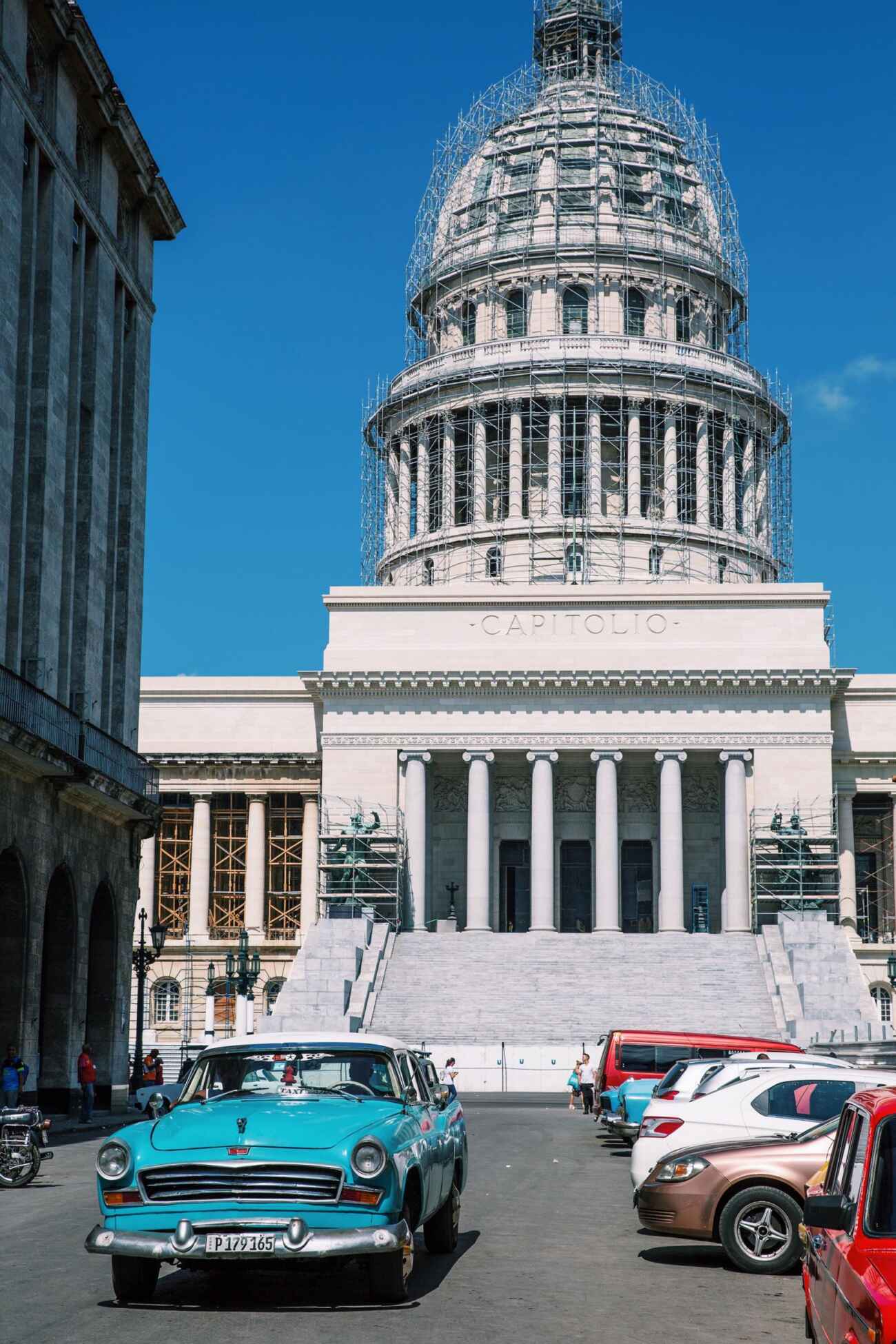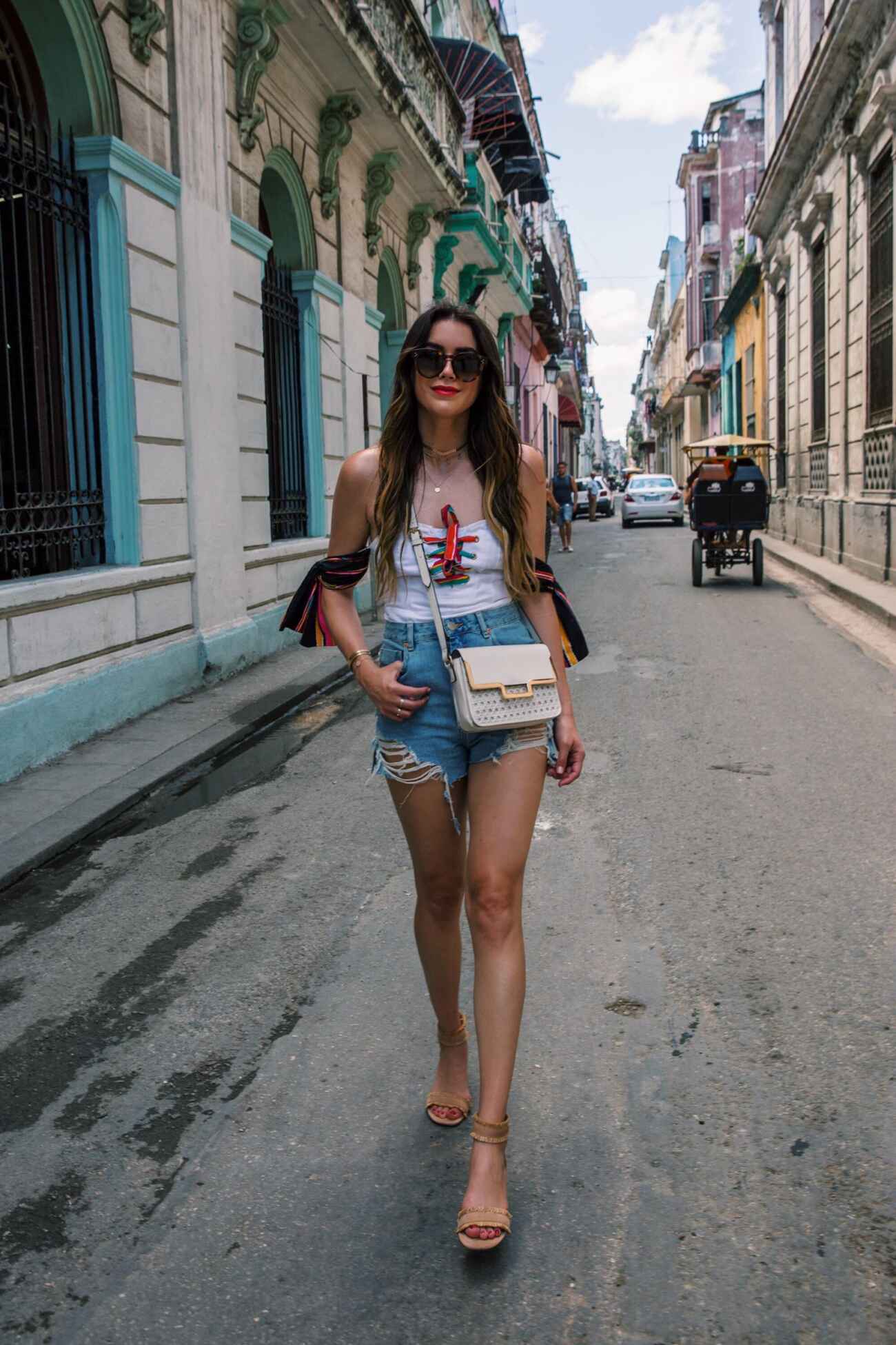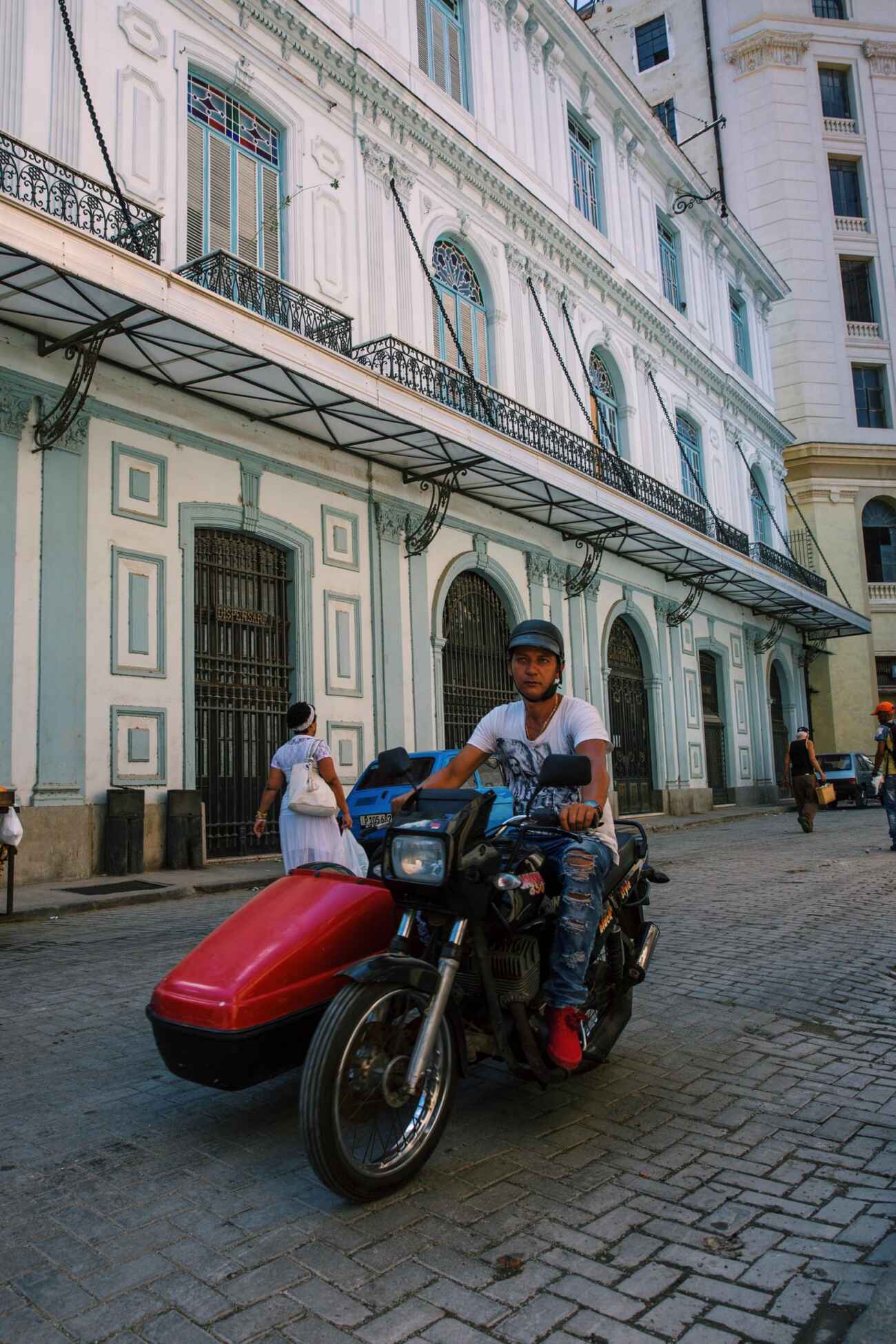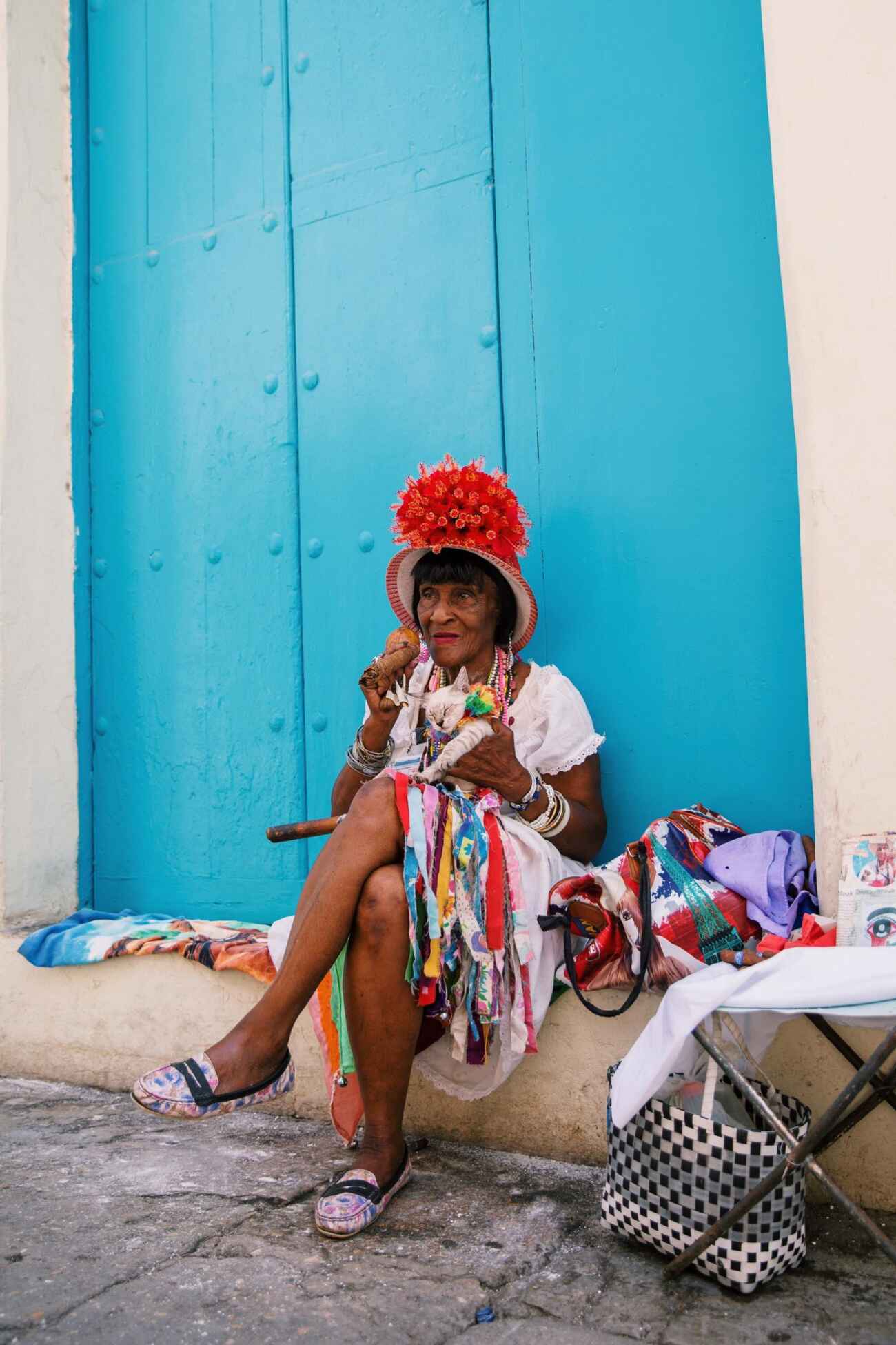 Top: ASOS
Shorts: ASOS
Lip: LANCOME MATTE SHAKER IN MAGIC ORANGE
We next had lunch at El Del Frente, a hip restaurant in the heart of Old Havana (Address: O'Reilly entre Aguiar y Habana, La Habana Vieja, La Habana, Cuba) OMGGGG the drinks here were amazing, I had the watermelon mojito and it was the freshest thing ever!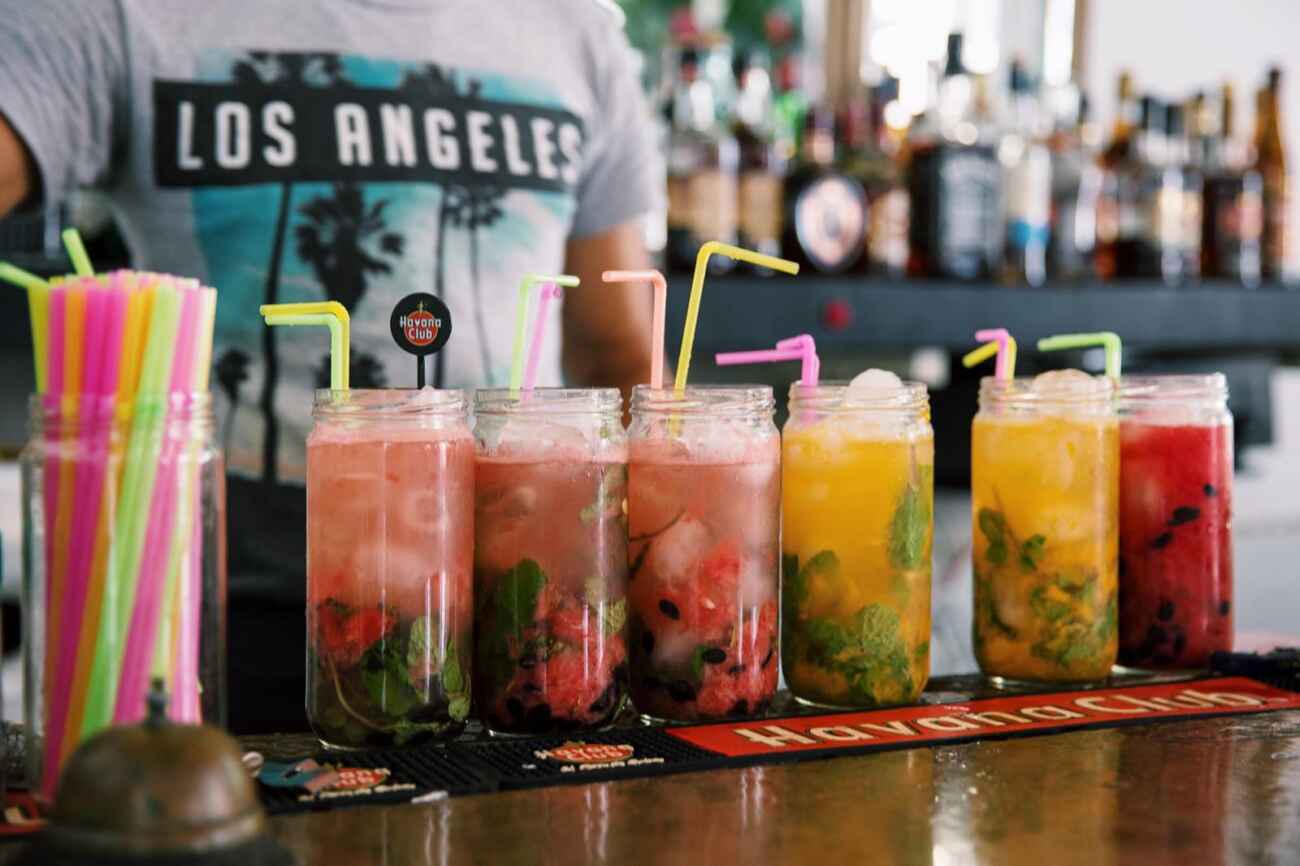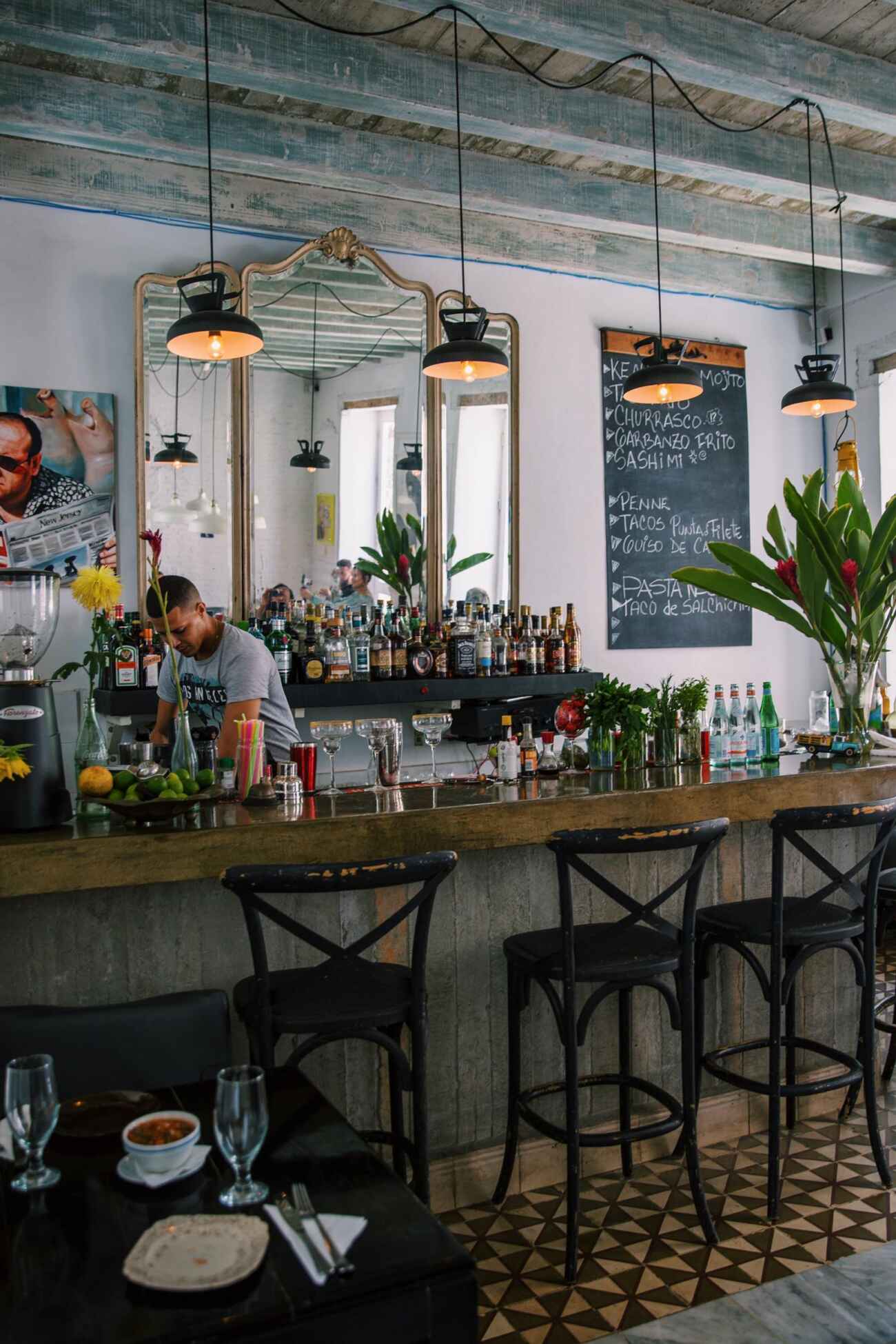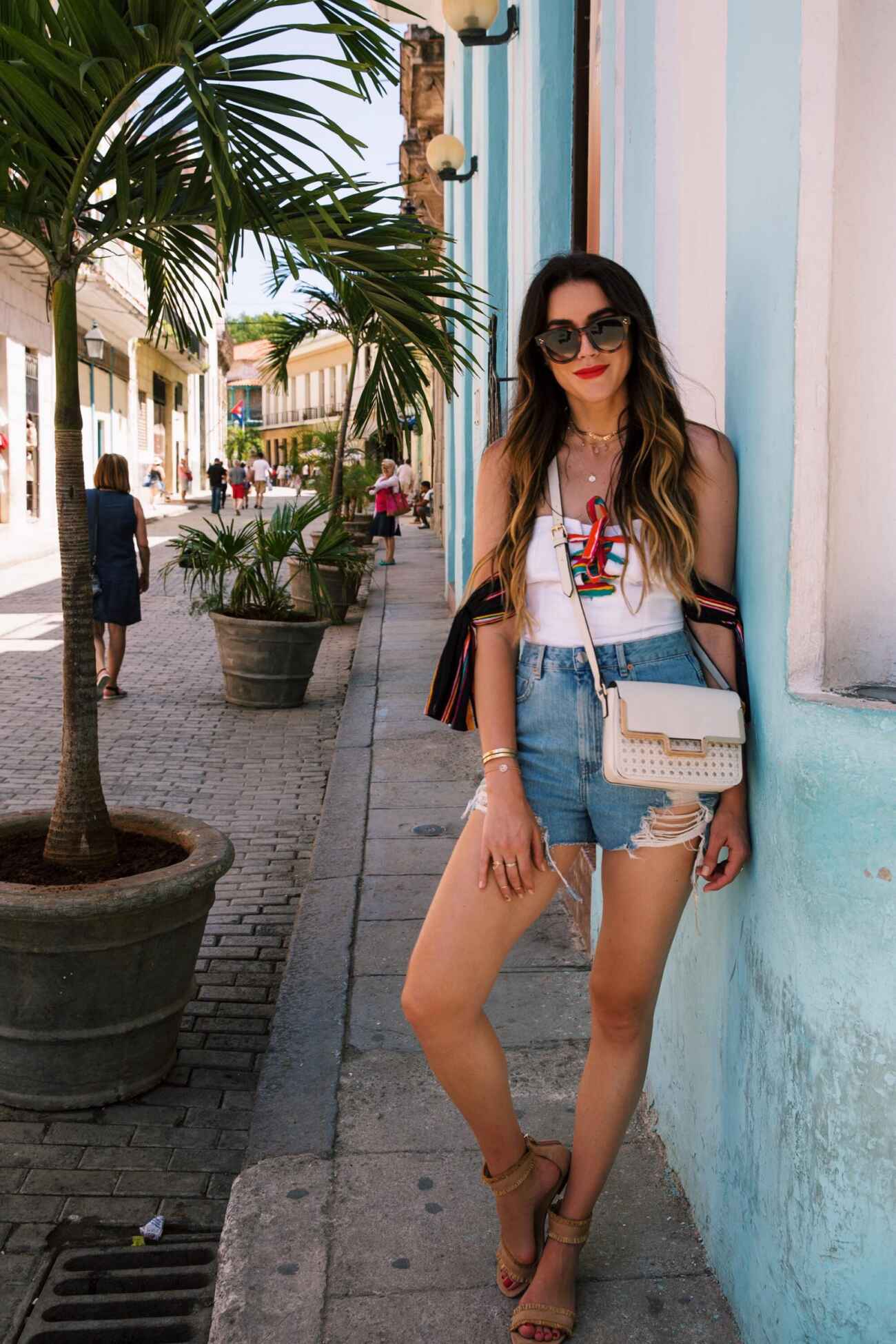 After, we took bicycle taxis to private salsa lessons at the Casa del Son (Address: Aguacate between Aguacate & Compostela, La Habana Vieja, La Habana, Cuba). This was definitely outside of my comfort zone but I'm really glad I did it, once I loosened up and forgot about sweaty I was- I had so much fun haha!
Next, Anthony and I took a pink convertible around the city for a tour before dinner- I love talking to the taxi drivers, each one was so kind and gave us inside tips about Havana.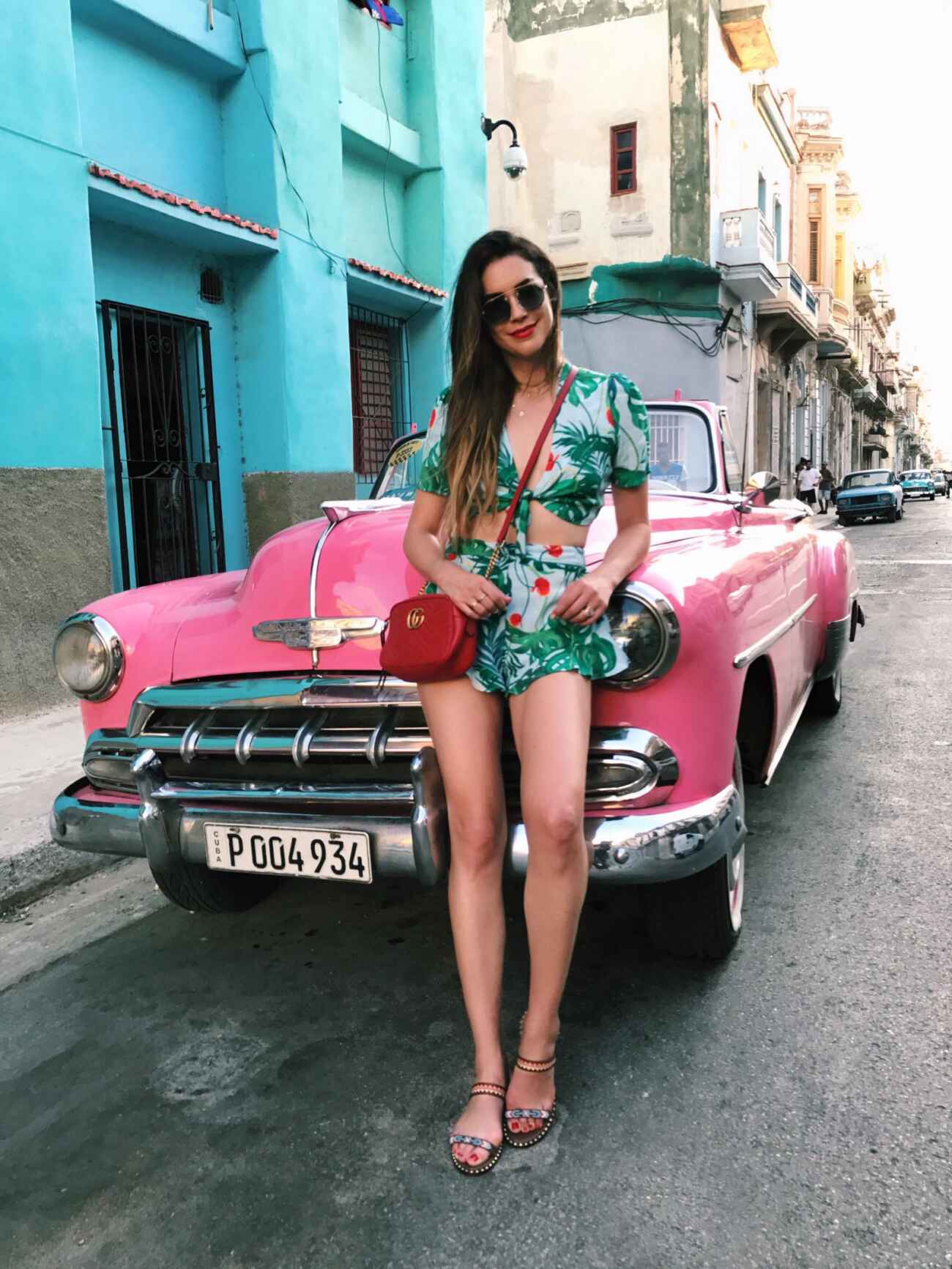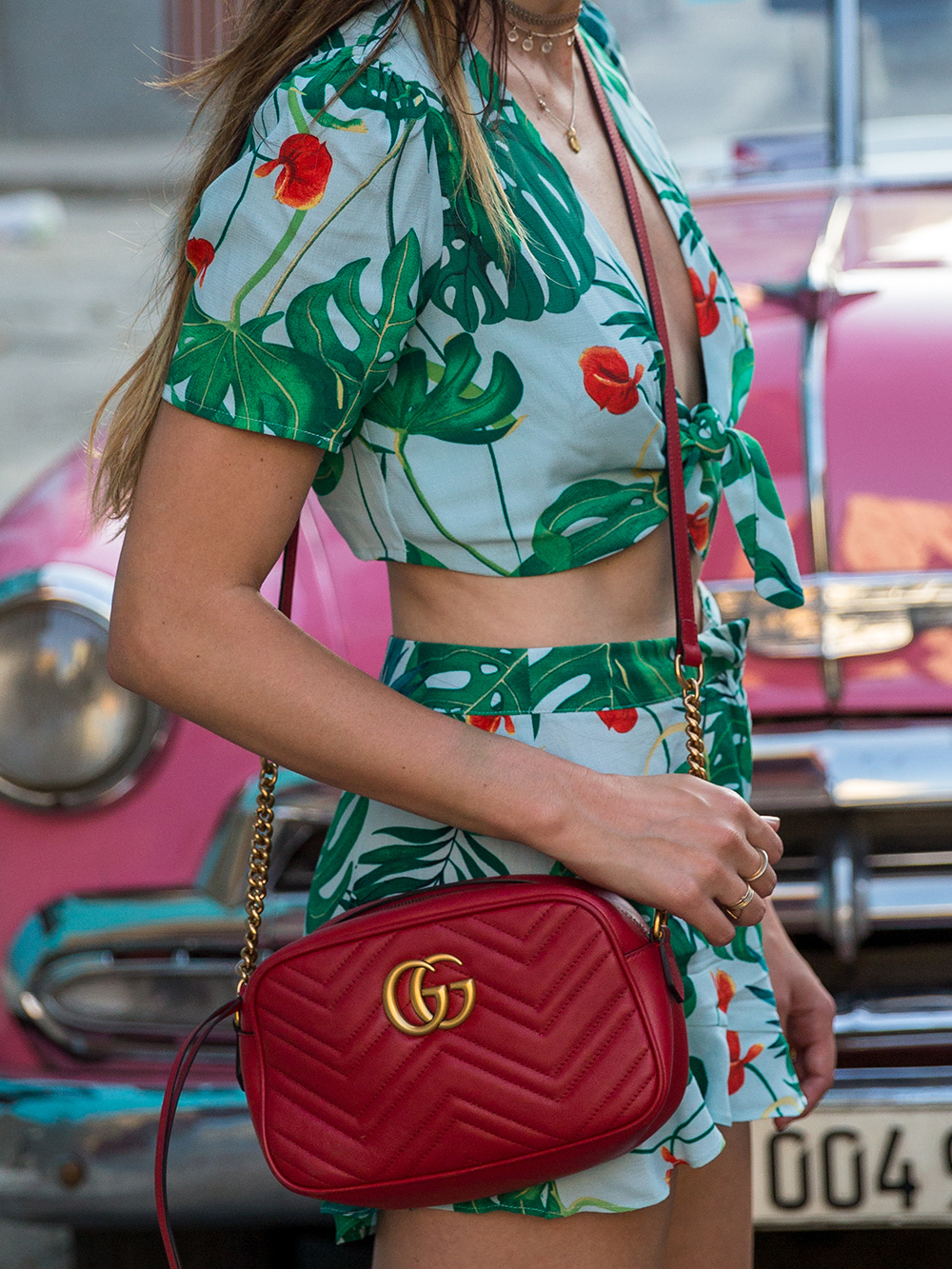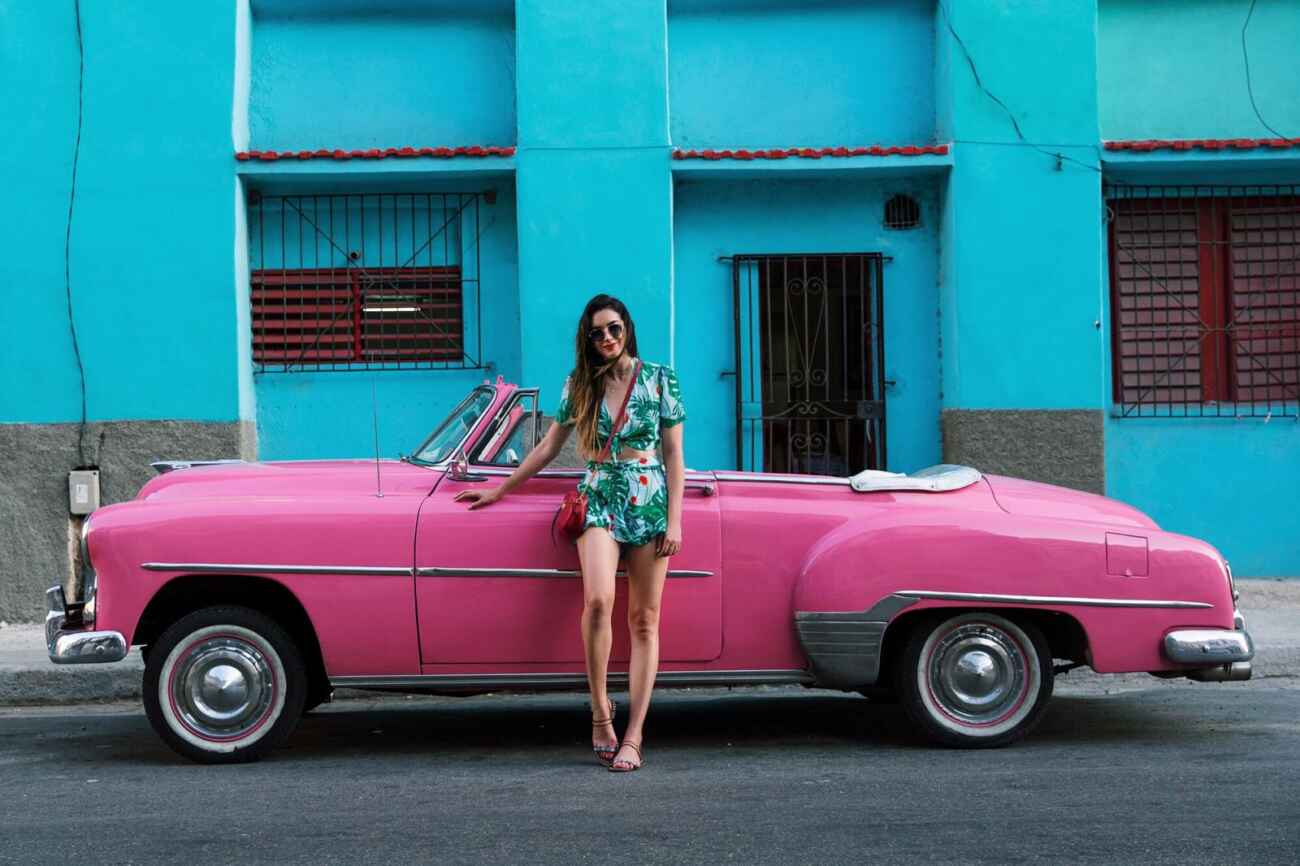 Links to my outfit HERE
We then had dinner on the rooftop at El Cocinero (Address: Calle 26 entre Calle 11 y Calle 13, Vedado, La Habana, Cuba), a hip rooftop bar.
Day 3:
We spent this day hanging by the pool of a nearby luxury villa, owned by a Cuban artist.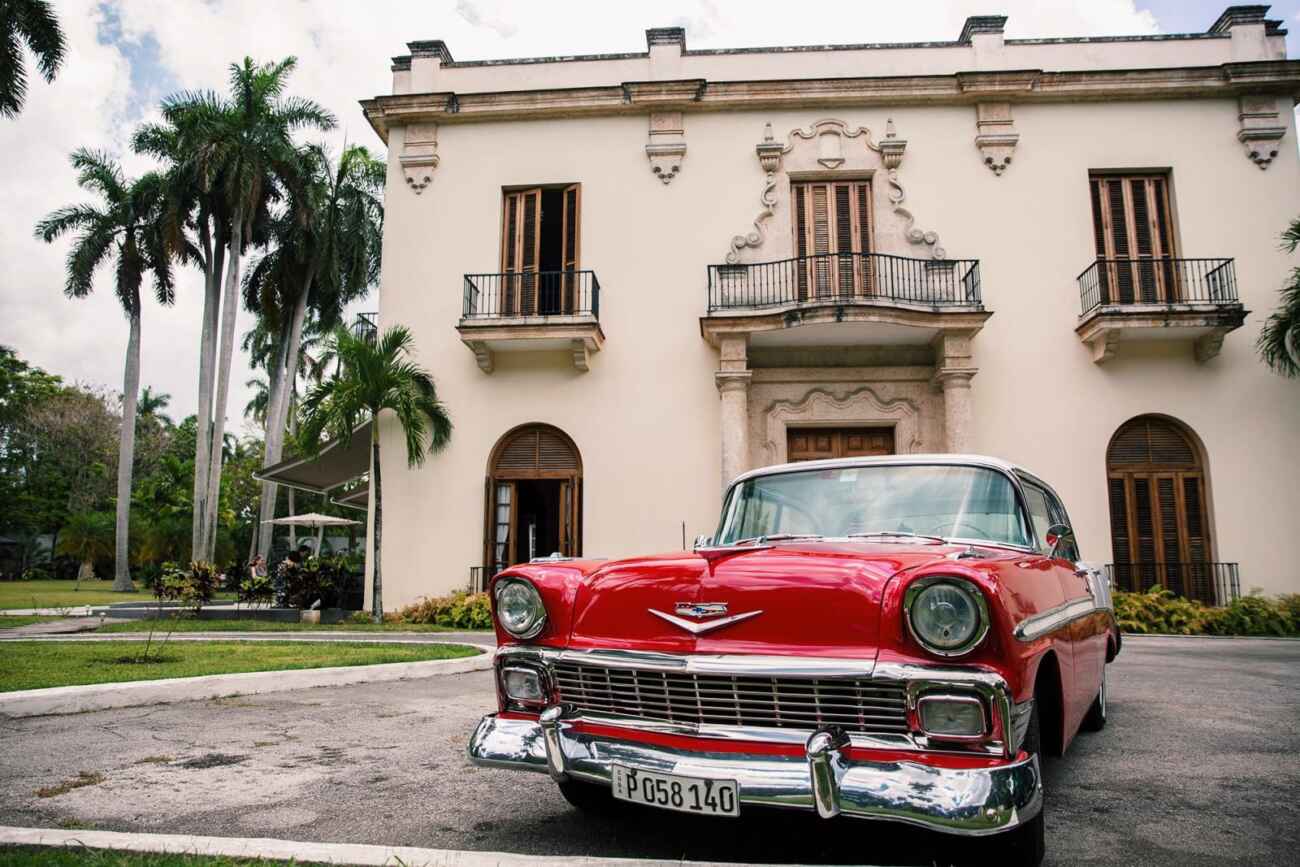 The bartender from El del Frente brought their drinks to us and Lua and I couldn't resist the watermelon mojito and guava daiquiri 🙂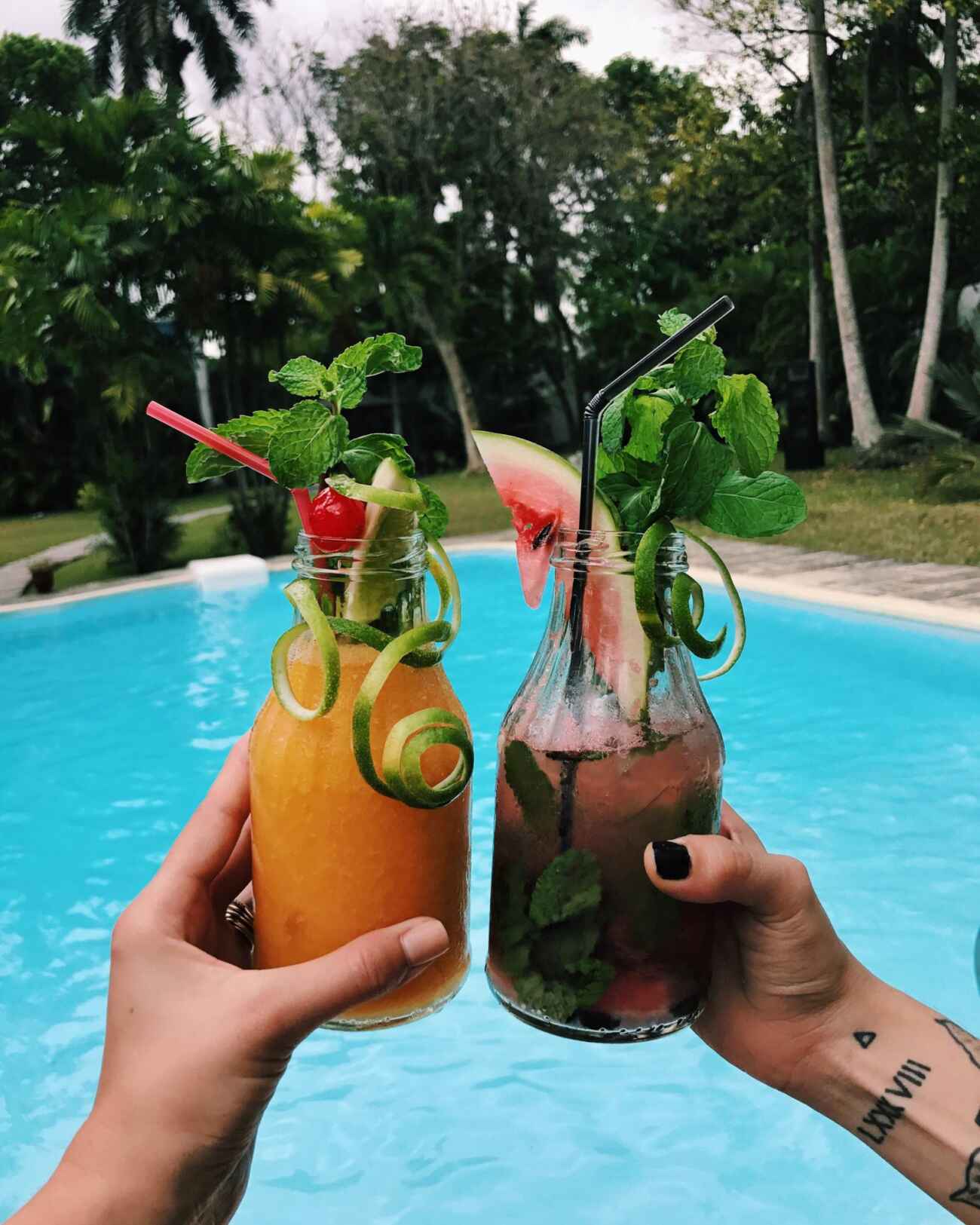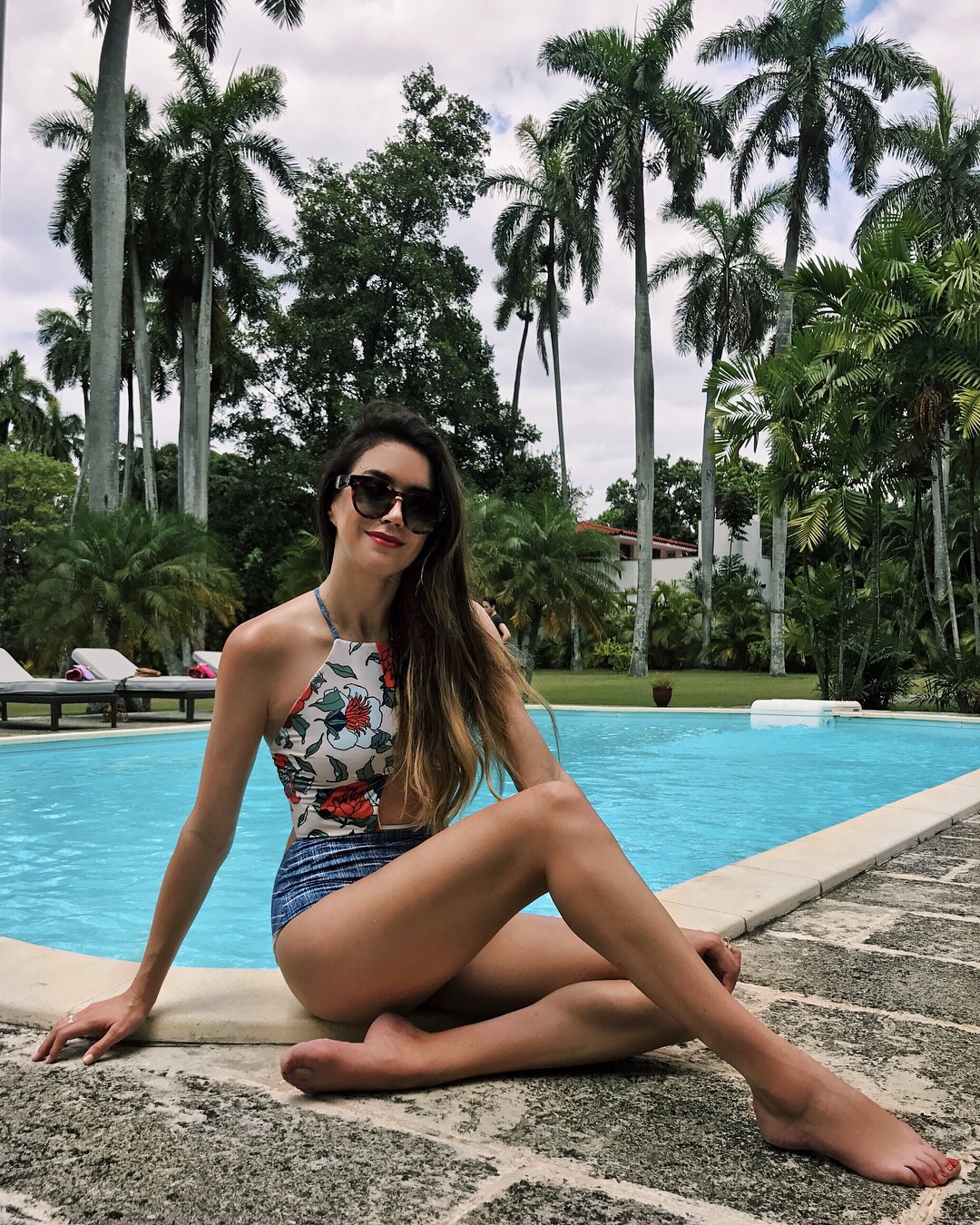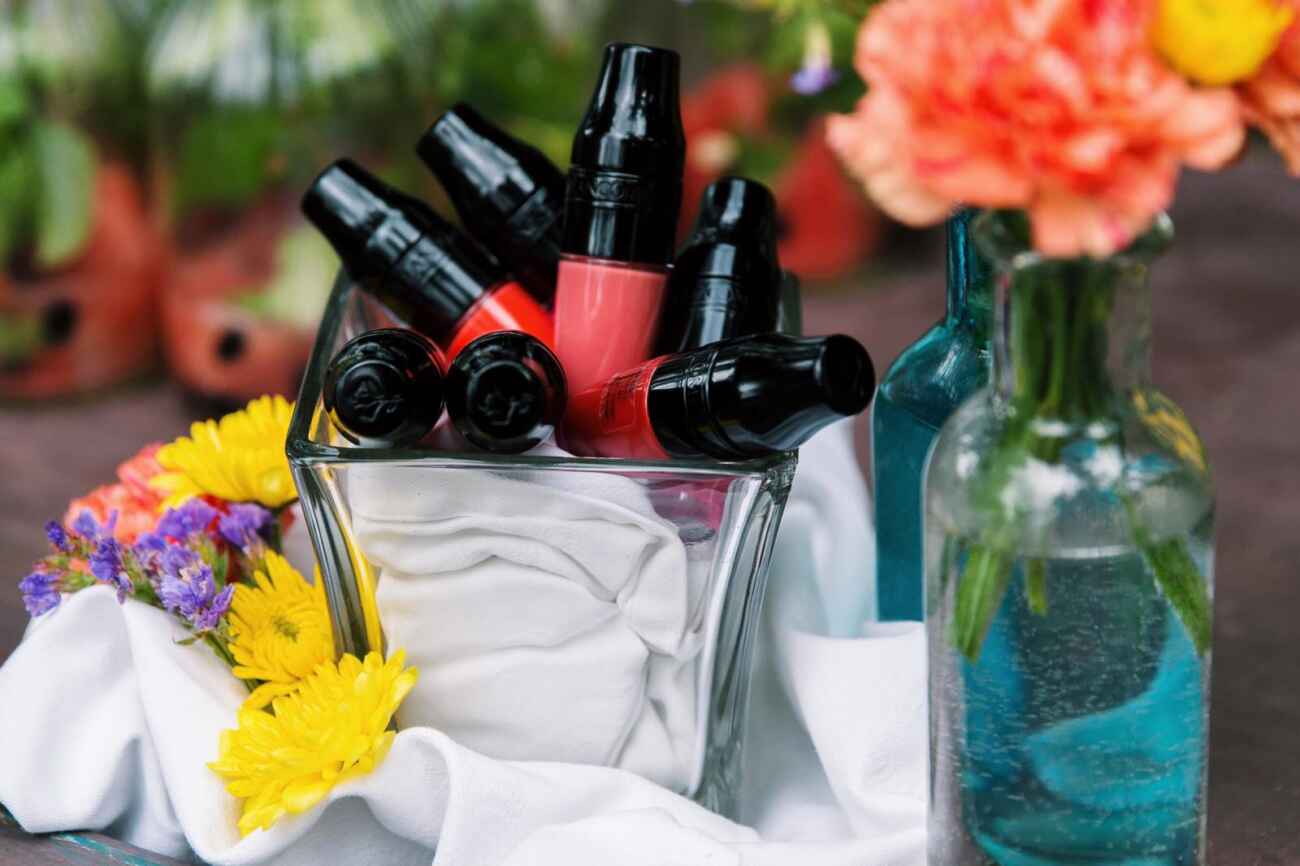 That night we went to a private rooftop dinner at La Guarida, Cuba's most charming and famous restaurant and the set of the Academy Award-nominated film Strawberries and Chocolate.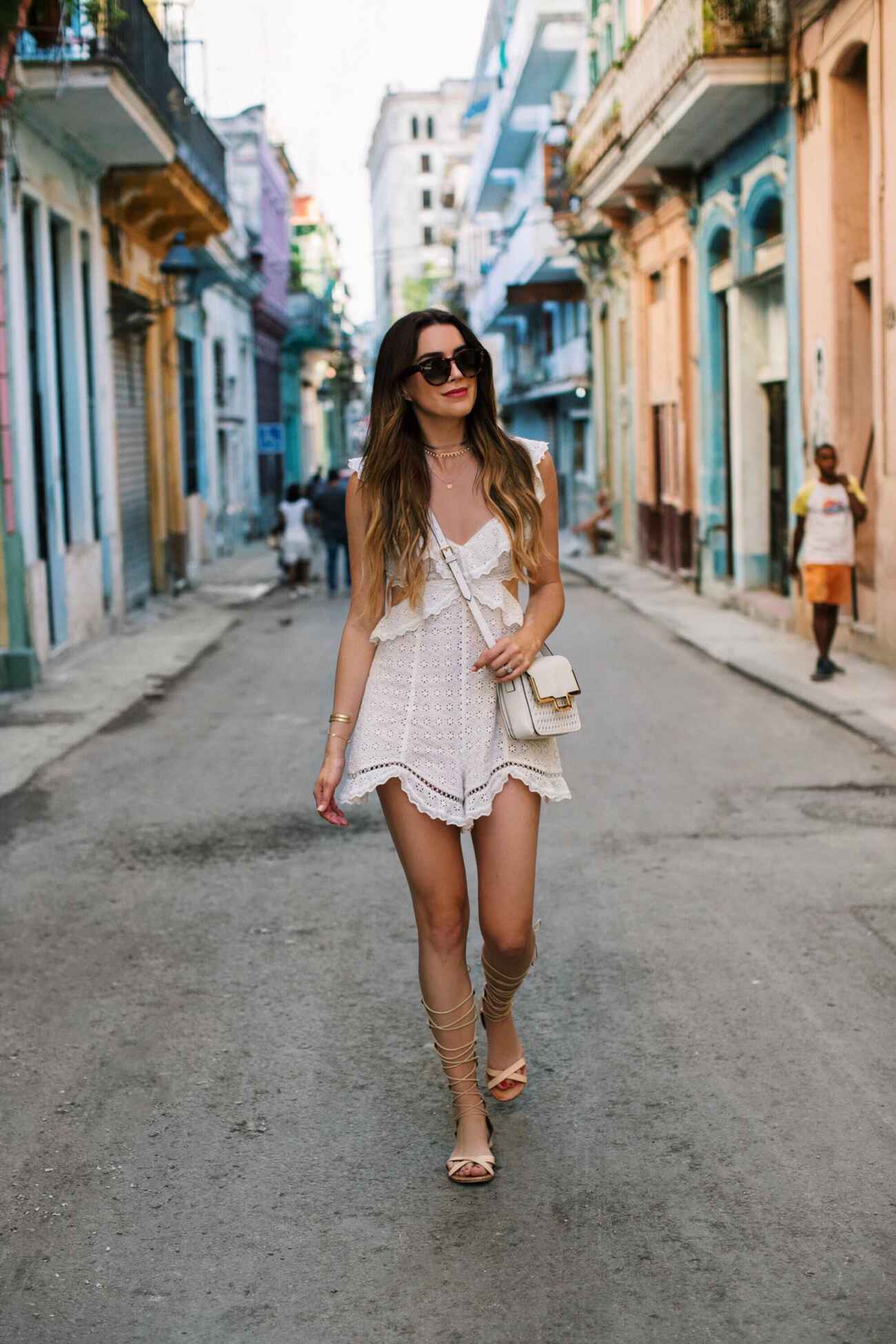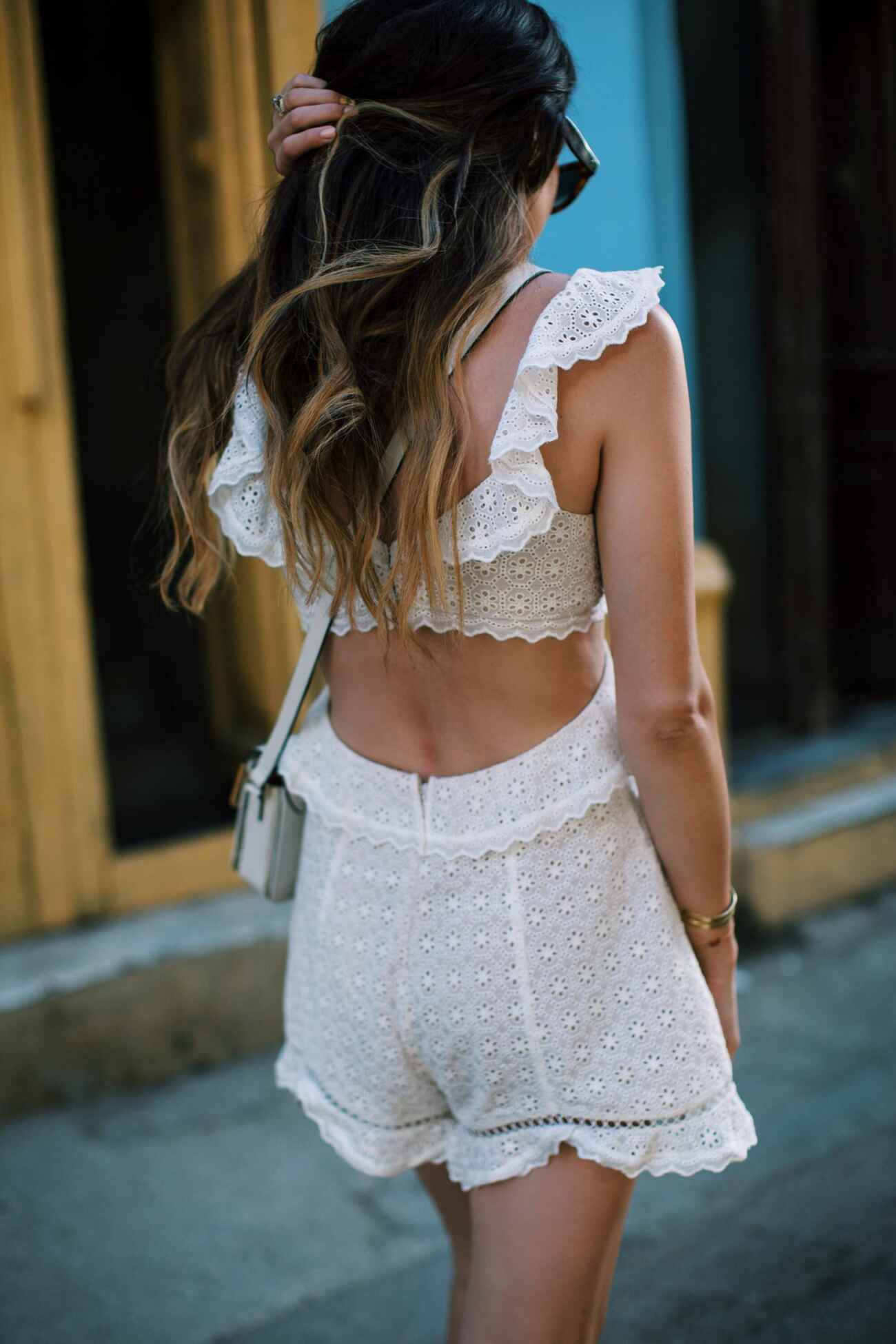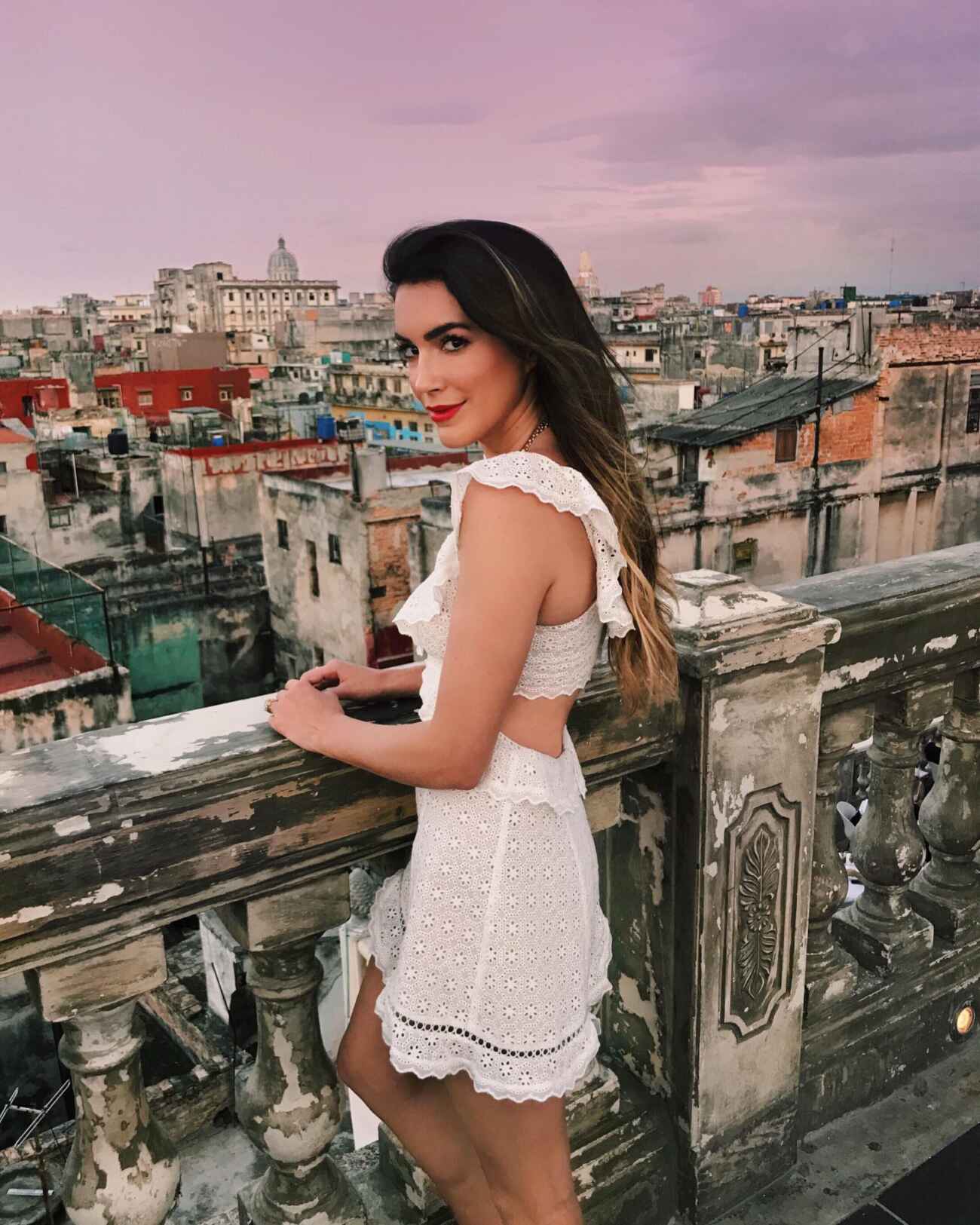 Romper: ZIMMERMANN
After dinner we all headed to a small local venue Corner Café hosting Interactivo, a cool and very popular fusion band.
Day 4:
We visited Fusterlandia (Address: Avenida 3ra A, La Habana, Cuba) I highly recommend this- sooo interesting and beautiful! In 1975, after moving into a house in the rundown neighborhood of Jaimanitas outside Havana, José Fuster set about decorating his home in colorful mosaic. After, he asked his neighbors if he could decorate their homes and business as well and today, his artwork covers the neighborhood in colorful mosaic that's definitely worth the visit.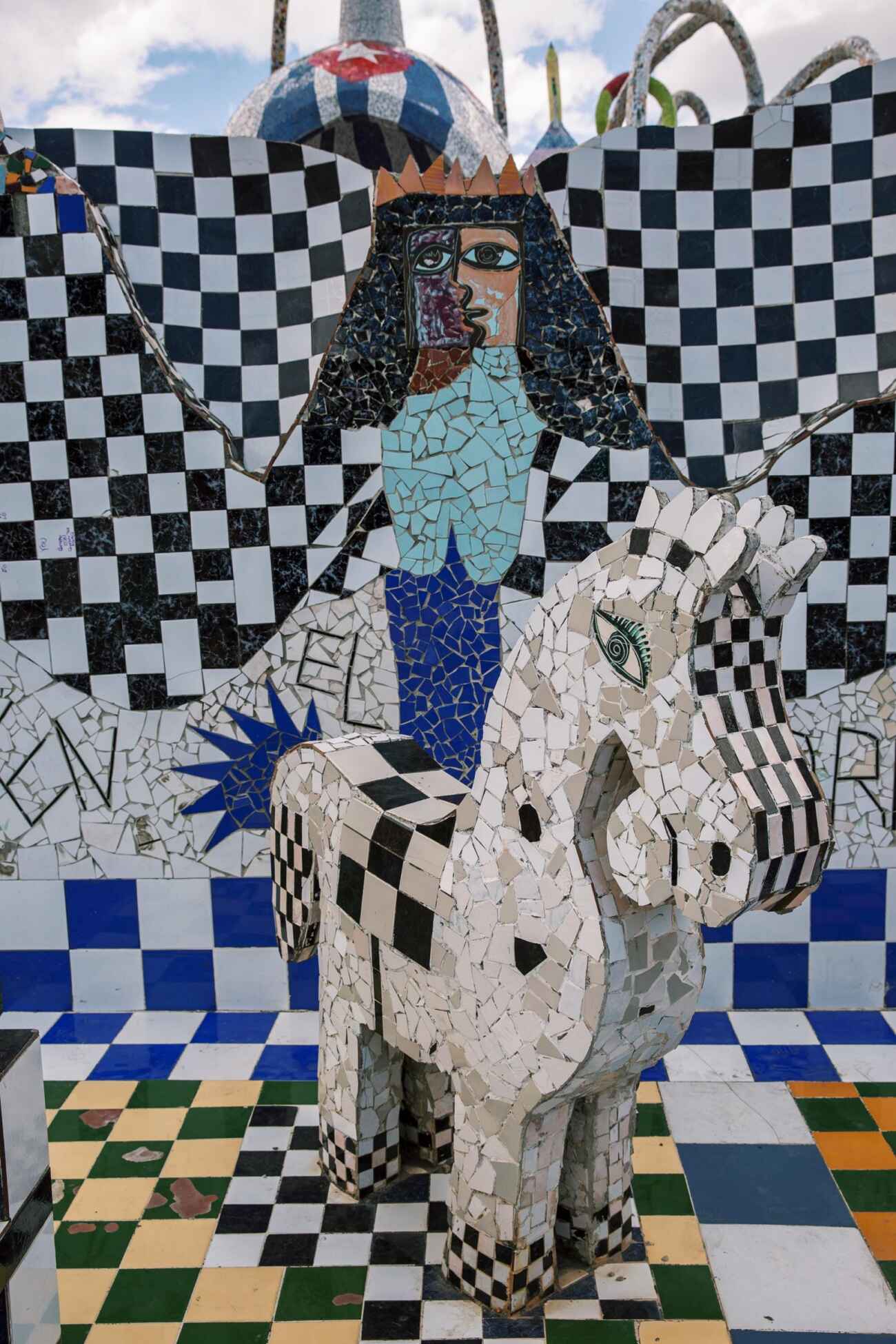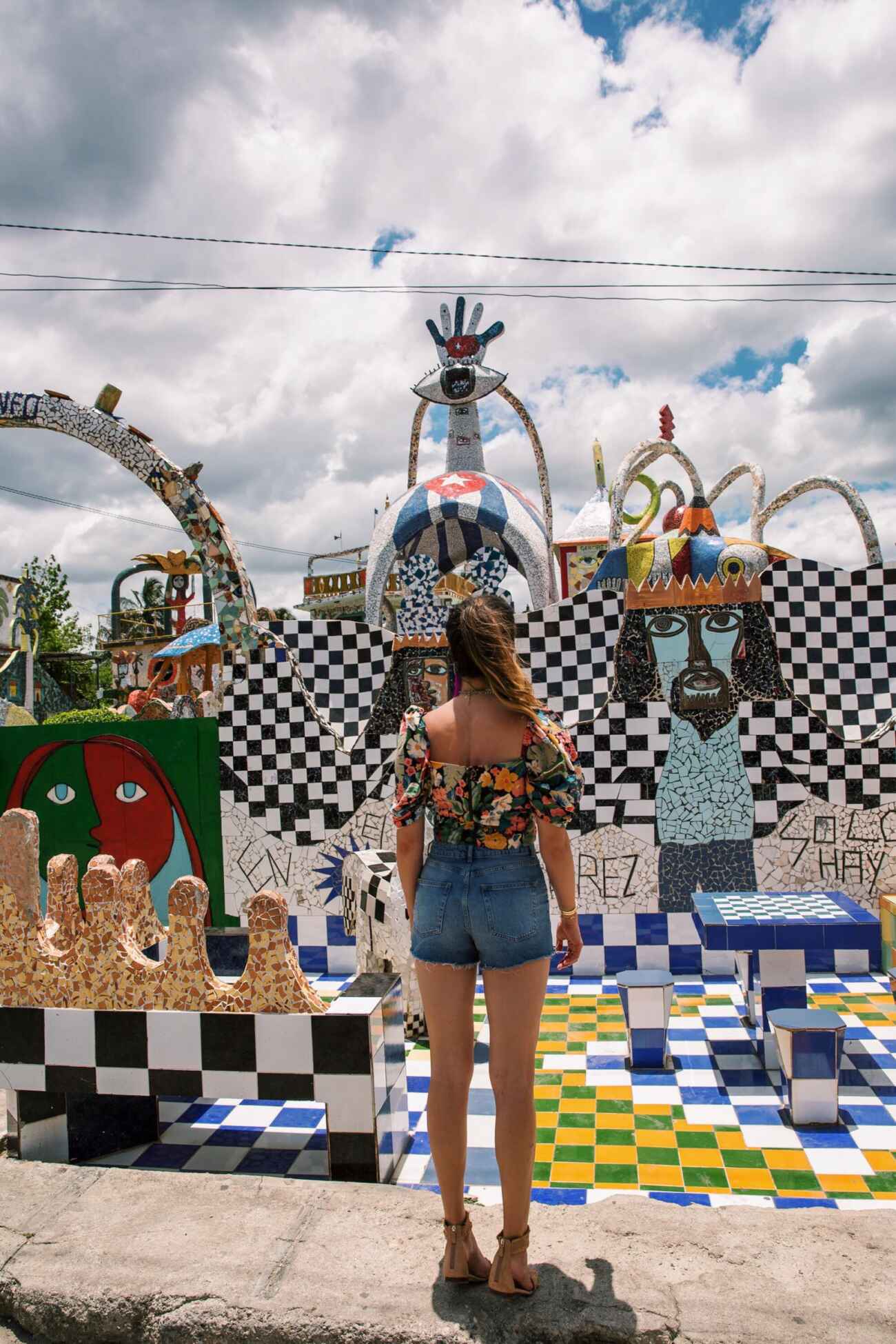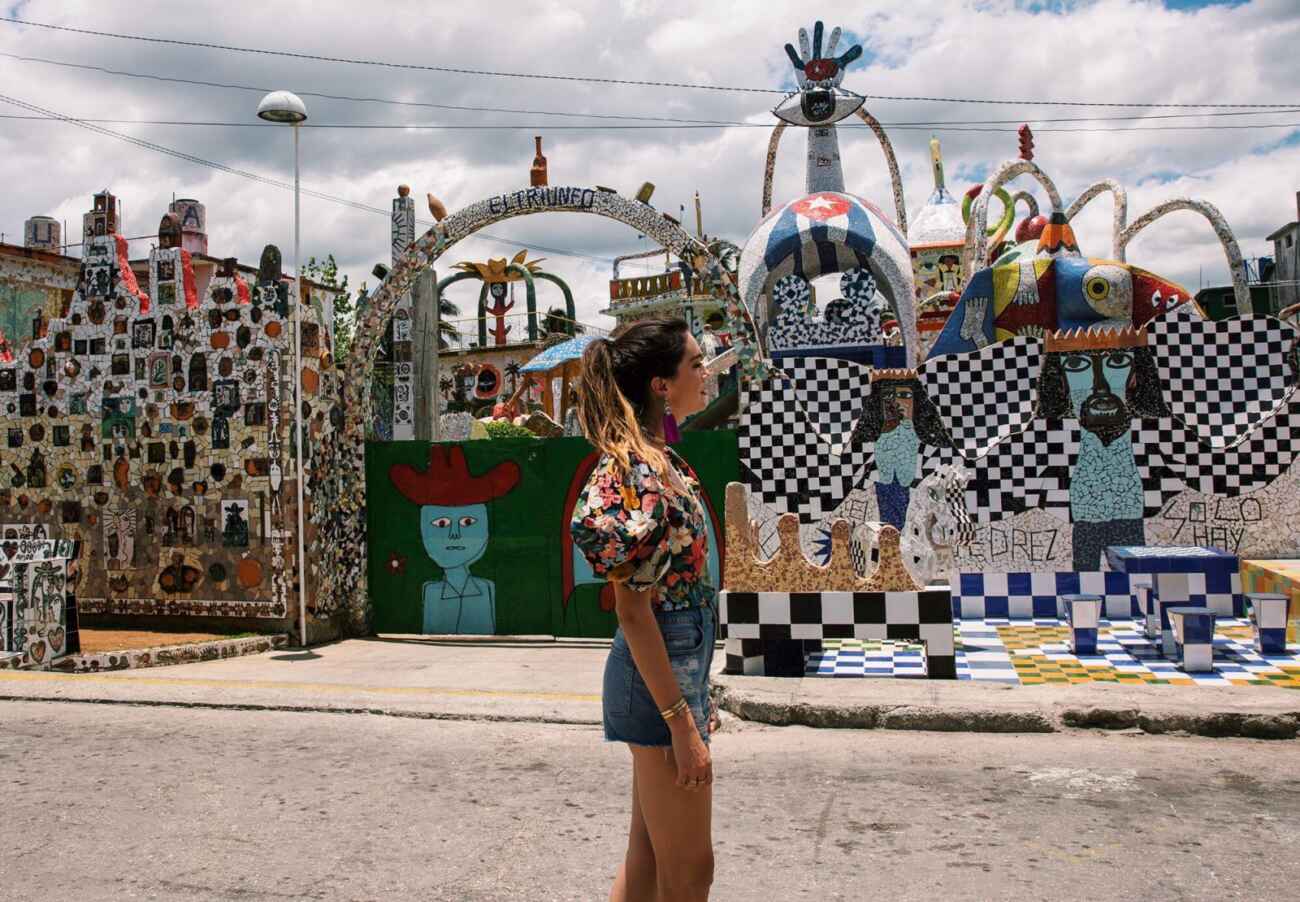 It even offers a souvenir shop and coconut water stand as many people typically visit the area to admire the artwork.
As I mentioned before, The Four Wives Cuba helped organized our trip with Lancôme and they're offering a few more tips for those of you guys who may be planning a trip to Cuba soon! Here are their tips below as well as their contact info:
Patricia: patricia@fourwivescuba.com
Majel: majel@fourwivescuba.com
What You Need To Know Before Traveling To Cuba
Cash and debit/credit cards
Cuba is still mostly a cash economy, so even if you're not American, you should take enough money with you for any purchases you might want to make. And unfortunately, American credit/debit cards don't work anywhere at all so don't expect to use them during your trip.
It's not a good idea to check your US bank balances or log into your PayPal account while in Cuba – you may have issues with your bank or get your PayPal account frozen (until going back to the US and showing that you were in Cuba legally).
Cuban Currency
There are two currencies in Cuba: The National Peso (CUP), and the Convertible Peso (CUC). The exchange rate is 1 cuc = $0.87, while the National Peso stands at about 25 pesos per 1 cuc.
The money you should exchange for is the CUC, Convertible Peso, as this is the currency used for almost everything there (especially among tourists). It is not recommended to exchange for CUP since you're probably not going to use it at all. The CUP is only used for local transportation, to buy fruits and vegetables on the street, and some restaurants that cater more to locals.
Taxis in Cuba
You should always negotiate the fare with your driver before accepting a ride. It's best to take official (yellow) taxis for as they will be more comfortable, reliable, and will have A/C. A common fare between Old Havana, Vedado, and Centro Havana neighborhoods is 10-20 cuc.
Don't drink the water
Simple and easy. Drink only bottled water. The spots we visited for lunch and dinner all used bottled water in their drinks as well.
Internet and Phones
While we had unlimited Internet at Hotel Saratoga, it was much slower than what we were used to! When you connect your phones to the hotel Wi-Fi you'll have access to most apps. However, FaceTime and WhatsApp calls will likely not work, and you won't have access to your iCloud or Apple iTunes functions while in Cuba.
When outside of the hotel you will not have access to Wi-Fi zones. If your phones work in Cuba, you may have access to the Internet using your phone's data roaming. However, it is extremely expensive and you will incur serious charges even downloading a few emails. It is recommended you do not access the Internet using your phone's data roaming as you will incur mega charges. I still used my phone while I was there to talk to Jadyn because I wanted to make sure she was able to get ahold of me, and my phone bill is beyond crazy. But if you keep your phone in airplane mode and only use wi-fi at the hotel, that's the less expensive route.
The same goes for phone calls in and out on your cell phones (in the case that your US phones work in Cuba). All phone calls using voice roaming will be extremely pricy ($2-5 per minute)
Navigation
Maps.me allows you to use your phone's GPS to show your location and works well in Cuba. Just make sure you download it (and the Cuba map within the app) before coming to Cuba.
Cuba is very safe, but scams and pickpocketing are common
Other than petty theft, violent crimes are not common in Cuba. What many people do, though, is "friend you" and try to either sell you something or take you somewhere where they can receive a commission for your purchase. 99% of Cubans are wonderful, honest people. However, 99% of those who approach you out-of-the-blue are looking to hustle you! Don't be afraid to say no to them. Anthony and I got approached on several occasions to buy cigars at a "discounted" shop that we had to follow them to, and of course we declined.
There is some pickpocketing in Cuba, so don't walk around with your passport or too much cash. Keep your passport and whatever cash you don't need that day in the safe in your hotel room.
In Old Havana there are many folks who will want to take a photo with you, dressed in traditional clothing or sporting a long cigar. They will charge you for these photos – so if you're looking for a cool pic, go for it! They are harmless and licensed to work in the area. Having said that, Cubans are generally friendly, so don't be afraid to chat openly with them, but be cautious about their intentions. And feel free to walk around, day or night. It's very safe! Just take normal precautions as you would anywhere else.
If asked at the airport in the US:
You are traveling under the People to People License. If asked upon departure from or arrival to the US, make sure to emphasize that your days in Cuba will be/were filled with cultural and educational activities.
Visas for Cuba
Make sure to not lose your Cuban visa as you will be asked for it upon entry to and departure from Cuba. Also, make sure your passport is valid for 6 months after the completion of your trip, you won't be able to go if not.
Print out all travel documents before you leave the US
Tech is really hard to come by in Cuba. If you need any travel documents while you're in Cuba or for your next destination, print them before flying to Havana
Shopping in Havana:
While there are not many shopping options in Havana, there are a few cool shops carrying Cuban-made items that are worth checking out:
Clandestina (@Clandestina99; #ClandestinaCuba) – a design store in Old Havana owned by graphic designer Idania del Rio. Selling a variety of items (cloth bags, t-shirts, key chains, hats, and much more) with original slogans and trendy designs. They also have a line of clothing and bags called Vintrash, using second-hand clothing to make new, wearable items
Address: Plaza del Cristo: Villegas #403 esquina (corner of) Brasil (Teniente Rey), Habana Vieja
Alma Shop (@Almacubashop) – a cool gallery/shop in Miramar (about 15-20 minutes by car from Old Havana) with locally-made items
Address: Calle 18 #314 entre (between) 3ra (3rd) & 5ta (5th), Miramar
Pisco Labis – a cool shop carrying Cuban-made items (shirts, lamps, pillowcases, and much more) in Old Havana
Address: Right off Plaza de La Catedral (Cathedral Square): San Ignacio #75 entre (between) Caledon del Chorro & O'Reilly, Habana Vieja
Jacqueline Fumero – restaurant/coffee shop owned by clothing and jewelry designer Jaqueline Fumero. In a beautiful location in Old Havana
Address: La Loma del Angel: Cuarteles & Compostela, Habana Vieja
Habana 1791 – a beautiful perfume store in Old Havana that can make a special scent for you, or imitate one of the classics
Address: Obrapia esquina (corner of) Mercaderes, Habana Vieja
Sightseeing
Hemingway's two favorite bars as well as the hotel in which he lived during a number of years are all in Old Havana:
El Floridita – where Hemingway drank his daiquiris!
Address: Obispo #557 esquina (corner of) Monserrate, Habana Vieja
La Bodeguita del Medio – where Hemingway drank his mojitos!
Address: Around the corner from Plaza de la Catedral (Cathedral Square): Empedrado entre (between) San Ignacio & Cuba, Habana Vieja
Hotel Ambos Mundos – Hemingway's room has been preserved and you're welcome to pay a visit. This hotel also boasts a rooftop bar with a breathtaking view of the city!
Address: Obispo esquina (corner of) Mercaderes, Habana Vieja
If you're not a Hemingway buff, aside from the many art galleries and souvenir shops along Obispo street and the rest of the area, here are a few other places you can check out:
Museum of Chocolate – not much of a museum but a great place to buy locally-made chocolate
Address: Amargura esquina (corner of) Mercaderes, Habana Vieja
Café Escorial – the best coffee in the city! They roast their beans in-house and sell both whole beans and ground coffee to take home with you.
Address: Plaza Vieja (Old Square), Habana Vieja
Taller de Grafico – a cool art workshop and gallery/shop (lithography, wood chipping, and metal techniques)
Address: An alley right in Plaza de La Catedral (Cathedral Square): Caledon del Chorro, Habana Vieja
Museo Nacional de Bellas Artes (Arte Cubano) – The National Fine Arts Museum, Cuban collection. Home to fine art by Cuba's greatest artists and absolutely worth a visit
Address: Next door to the Revolution Museum: Trocadero entre (between) Agramonte & Avenida de Belgica
Museo de la Revolución – The former presidential palace (before the Revolution), and now a museum dedicated to the Cuban Revolution
Address: Next door to the Fine Arts Museum: Refugio entre (between) Agramonte & Avenida de Belgica
Hotel Inglaterra – One of the oldest hotels in Havana and a great place to sit outside and listen to some music while people-watching
Address: Across from Parque Central (Central Park): Paseo del Prado #416 esquina (corner of) Boulevard de San Rafael, Habana Vieja
El Morro & San Carlos de la Cabaña Fortresses – the beautiful fortresses across the water – a short taxi ride away to the biggest fortress built by Spain in Latin America – and a beautiful view of Havana from the other side of the bay
Christ Statue – a two-minute drive from the fortresses on the other side of the water. A breathtaking view of Havana and an up-close view of the impressive Christ statue commissioned by Batista's wife in 1958 (sculpted by a female artist, Hilma Madera)
I really can't wait to go back to Cuba- we're going to take Jadyn with us next time! Thank you to the Lancome team for an amazing trip!!
xx Brittany