How To Create This Bold Beauty Trend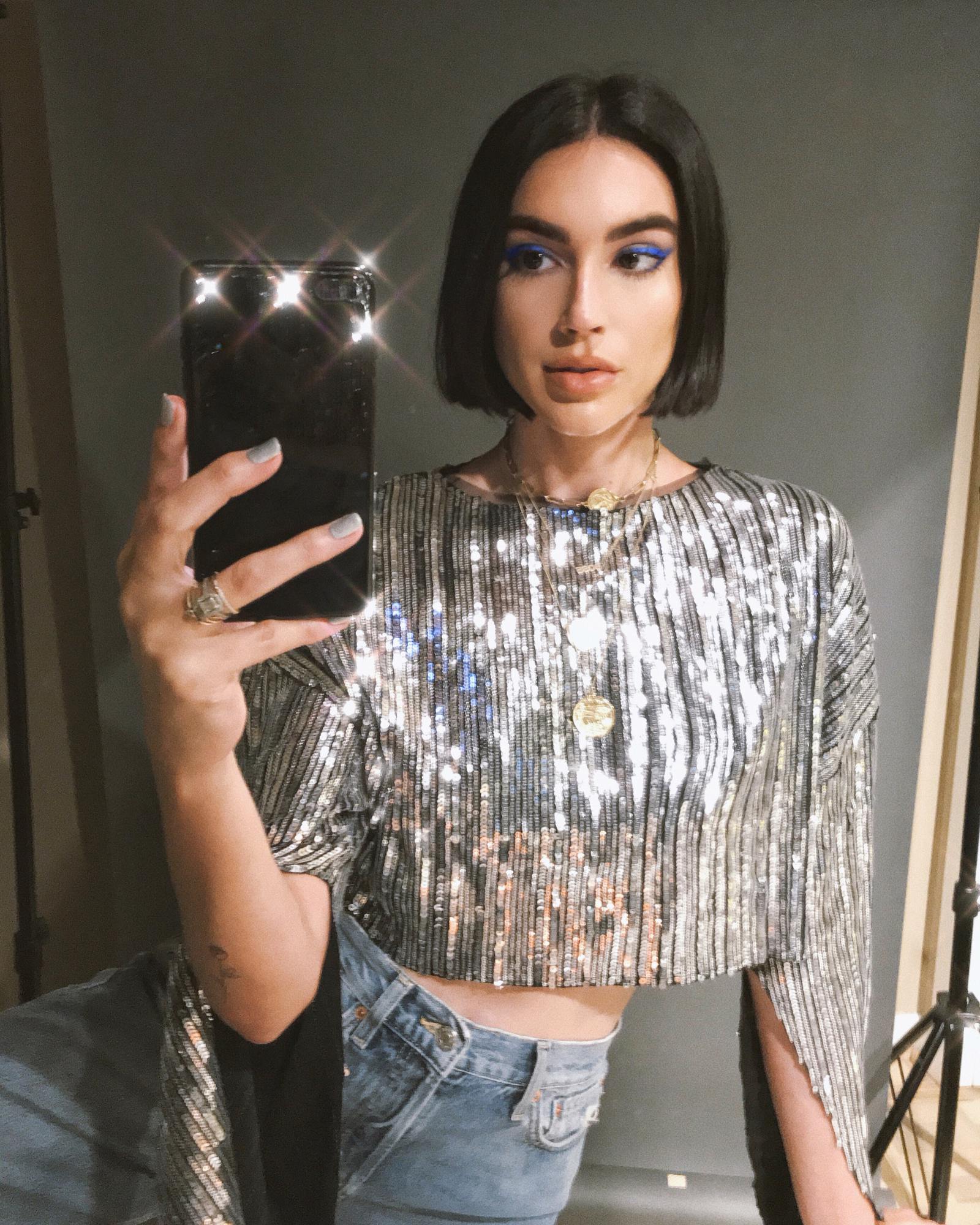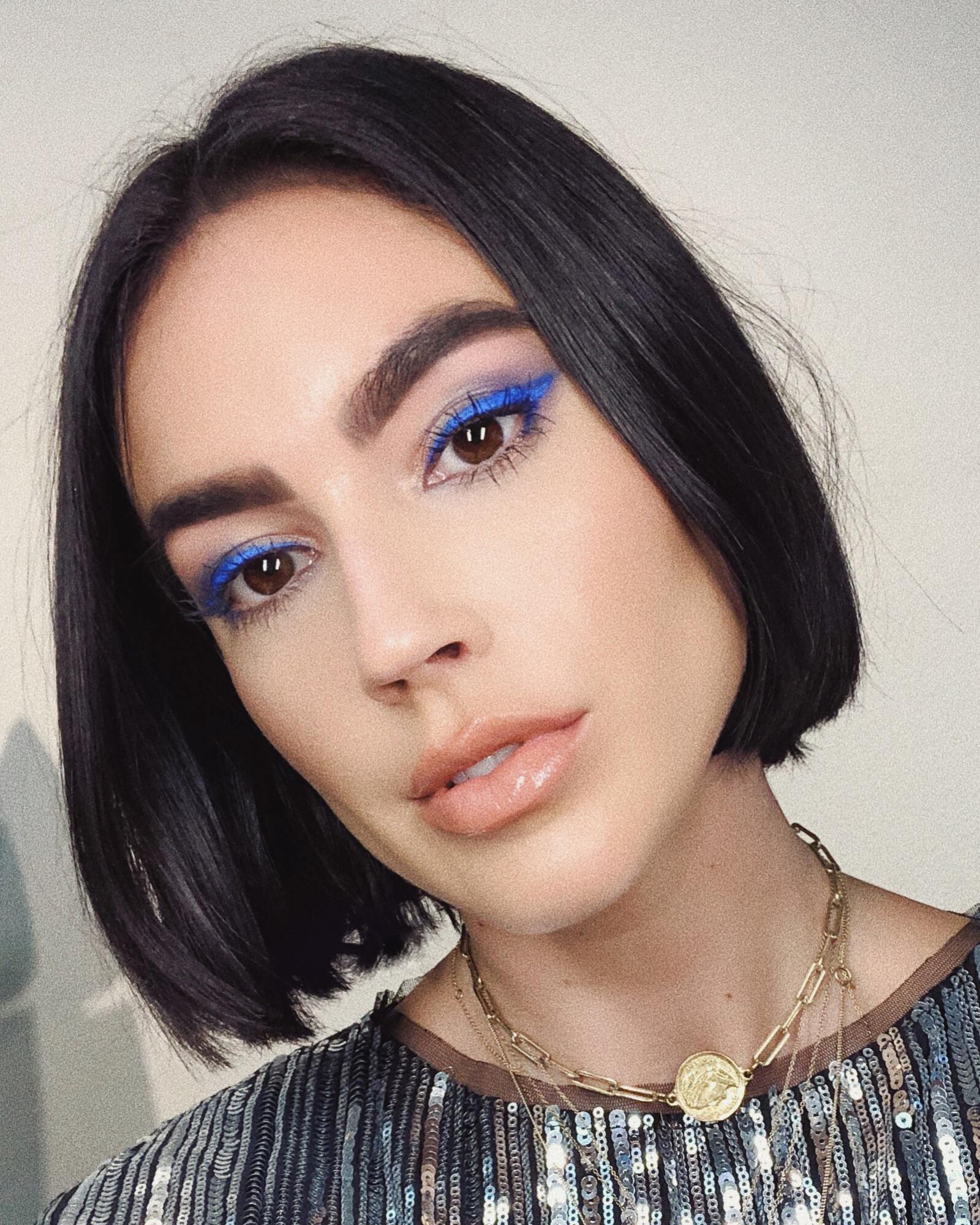 Blue eye makeup is making a comeback…yes… blue! When I first heard this trend was back, I instantly thought of Britney Spears and Christina Aguilera aka pastel/frosty blue shadow haha which everyone tried out at some point in the early 2000s. However, this time the eye popping color that everyone seems to be wearing is a deep, more modern shades of the classic royal blue. This look is the complete opposite of the "no makeup- makeup" minimalist look and a cool way to switch up your look for an event or a night out!
There are a few different easy ways to rock the trend and make it wearable in real life:
Liner: This is my probably my favorite way to rock the blue trend and is super easy! Put aside your black liner aside and try a deep blue instead.  Because liner can be tricky, especially if it's a bright color, I enlisted one of my favorite makeup artist's, Brittany Sullivan to show me an easy way to create the perfect blue liner look.
Check out all the products she used on my look above:
Britt wanted to keep my overall skin look a "no makeup, makeup look" and fresh, dewy skin was a must! She started with the Laura Mercier Hydrating Primer to prep my skin and mixed two colors of the Tart Clay Sticks for foundation (Medium Sand and Medium Beige). Once my foundation was blended in with a sponge she used Tarte Shape Tape mixing the colors Medium Sand and Light Sand as a concealer under my eyes but also on areas that I wanted to highlight on my face (think T-zone) and set it with Nars Pressed Powder. To contour under my cheeks and around my forehead, she used It Cosmetics You Sculpted Palette.
Now for my eyes, to prep she used Fenty Beauty Pro Filt'r Amplifying Eye Primer and for a blue shadow right in the crease of my eyelid she used Huda Beauty Obsessions Eye Palette in the color Gemstone. To draw the bold electric blue line of color you see on my lids Sephora Colorful Shadow & Liner in the color My Boyfriend's Jeans. To get a very fine line of color close to my eyelashes she finished with Sephora Collection liquid eyeliner in the color Fancy Blue. For mascara she used Marc Jacobs Velvet Noir Major Volume.
Sidenote, I use R&F Lash Boost lash serum every other night to keep my lashes full and I really noticed how much longer they look since using it! Because of this, we decided not to add individual lashes to the look.
For my lips she used NYX Lip Liner in Sugar Glass and Becca x Chrissy Teigen Glow Gloss in the color Beach Bum (I've been using this lip combo ever since Britt did my makeup and love it also as an everyday nude lip look).
If electric blue liner isn't your strong suit, check out some other fun ways to wear the coolest shade of the season:
Smokey Shadow: Ditch the gold, brown and grey. Create the smokey eye 2.0 by using a navy blue to update the classic look. Loose powder pigment works great to create the perfect smokey eye, make sure you really the blend the color though!
Shimmer: Glitter and shimmer doesn't always have to feel intense. Adding various blue sparkle around the inner corners, creases and on the center of the top and bottom lids will create a playful look. Perfect for a date night!
Cream Shadow: Cream shadows are super easy to use and only require 1 tool, your fingers! Find the perfect baby blue and use your fingers press the cream eyeshadow onto your lids. Cream shadows are always great because you can build the shadow and make it as dark/light as you want based on how many layers you apply. Create some shadow under your arches but make it less pigmented by only applying one layer.
Now all those blue shades in your makeup palette that went untouched can finally be used! Will you be rocking the blue makeup trend soon? Comment below!
xx Brittany