How to Optimize Images for Better SEO and Website Performance
This is the last post of our SEO series and I hope you've found some value these last few weeks. Today we are going to discuss how to optimize our images for better SEO and website performance.
Based on a current study conducted by Raven's Tools (SEO service tool provider), 78% of SEO issues are related to image issues. Many bloggers overlook image optimization and don't necessarily correlate that unoptimized images are affecting their SEO results.
Images are a critical factor within SEO, so you want to make sure to implement the below techniques to keep your blog SEO friendly.
Add an Image File Name
How many times have you just uploaded images onto your computer and loaded into WordPress with the file name being DJ1A9797.jpg or DJ1A8552.CR2 (for those shooting in RAW)? I can tell you that Brittany was doing this (drag and drop without changing the file name) for the first few months without realizing how much it was affecting her SEO performance.
Your image file name is directly pulled by Google and other search engines to show your images in search.
Action
Before uploading your images with random alphabetical/numerical file names, change the file name to include your main keywords.
Examples:
sweater-striped-dress.jpg
fringe-crossbody-handbag.jpg
boyfriend-silk-shirt.jpg
When renaming your file images, here are some rules to follow:
1. Include your main/long-tail keywords.
2. Within a batch of images, have unique names for each. This will help cover a broader range of keywords for your image to rank for.
Do:
boyfriend-shirt-blogger-style.jpg
boyfriend-shirt-striped-sweater.jpg
boyfriend-shirt-ripped-jeans.jpg
boyfriend-shirt-fall-winter-streetstyle-2015.jpg
Don't:
boyfriend-shirt-1.jpg
boyfriend-shirt-2.jpg
boyfriend-shirt-3.jpg
boyfriend-shirt-4.jpg
3. Get rid of small words such as "a" and "the". No need to include those.
4. Use hyphens between all the words, not underscore.
Use and optimize Alt and Title Tags
Google spiders are unable to recognize images visually, they read lines of code instead. The alt and title tags help Google understand what the image is about.
Action
It's easy to change your alt and title tags in WordPress, view the example below once I uploaded an image to a post:​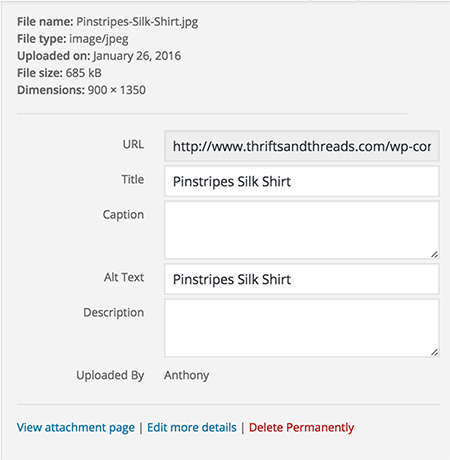 The title tag will automatically pull from the file name, this saves time.
Title tag: Clear and concise.
Alt tag: Make descriptive as possible, but not too lengthy.
Reduce your image file size
Among the 200+ factors Google takes into consideration for page ranking, page load times is one of them. If your blog is taking too long to load due to large images, it will affect your ranking and also visits to your blog.
The average person will wait 3 seconds for a website to load on the desktop and 5 seconds for mobile. If your blog takes longer than that to load, you lose out on that visitor and your bounce rate will increase as well (not good).
So how large should your image size be?
Right now, Brittany's images are around 400-700kb at 72 ppi with a width of 900px. The idea is too get them as small as you can without losing quality. My images start out at 23mb before uploading the final product!
Action
There are a few online tools, some paid and others free, that can help you edit and reduce the size of your image.
Photoshop: The obvious one and does cost money. Right now we have the Photography Creative Cloud pack that includes both Photoshop and Lightroom for only $10/month.
I use the "Save for Web" command in Photoshop. I adjust the image to the lowest file size acceptable before the quality starts to degrade.
PicMonkey: A free tool that I have come across over the years and have heard great things.
Pixlr: Very user-friendly with a free app for your smartphone.
Conclusion
By incorporating the 3 techniques mentioned above, optimizing your images will improve SEO and website performance. Start making the changes now and track your analytics to see the improvement.
As we conclude our SEO series, please feel free to ask any questions as you start to implement these techniques within your own blog. Stay tuned for next week as we begin our new monthly theme for February (and it's a good one!).