Athens Family Vacation
This summer, Anthony, Jadyn and I went to Greece for our family vacation! We had never been before and it was someplace Anthony and I have been dying to go. We like to do family vacations every summer and I love spending 2 weeks with no agenda, exploring someplace new. It's nice to disconnect and enjoy the time with each other!
We started our trip to Greece in Athens, then Santorini and concluded our trip in Mykonos. Because I received so many messages asking where we stayed, what we did and some of the restaurants we ate at- I'll be doing recaps of each location. I also included some great spots that were on our list but we didn't have time to visit.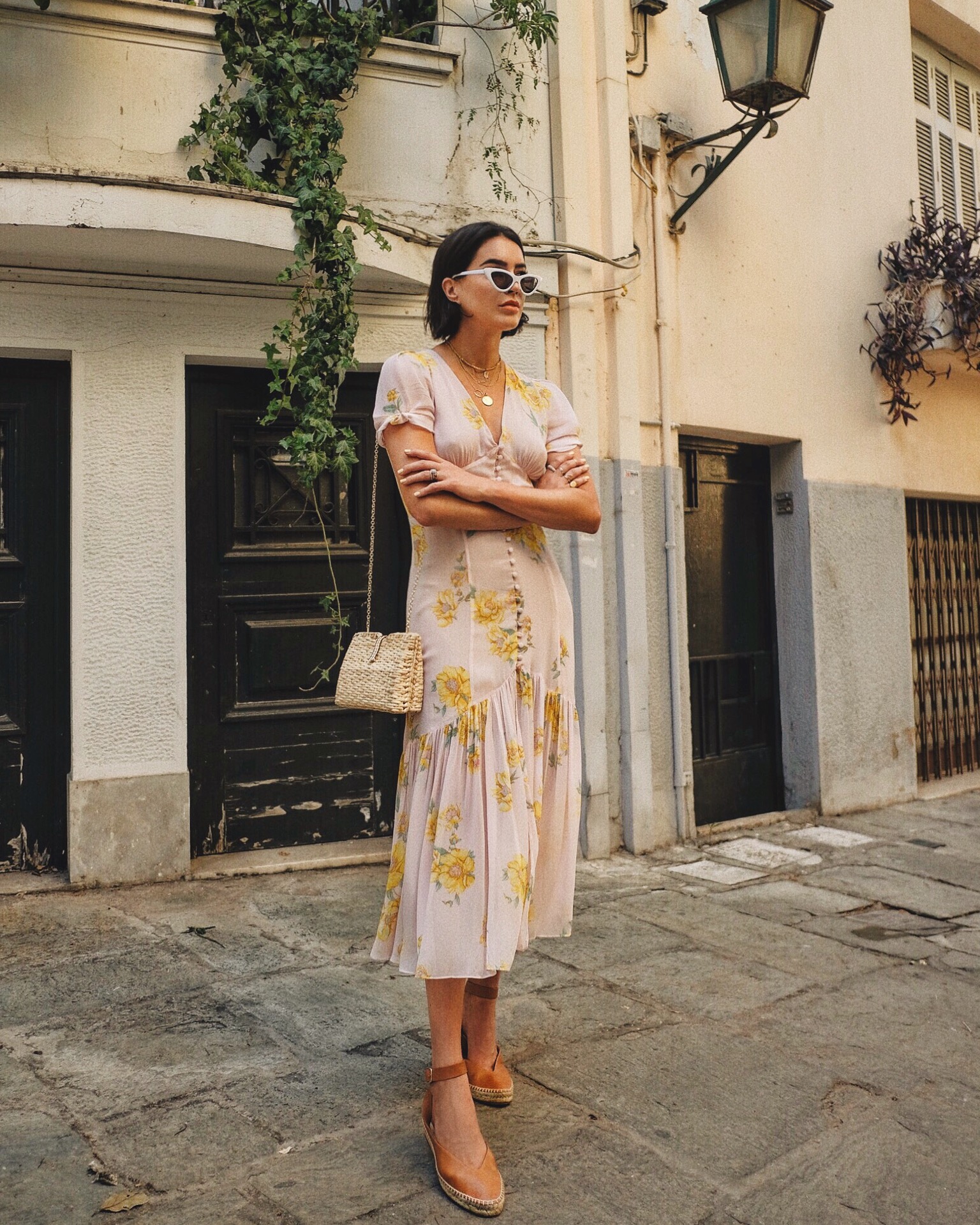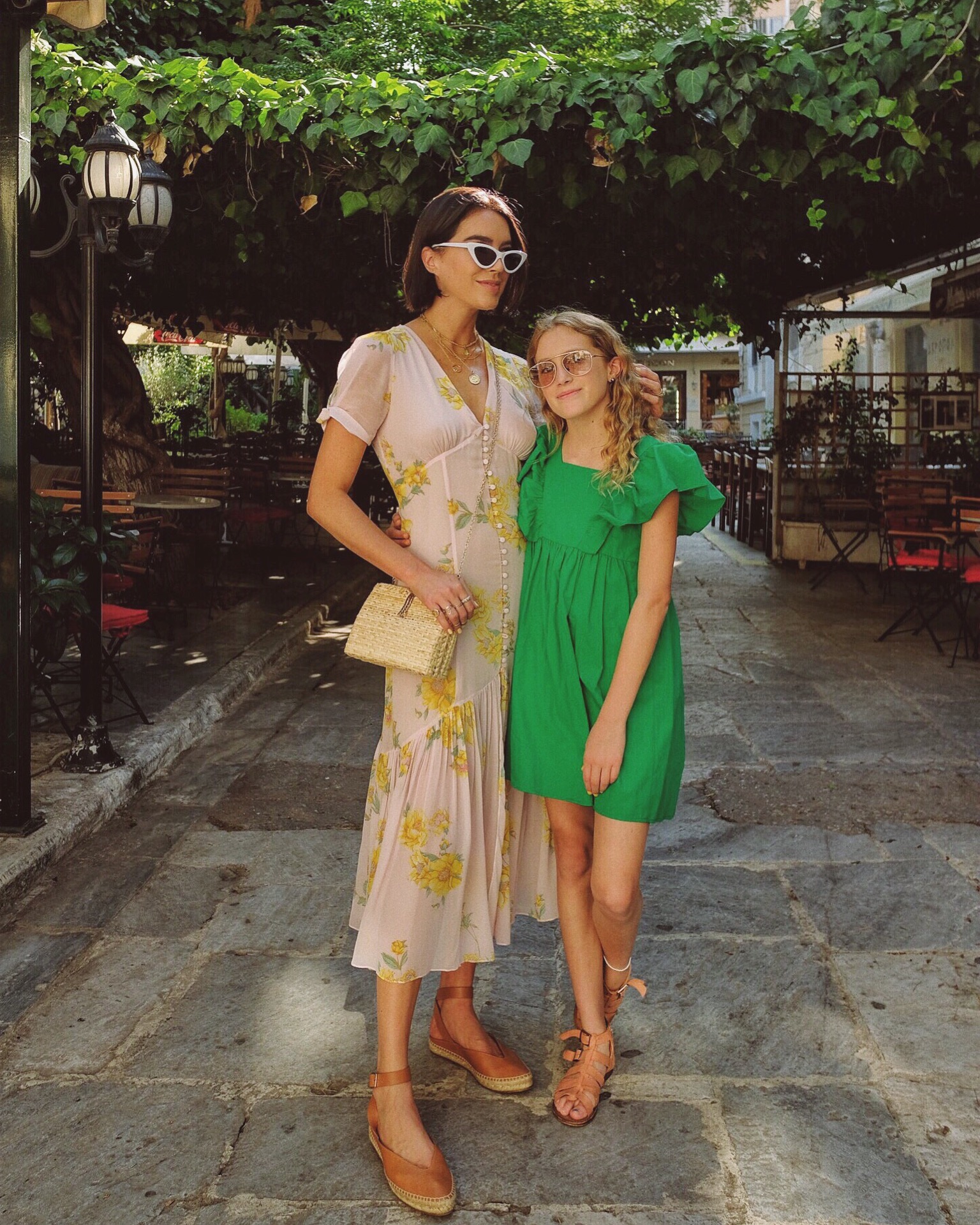 Sunglasses: URBAN OUTFITTERS | Dress: ZARA (sold out, similar here) | Shoes: STUART WEITZMAN
We stayed at the NJV Athens Plaza, which is located right across the street from Syntagma Square, which is the central square of Athens. It was nice to be right in the downtown surrounded by everything. It was the perfect location to walk around anywhere in Central Athens. You could see the Acropolis and Parthenon from the hotel. The hotel was pretty basic as far as the interior and amenities, but we stayed there because of the location- we never once had to get a taxi.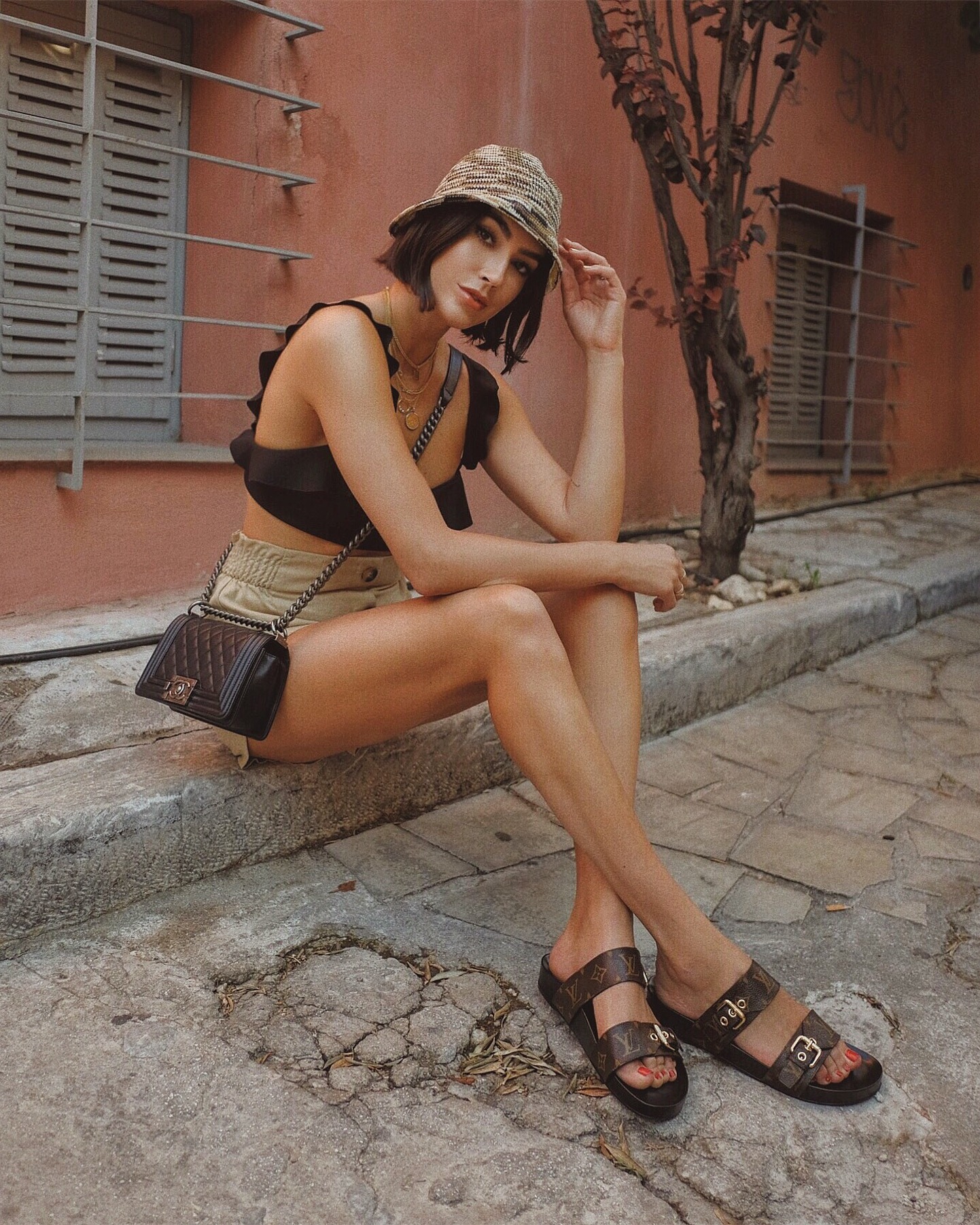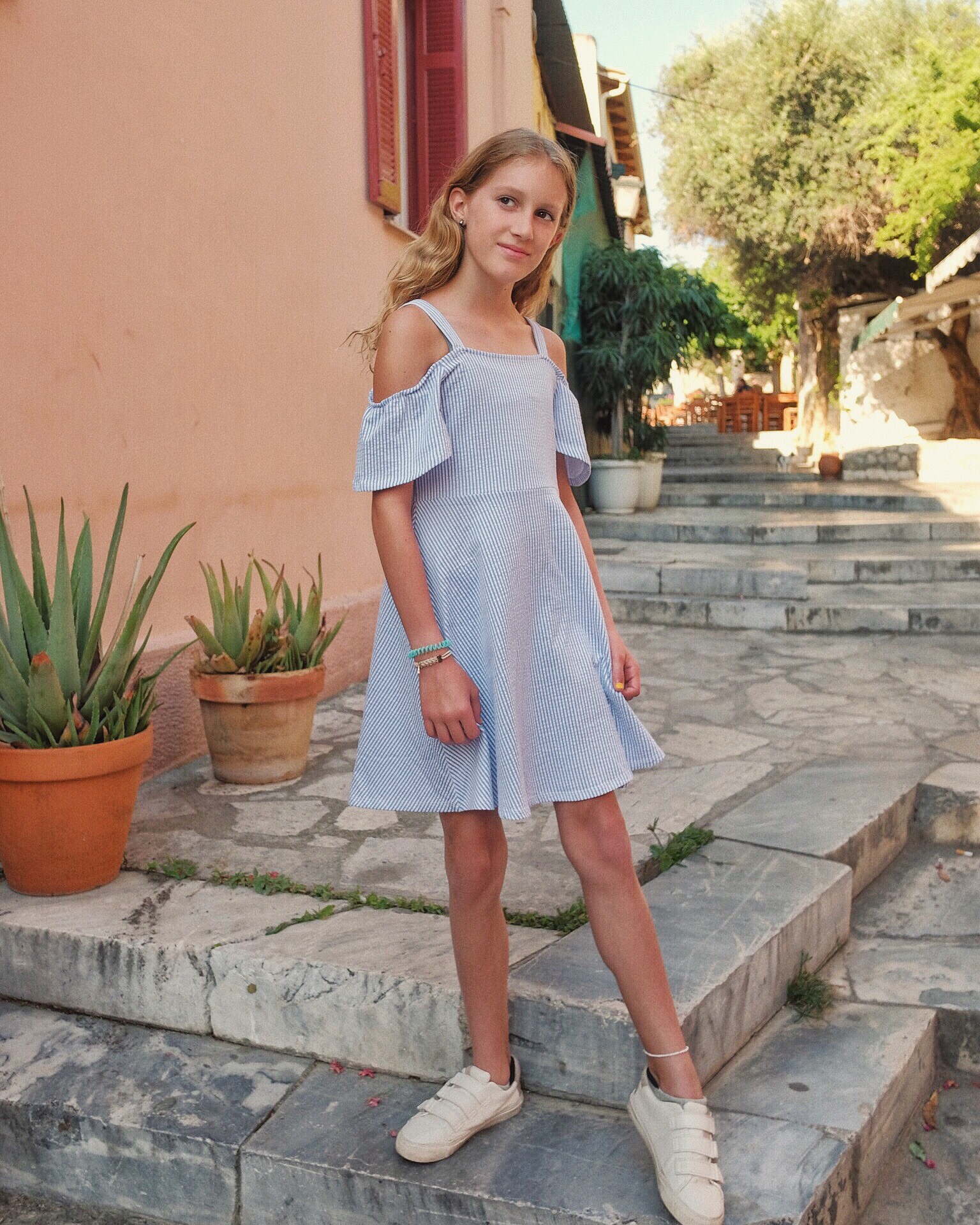 One of the first spots we explored was Pláka, which is an old historical neighborhood within Athens (also walking distance from our hotel). It's basically a village within a city! The village contains restaurants, stores and cafes, it's such a cute neighborhood with cobblestone streets and old buildings. Jadyn loved exploring all the little shops and looking at all the paintings and jewelry. We explored the two main pedestrian streets, which is basically the center of Plaka: Kydathineon and Adrianou.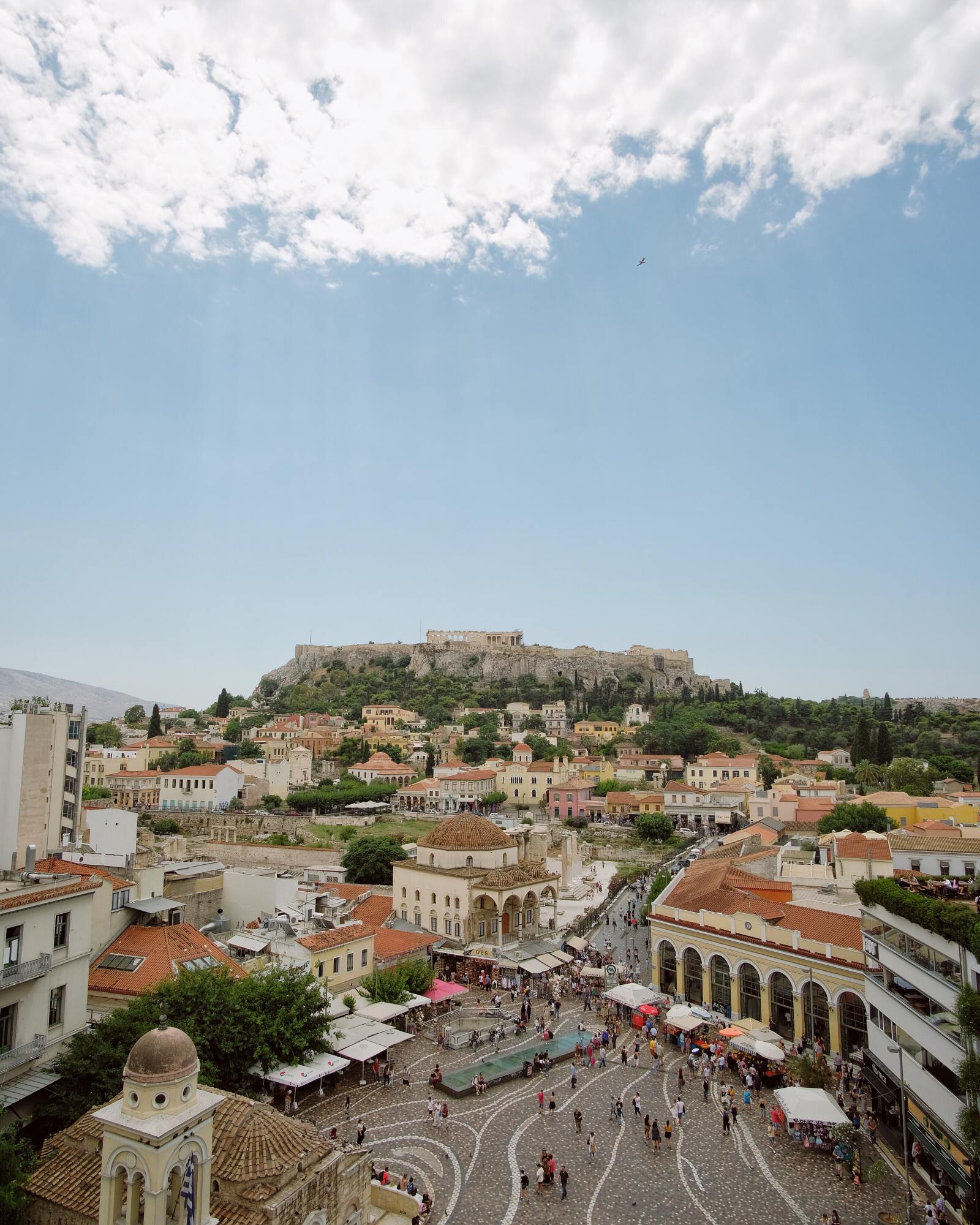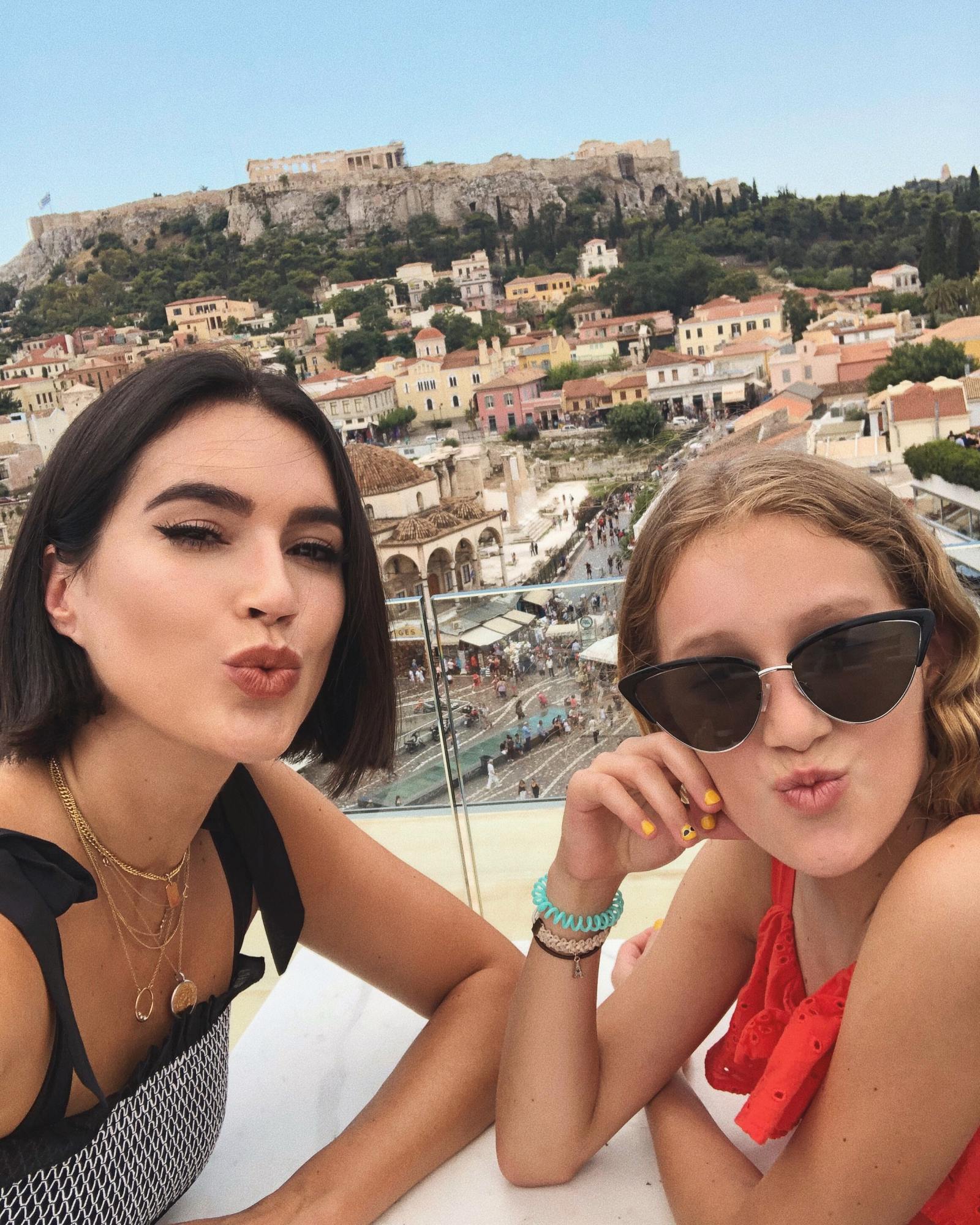 We had lunch at the rooftop of the A for Athens Hotel, which is a hotel right in Monastiraki Square. The restaurant/rooftop bar had stunning views of the Acropolis, Pláka and Monastiraki Square. It's seriously the perfect spot to have breakfast or cocktails at night. I loved how healthy the menu was and how the restaurant used all local ingredients.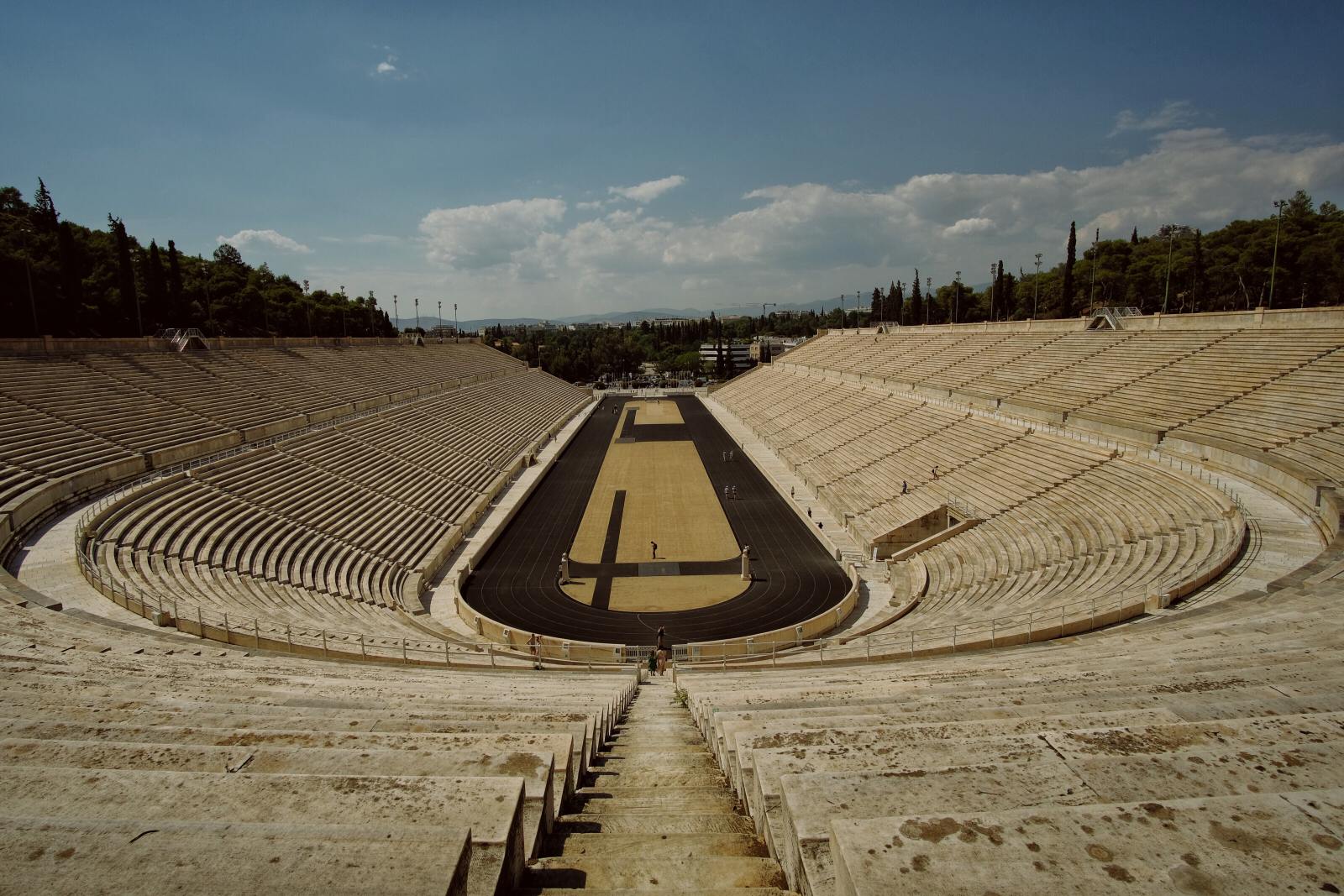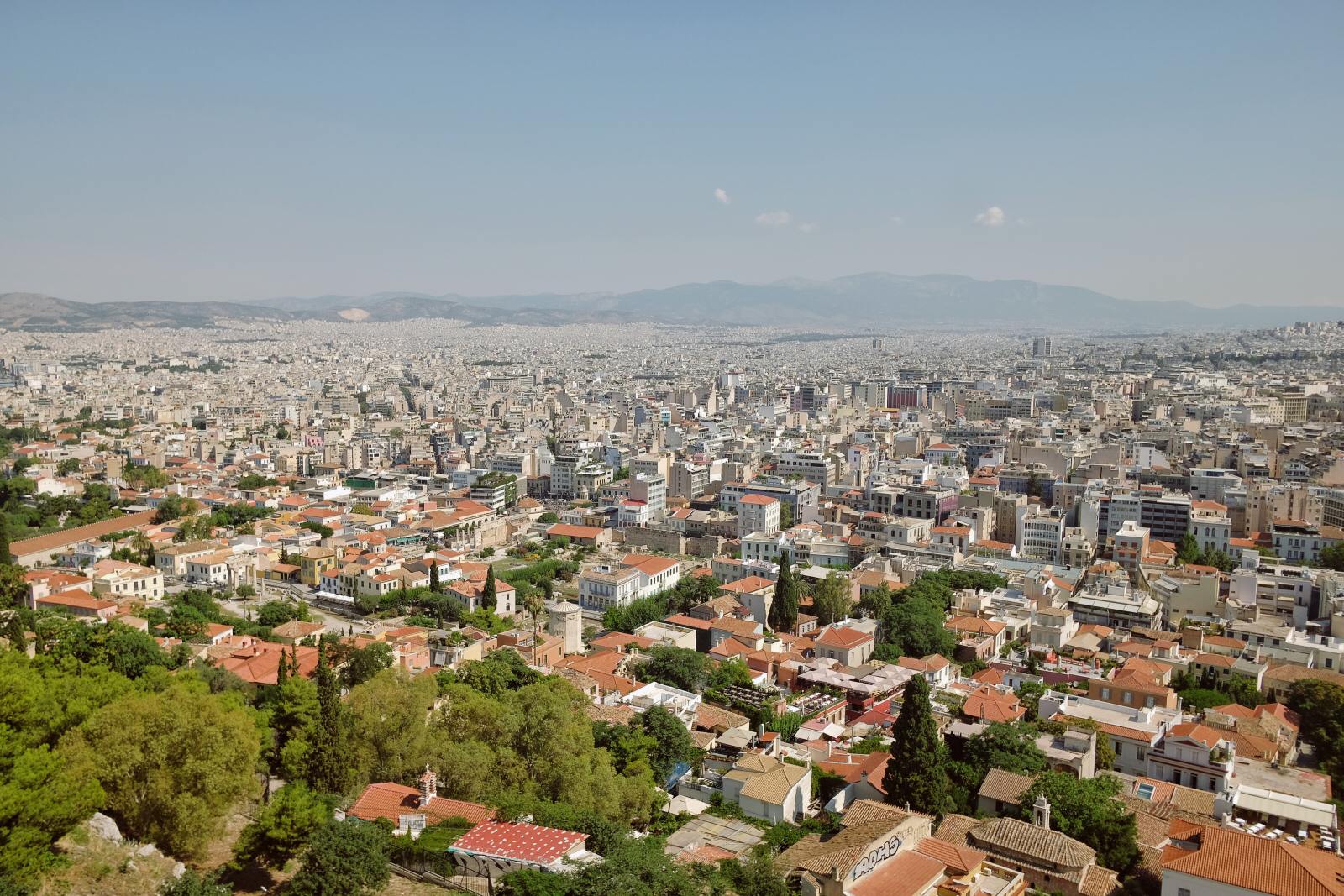 One of the first tours we did was the Panathenaic Stadium. The Panathenaic Stadium is a multi-purpose stadium in Athens and one of the attractions we were super excited to tour. It's basically the only stadium in the world built entirely of marble. To tour the entire stadium it was only 5 Euros and included a free audio tour as well. There are a TON of steps, so super important to wear comfortable shoes lol The steps are very uneven and steep. If you climb to the top of the stadium it will give you the best view/shot of the the Acropolis. Jadyn loved running around the stadium and climbing to the top!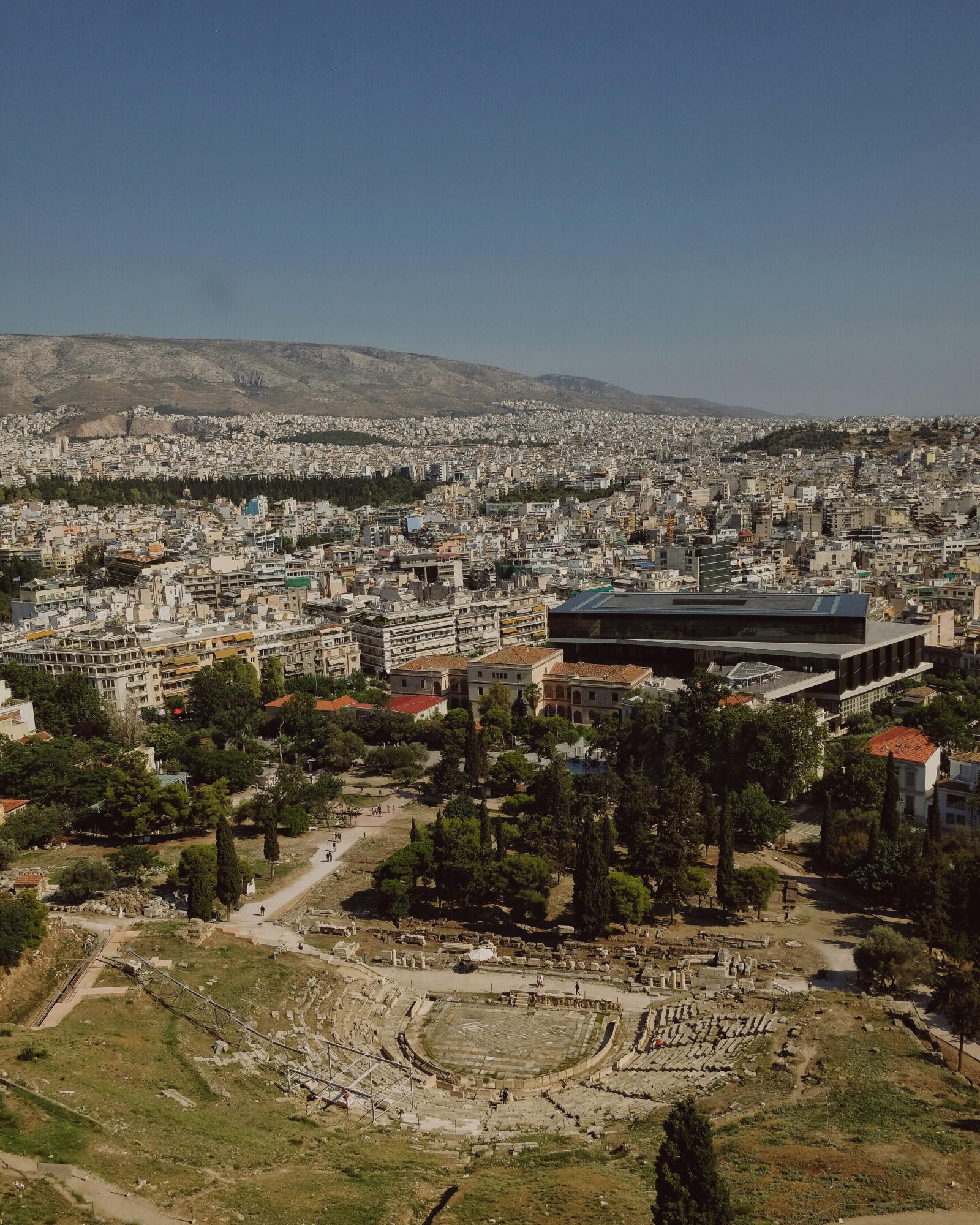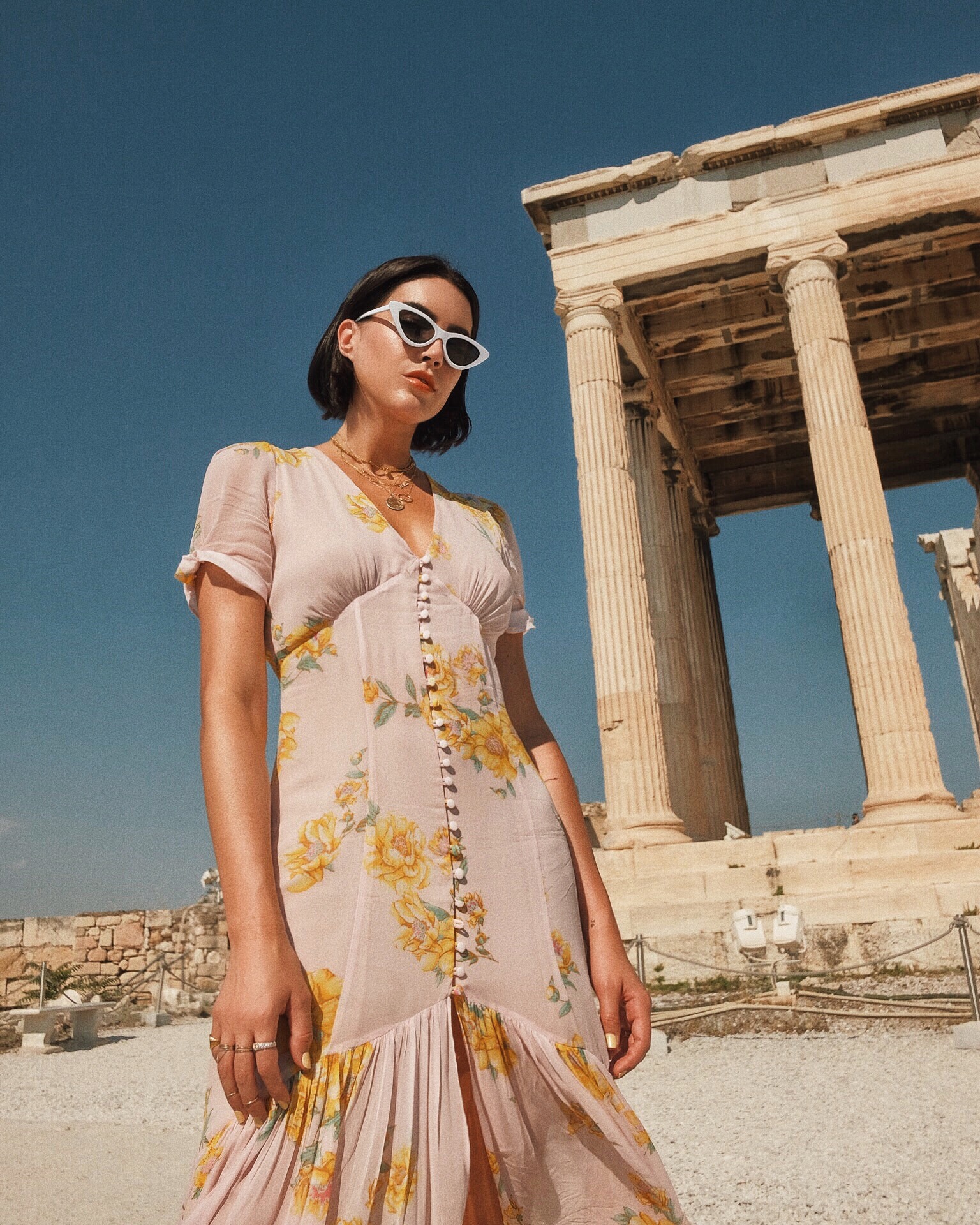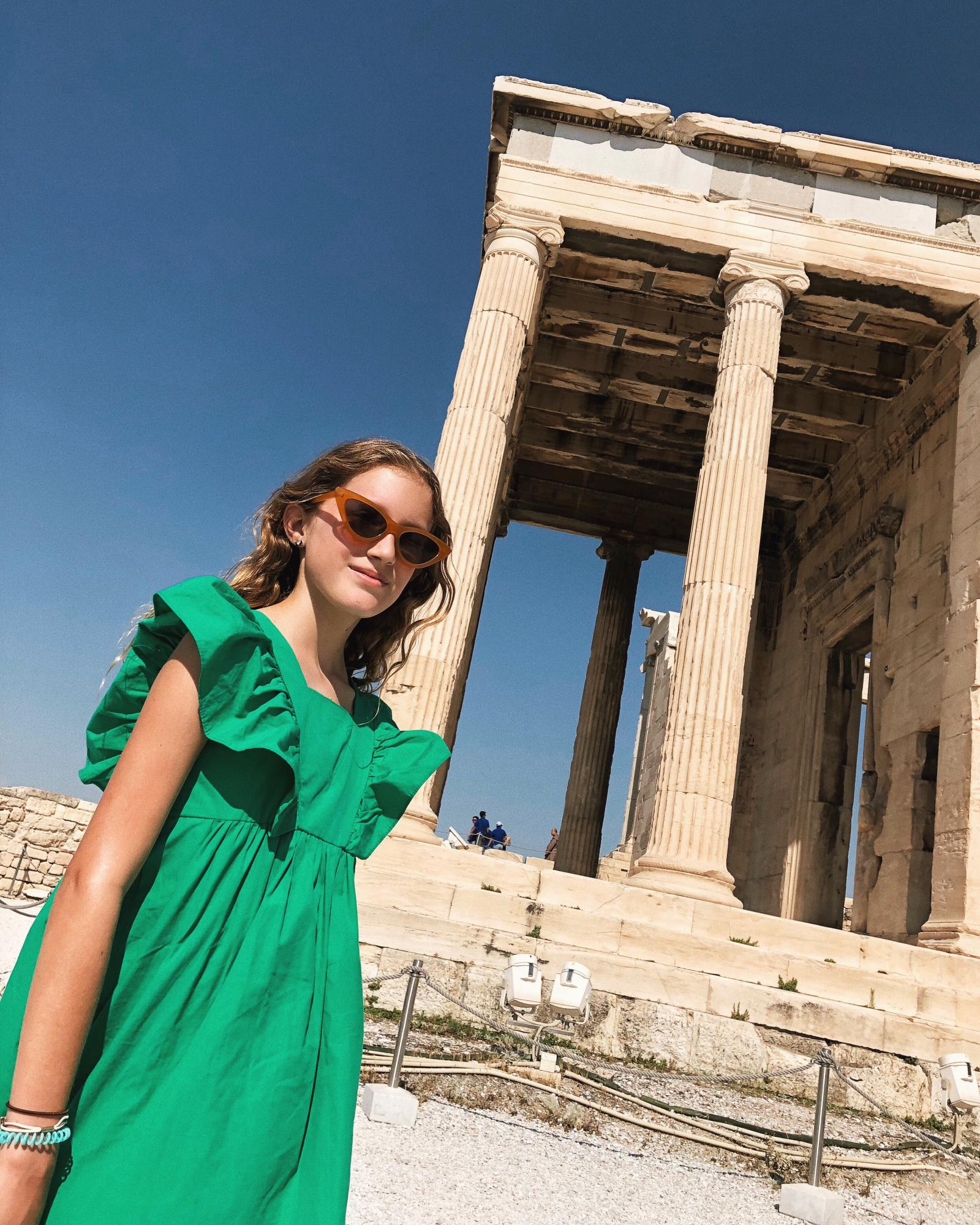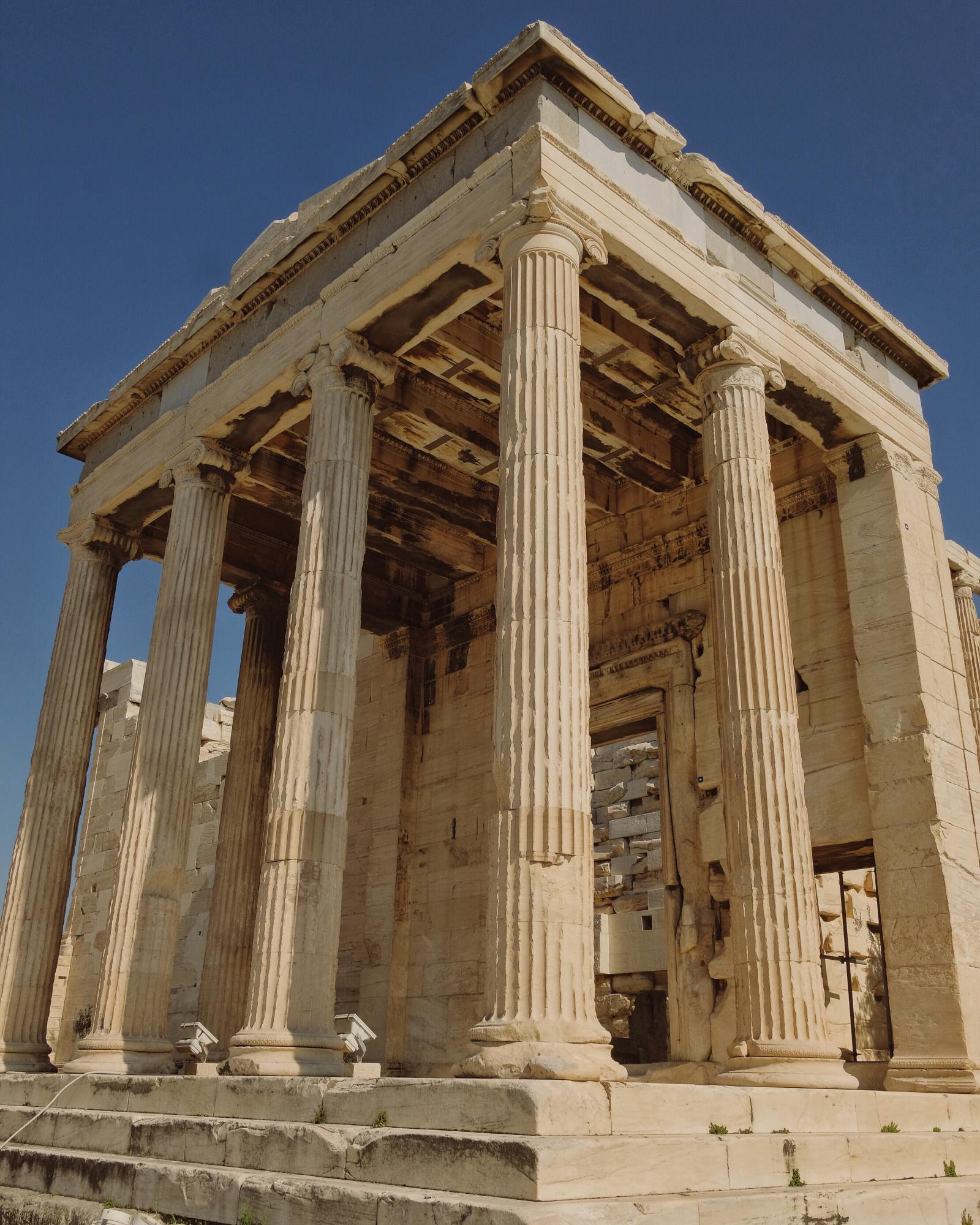 Another spot we toured was the Acropolis, which is an ancient citadel located above the city of Athens. I highly recommend visiting and the outing was well worth it. It was so crazy to walk on the ancient grounds and be surrounded by such beautiful architecture. I couldn't begin to imagine how it was built with such precision and calculation. The view of Athens is also breathtaking from the top! If you are planning to visit, I highly recommend going in the morning by 8:30 AM- otherwise it gets very crowded. We were also told 5:00 PM is a less busy time too! Make sure you wear shoes that aren't super slippery since the marble is very slippery, there were a few times we almost slipped. It was super hot when we visited in June, so April-May is ideal because it isn't as hot.
We also visited The Acropolis Museum which is an archaeological museum, it was so interesting and informative. I recommend doing the guided tour because you'll really learn about the history of the athenian acropolis and about athenian ancient history. The museum itself has all the pieces that you don't see at the Acropolis and original sculptures and finding of Parthenon. The museum was well worth it and it was also only 5 Euros to tour. We took a private tour of the Acropolis and the Acropolis Museum with an English speaking guide using ShoreTrips that I would also recommend because we learned so much more about the various locations rather than just walking through ourselves.
As you know, I'm obsessed with juices and acai bowls so I was so excited when we found Novagea Syntagma in Pláka. Everything is hand blended and SO fresh. Jadyn and I loved stopping there in the mornings. A fresh juice tasted amazing in the heat and I was so happy I could get my juice fix while in Athens.
Another restaurant we ate at in Pláka was Estrella Athens. It's one of the best spots in Athens to have brunch/dessert at. The menu has a wide variety of items, including avocado toast (my go-to!). We of course tried a variety of waffles and pancakes and they were all amazing, Jadyn was obsessed lol The restaurant itself is pretty modern, with small tables and fresh options.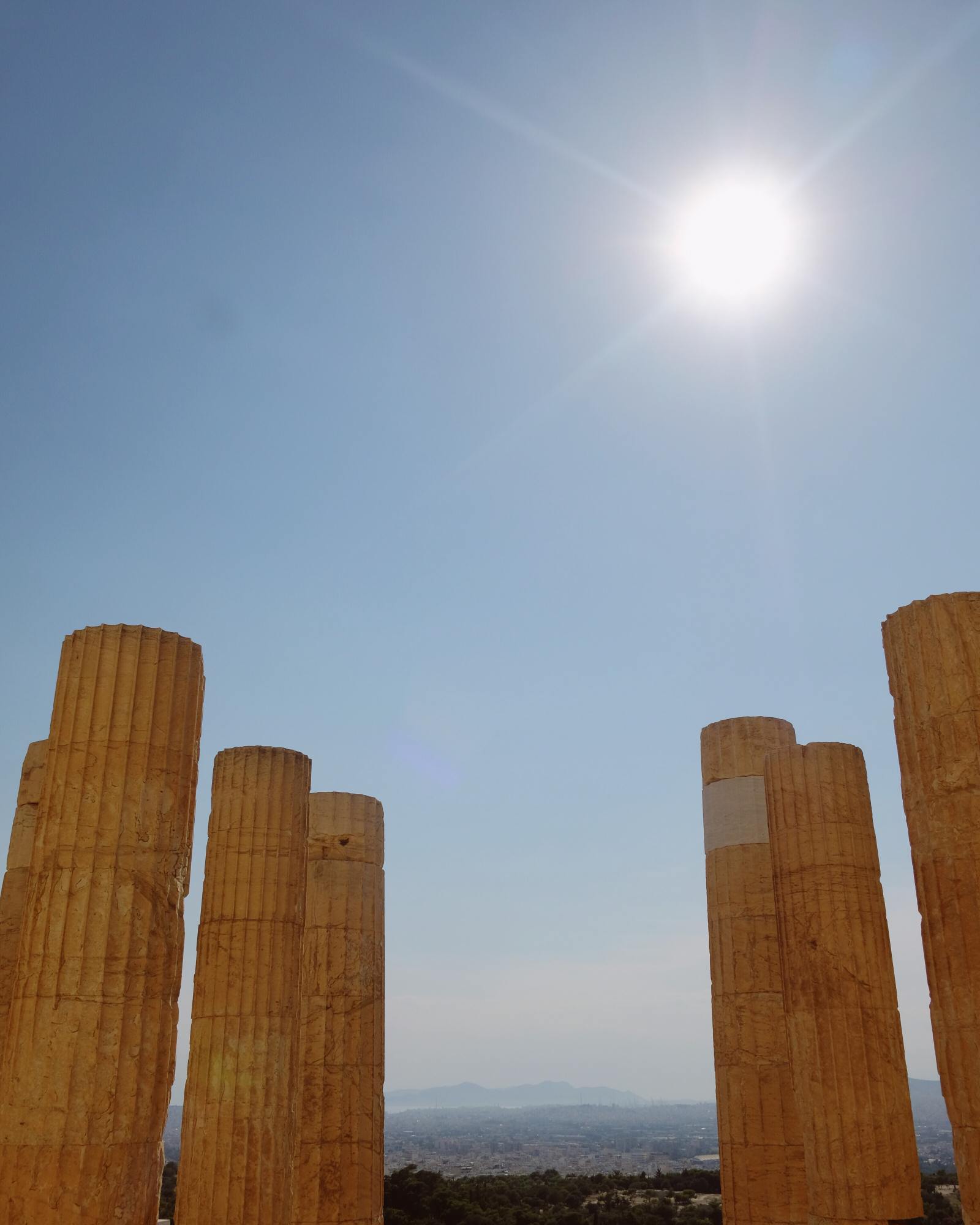 Top: ZARA (sold out, similar here) | Shorts: MANGO (sold out, similar here) | Sandals: LOUIS VUITTON
Athens is truly a magical city full of vibrant colors and incredible history, unfortunately we didn't have time to hit every incredible spot so here are a few places we didn't manage to check out but wish that we did!
The National Gardens– Located in the very center of the Greek capitol of Athens, this tranquil garden is a must see. Not only is the garden ridiculously beautiful and so large you could probably spend an entire day in it, but it is riddled with incredible political power as it sits directly behind the Greek parliament buildings. The Garden was created by Queen Amalia and like all beautiful Greek destinations is full of historic mythology and statues. Grab a picnic and head down to these stunning gardens to see and feel the history yourself!
Monastiraki Flea Market– The Monastiraki Flea Market is the place to go if you are looking to completely emerge yourself into Greek culture. This market is absolutely bustling with vendors, cafes, colors and locals! It is the perfect place to pick up some unusual Greek gifts to take back for keepsake or to give to your loved ones. This market is on every day of the week besides Sundays when the stores tend to close and the market turns more into a flea market. Somewhere to check out just for the crazy, unique experience!
GB Roof Garden– The GB Roof Garden redefines dinner with a view. Located at the very top of the stunning Hotel Grande Bretagne this restaurant will not only serve you outstanding food but also incredible views of the historic Acropolis, unique skyline and also the shimmering ocean. Perfect for breakfast or lunch but truly magical for dinner as you get to see the Greek nighttime skyline as the Acropolis shines down on the traditional city!
In case you missed it, check out my recap on Santorini and Mykonos as well!
xx Brittany