Lake Louise & Banff
We had such an amazing time a few weeks ago in Alberta Canada and today I'm sharing a bit more what we did each day (if you missed our outfits during the trip, check out my post on it HERE).
I also have my Snapchat videos compiled at the bottom of this post to give you guys a closer look into the trip.
Monday:
We flew in early to Calgary and had about a two hour drive to our first hotel, Fairmont Chateau Lake Louise. The view from our room was just breathtaking with the lake frozen over, just below the snow covered mountains.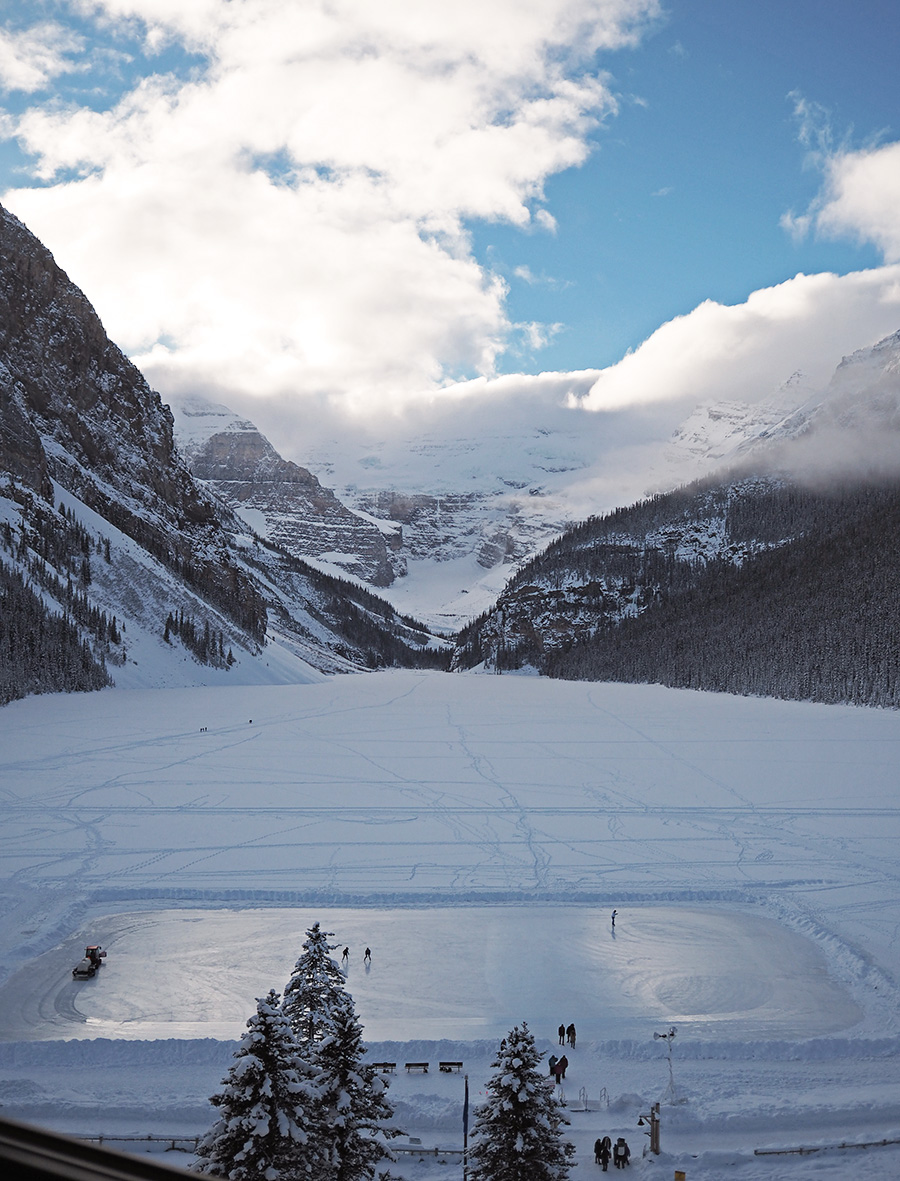 We had lunch at the hotel's Lakeview Lounge which was seated next to large windows so there was no shortage of snowy views! We then bundled up for a horse-drawn sleigh ride with hot cocoa. This was our first chance to see the trails on the outer parts of the lake and it was very serene, I've never been in that much fresh snow before.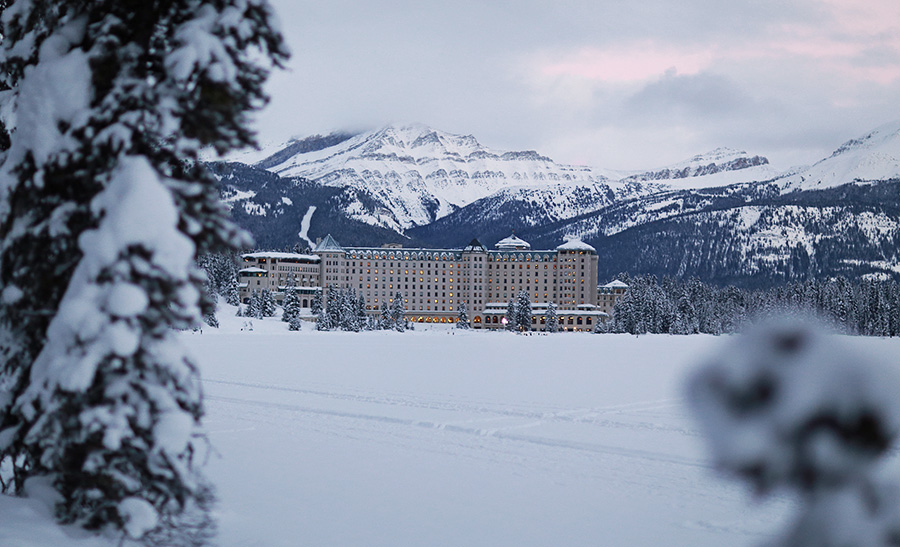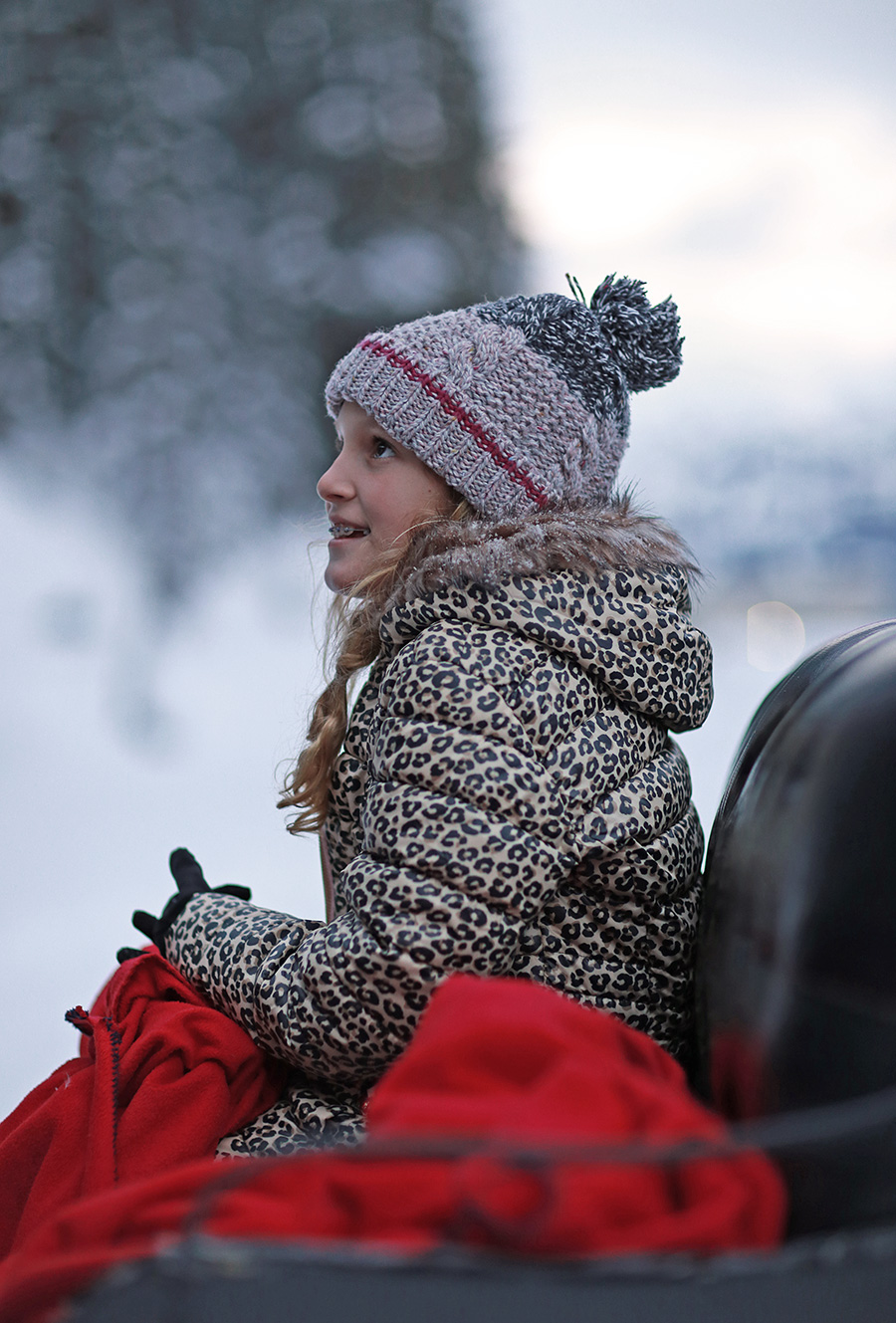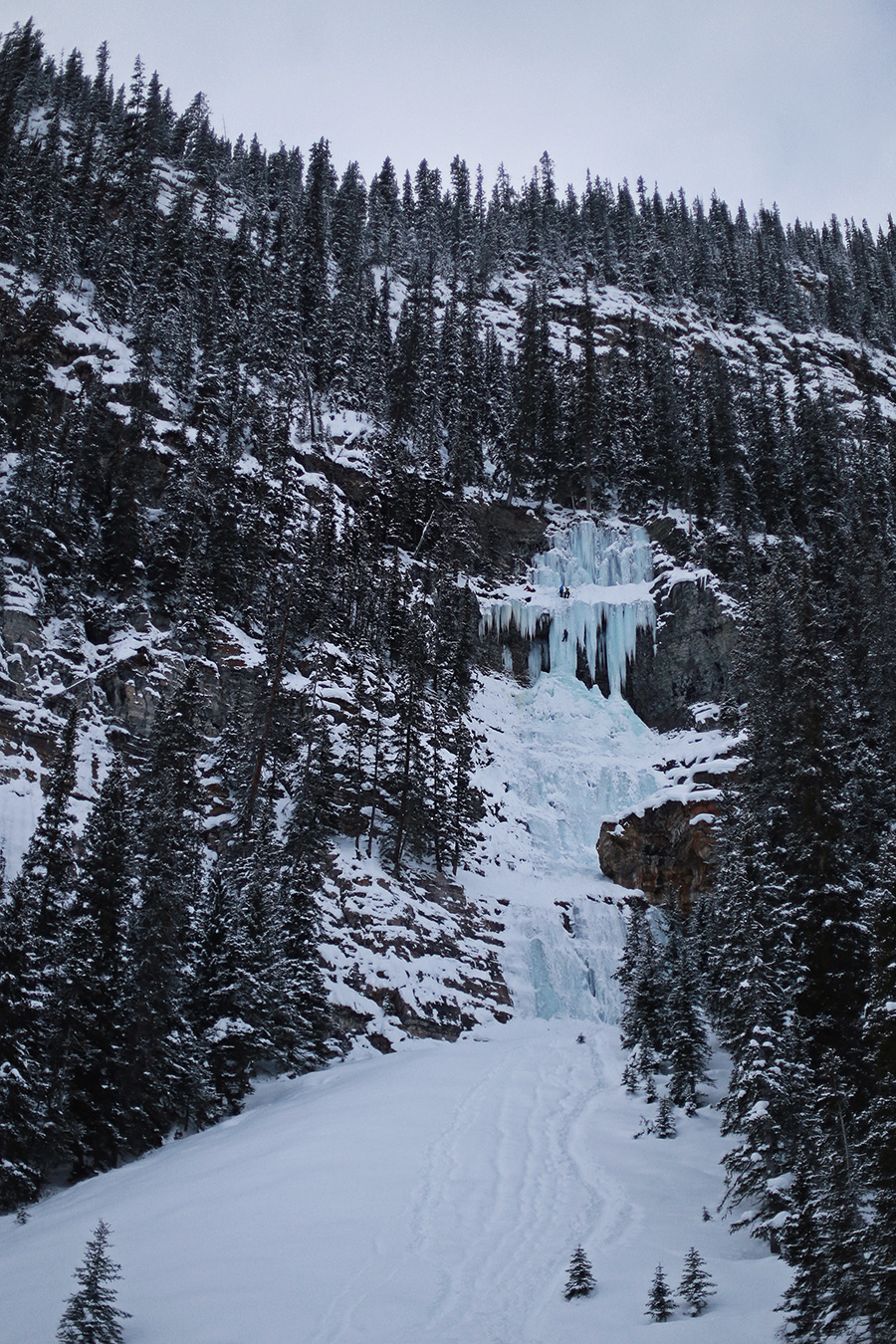 I went back to the hotel for a hot bath, one of the coolest things about Fairmont hotels is the use of Le Labo Rose 31 scent (which was created exclusively for the hotel chain) for the shampoo, conditioner, soap, and bath salt provided in our rooms, which made my bath extra nice!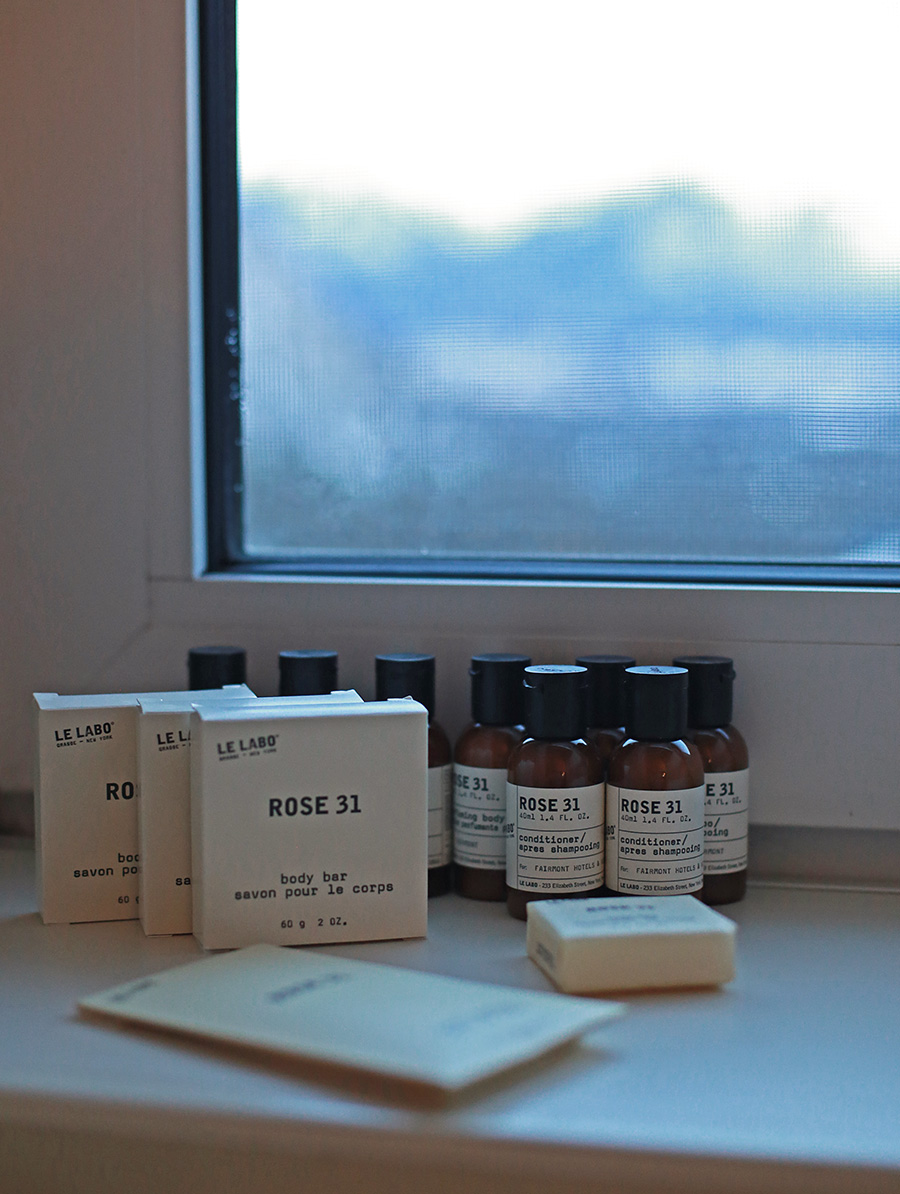 Later that evening we had dinner at The Wallister Stube for Swiss Fondue and ate sooo much- the cheese portion was too delish to stop. You may have noticed from my Snapchats that week that one of my favorite people (and fellow blogger) was there on the trip too with her hubby as well, Michelle Madsen.
Being in good company and sitting awhile at the table, we ended up eating more than our share plus made room for dessert. The restaurant was hidden a bit upstairs and made for a great evening setting with the dim lights.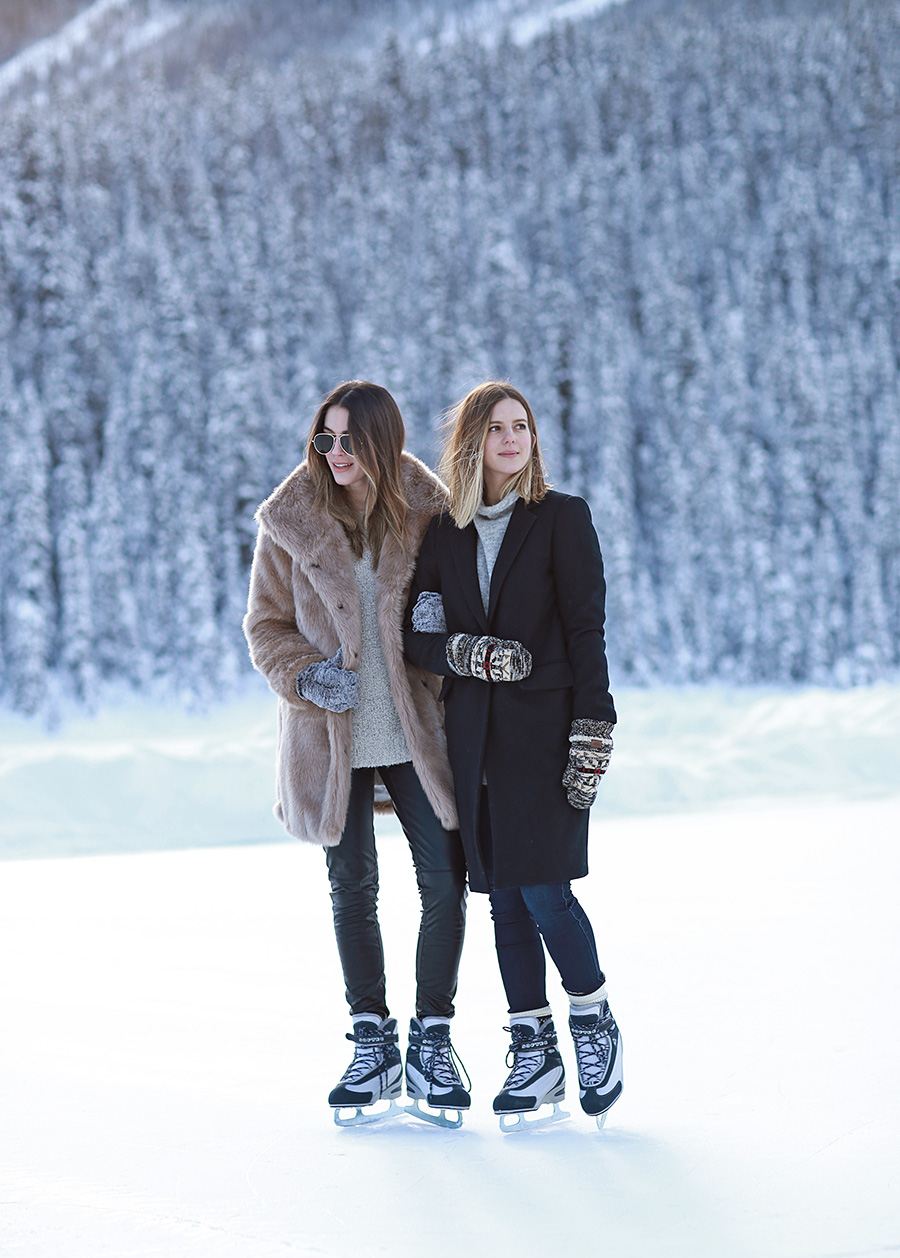 Tuesday:
We enjoyed breakfast at the Poppy Brasserie before being transferred to the Lake Louise Ski Resort. The gondola ride was so beautiful heading to the top of the mountain and freezing of course, but well worth it.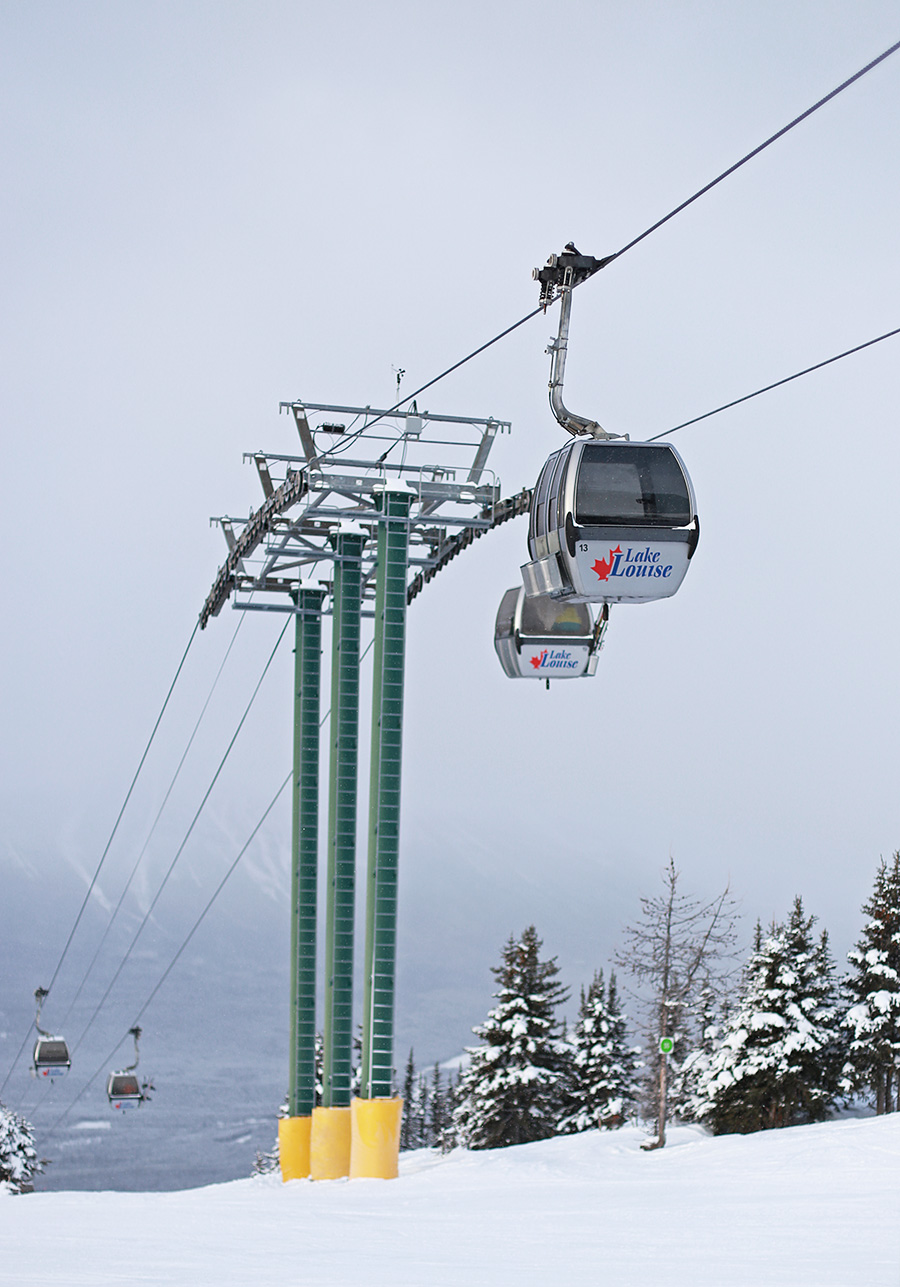 We hung out there for a bit just because the views were beyond breathtaking, at one point we were near the edge with just mountain tops all around us (and warning signs for avalanches).
Side note: My phone kept shutting off the first day from the cold temperatures and our guide told me to stick a toe warmer to the back of it to keep it functioning… I looked pretty ridiculous with it stuck to my phone all week but it worked so well and my phone never struggled the rest of the time. #insidertip 🙂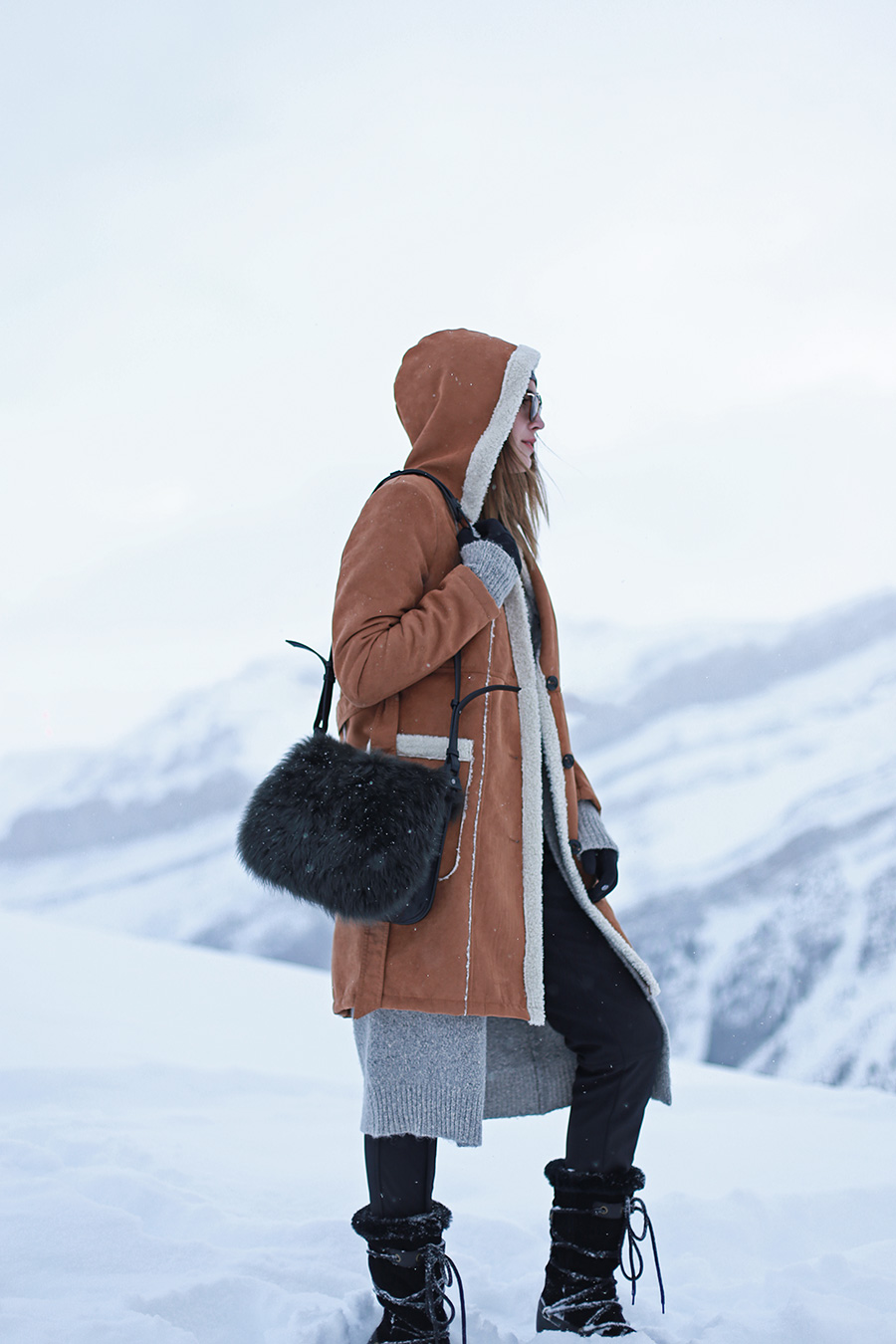 We had a sushi lunch at a brand new sushi restaurant in the ski lodge, Kuma Yama– very modern and not what I would expect to be at a mountain ski lodge… it felt like a place I would eat at in LA.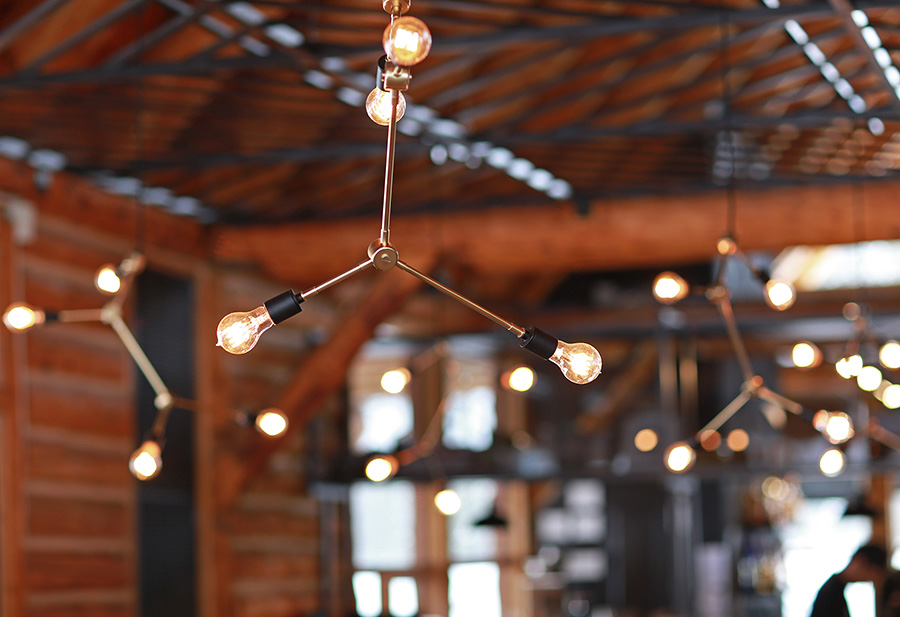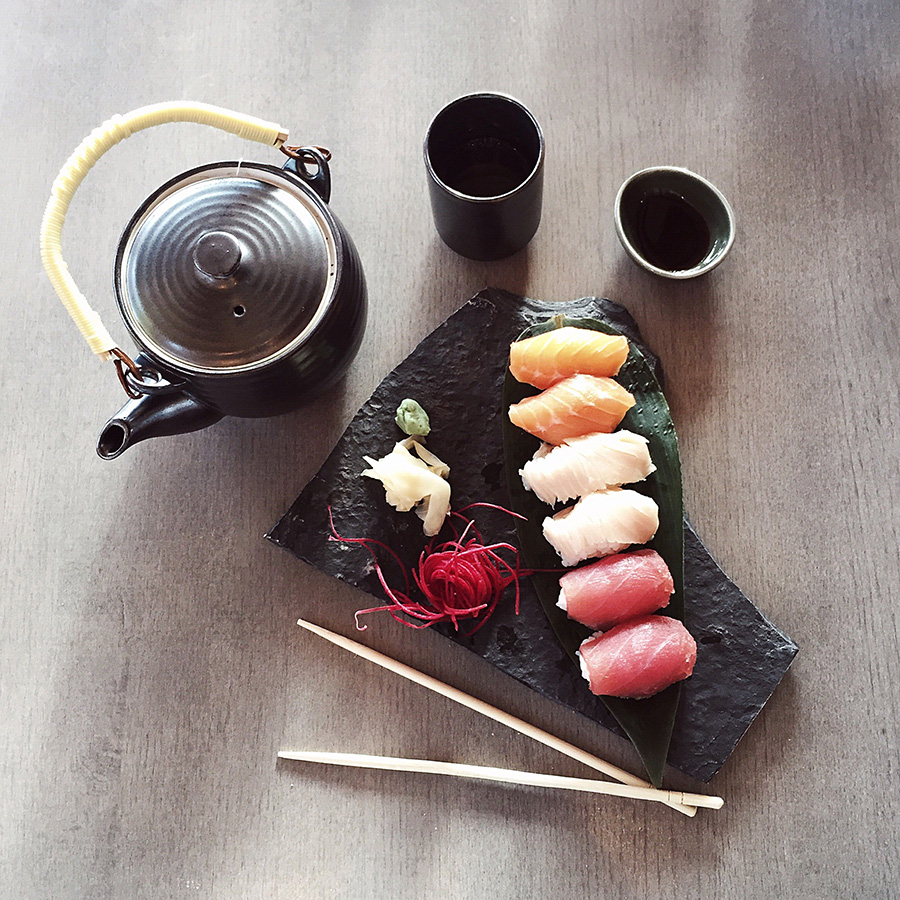 Later in the afternoon we went dog sledding and this was maybe one of my favorite activities of the trip (although it's hard to choose). The dogs couldn't wait to run and right when we got loaded into the sled they were barking like crazy just so excited to take off.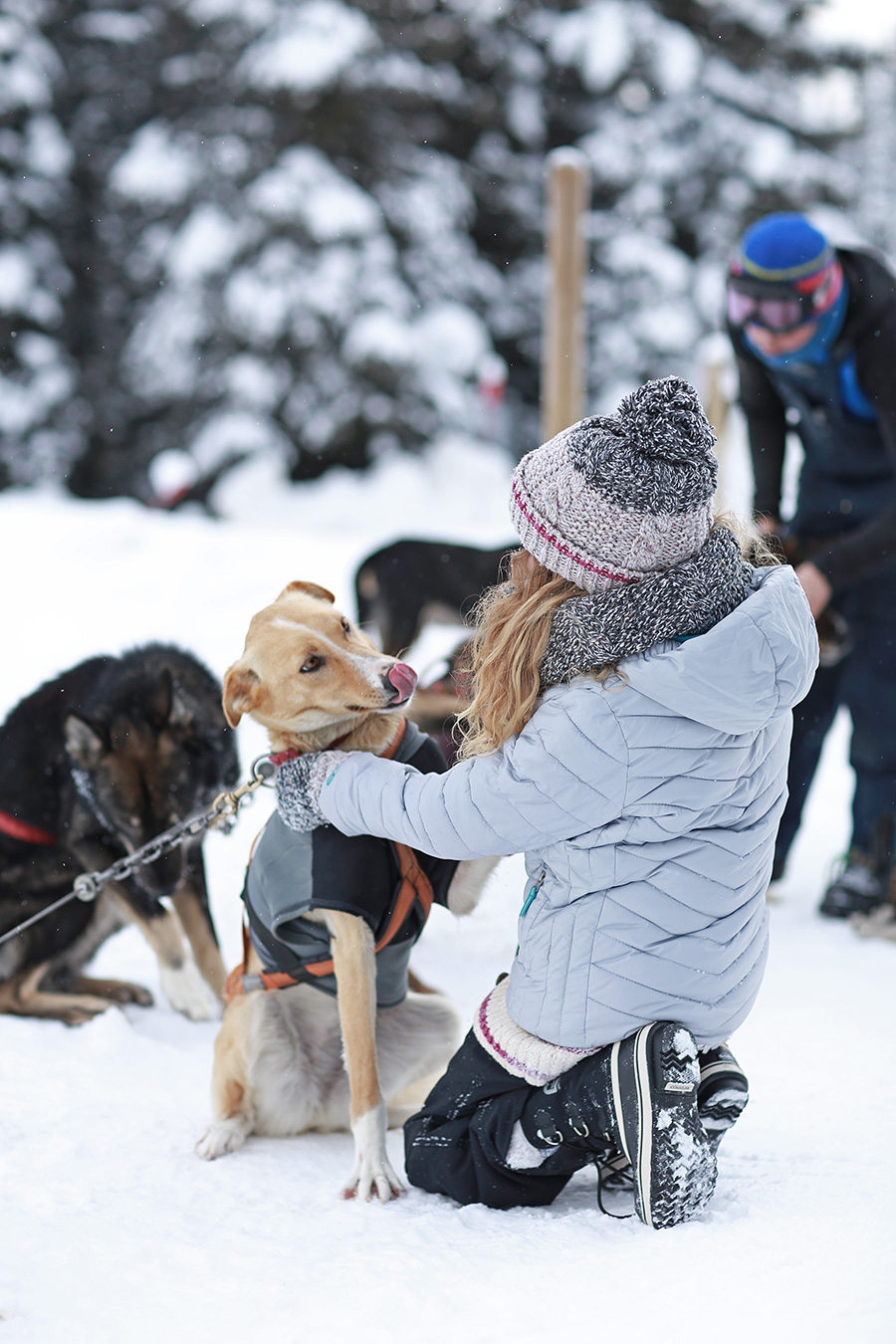 Once we got moving, they were dead silent and it was the most peaceful experience… felt a bit like Narnia going through the trails (not that I've actually been to Narnia, but you get the point). Jadyn actually fell asleep at one point and I started freaking out because I wasn't sure if she passed out from the cold, she was like "Mom chill, I was taking a nap." It was definitely relaxing, but I kept her awake for the remainder of the ride nonetheless! lol. We sledded to the Great Divide and got out to stretch our feet and to try to get the blood moving- again the dogs were barking like crazy because they wanted to keep going. Definitely recommend this experience!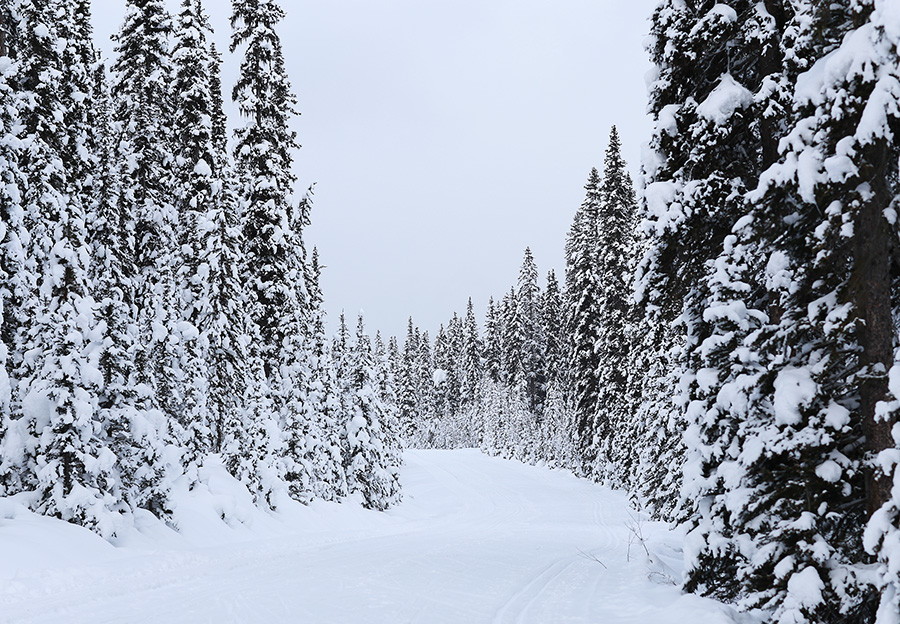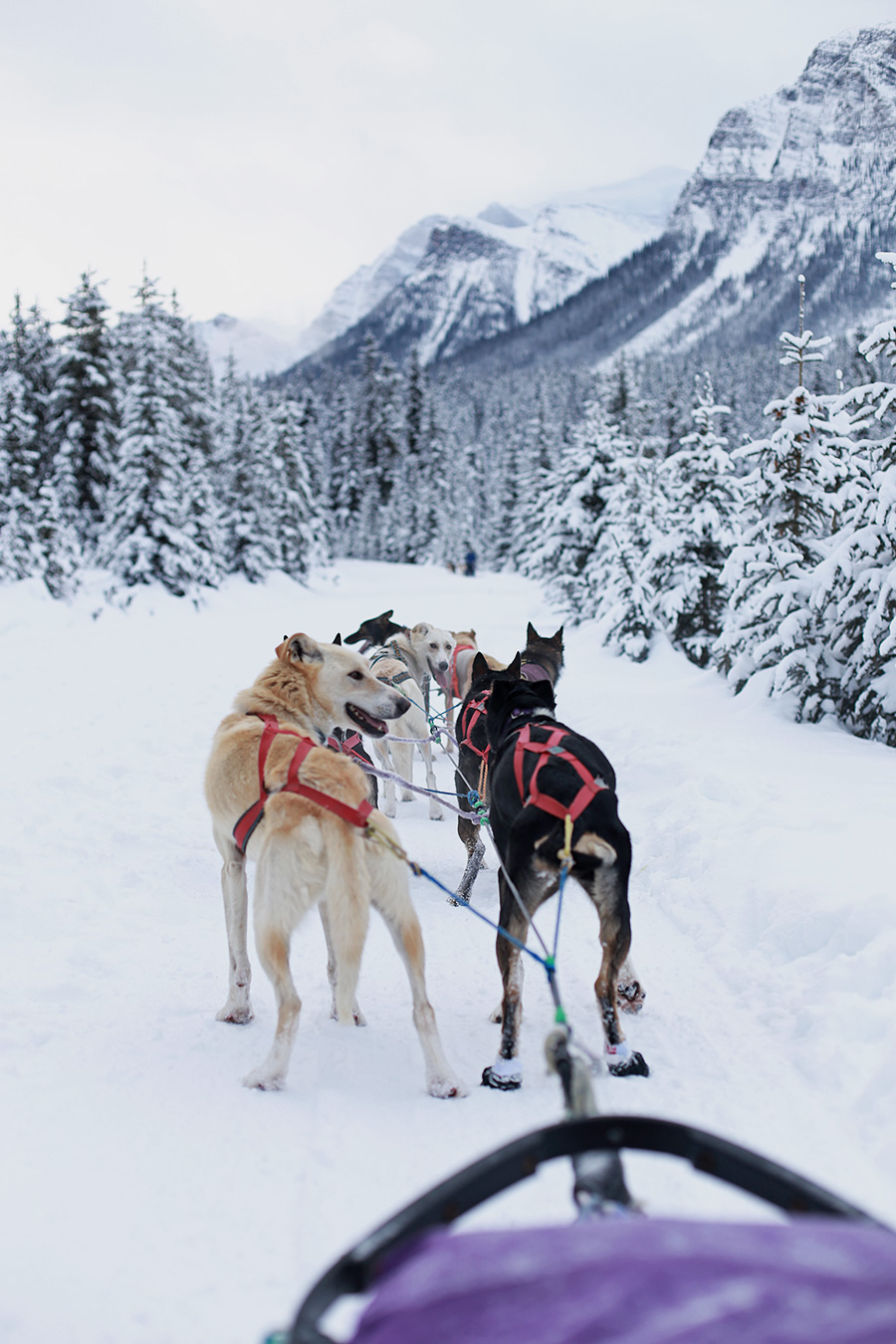 That evening we had pre-dinner cocktails at the Ice Bar right by the lake, everything was made of ice- even the seats, very cool! (literally).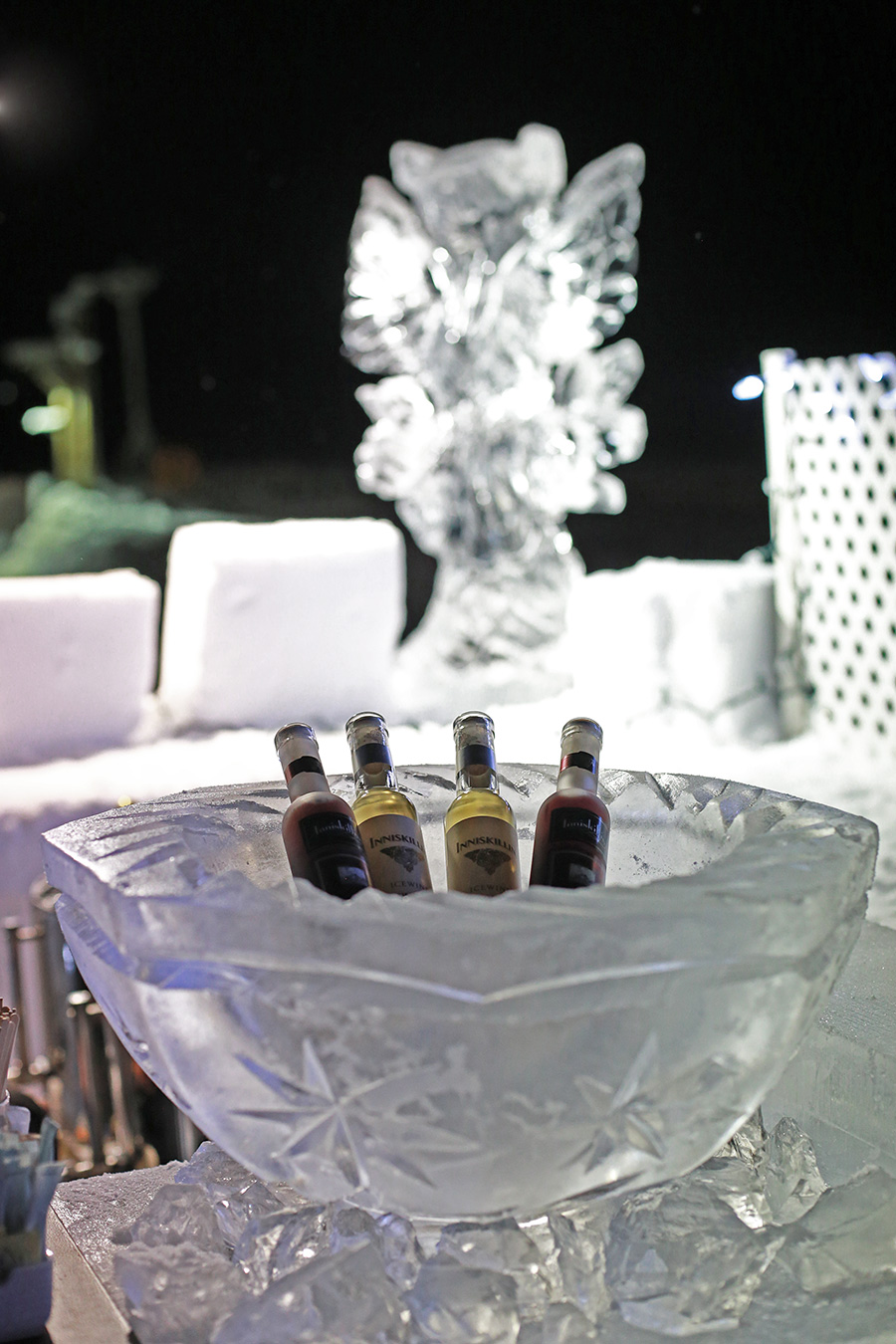 After, we enjoyed dinner at the Glacier Saloon and by that time everyone was pretty tired from a fun day… but wait there's morrrre! Anthony and Jadyn wanted to go midnight skating on the lake so I mustered up some energy and was really glad I did. By far Lake Louise is the best ice skating I've experienced, the stars were so bright, we were the only ones out there and it was pitch black. LOL at one point Anthony fell and I could just hear him rolling around on the ice! Such a fun night.
Wednesday:
We woke up early that day to get a tour of the property with our guide and took time to enjoy ice skating during the day before leaving for our next hotel, Fairmont Banff Springs.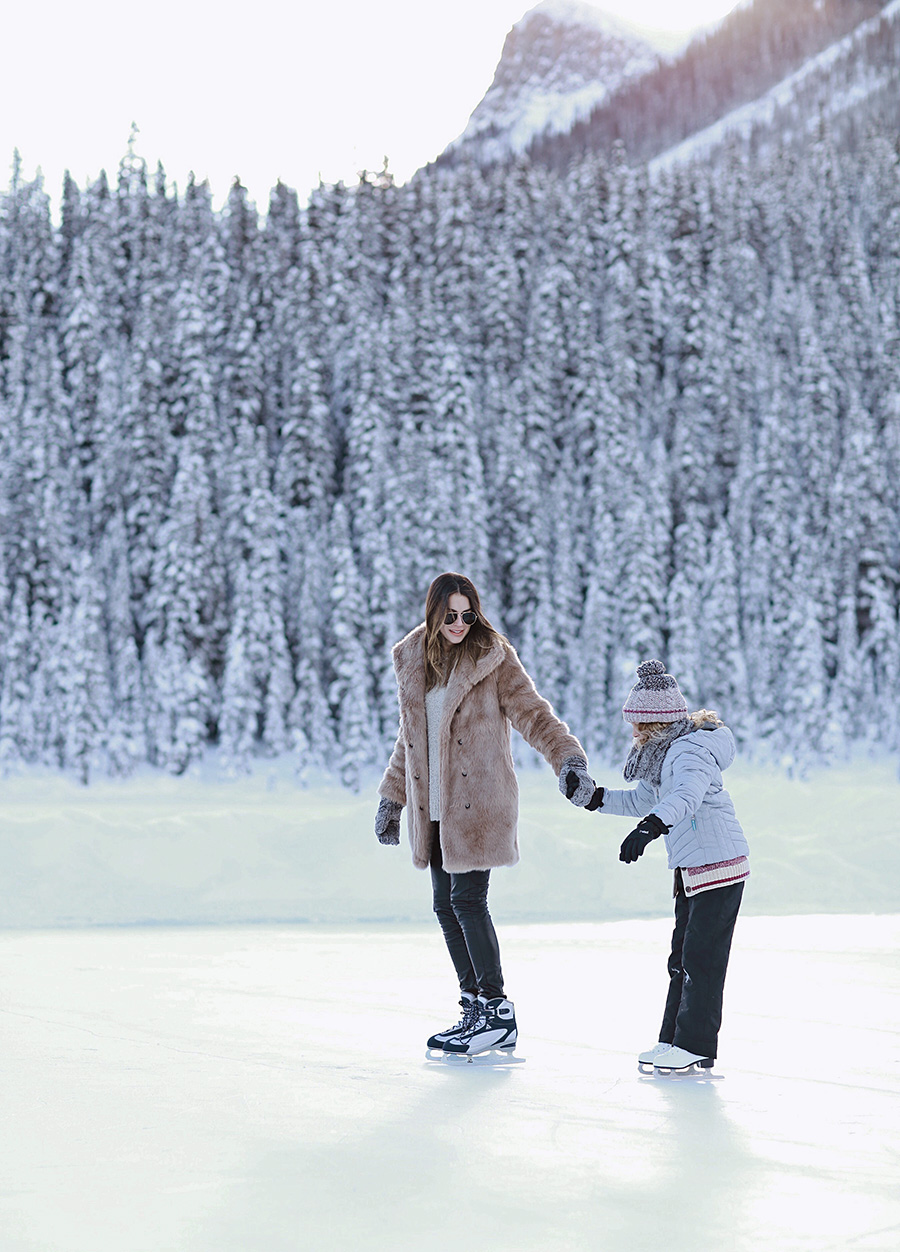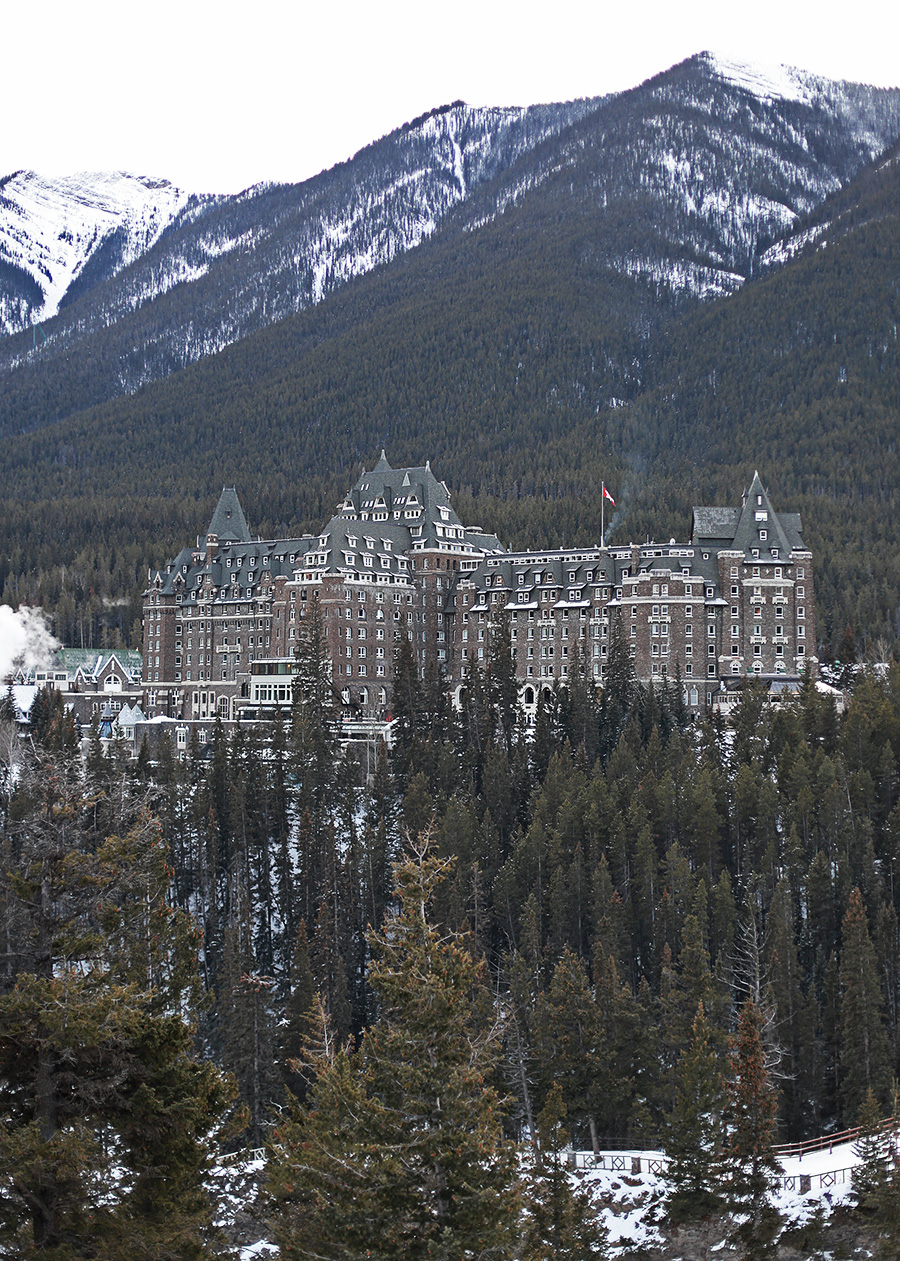 The hotel is nicknamed "Castle in the Rockies" and the whole vibe felt like were were in a castle inside and out, it was truly gorgeous.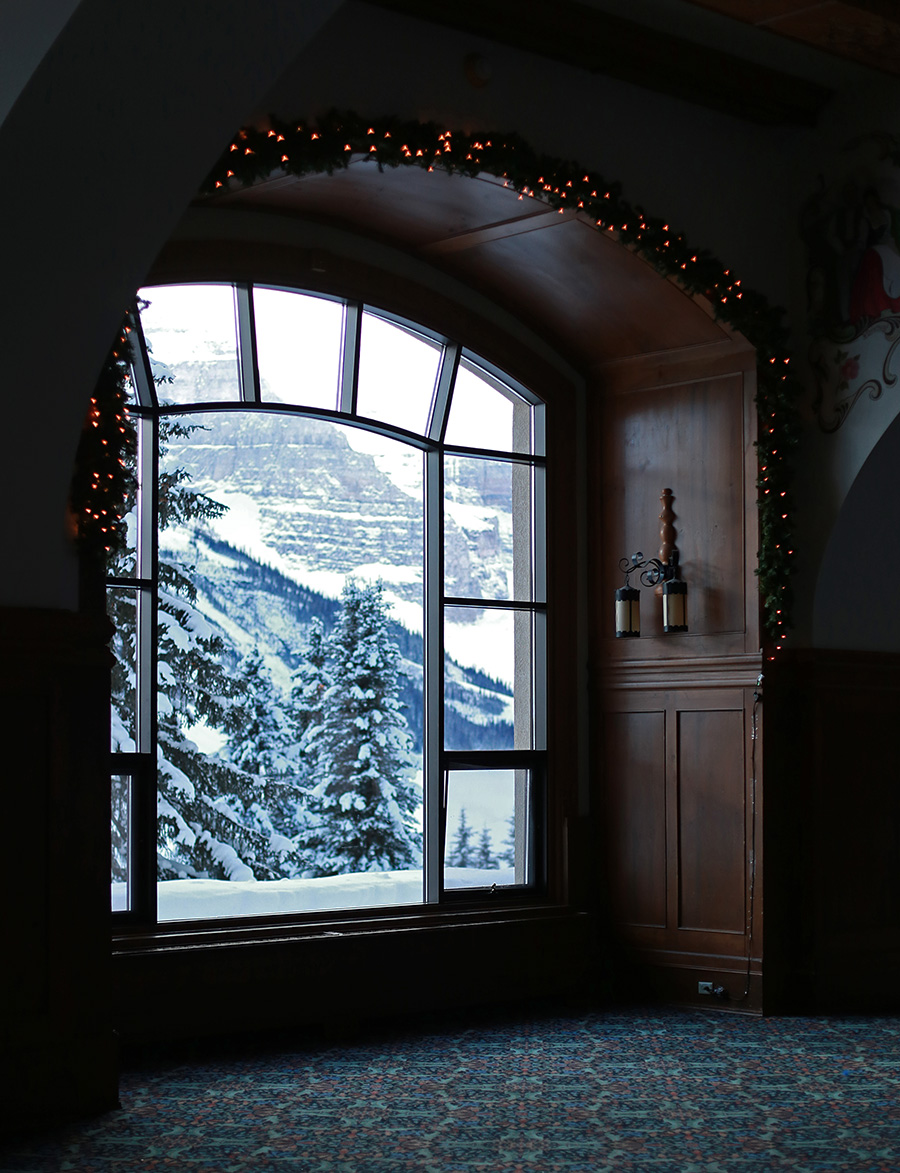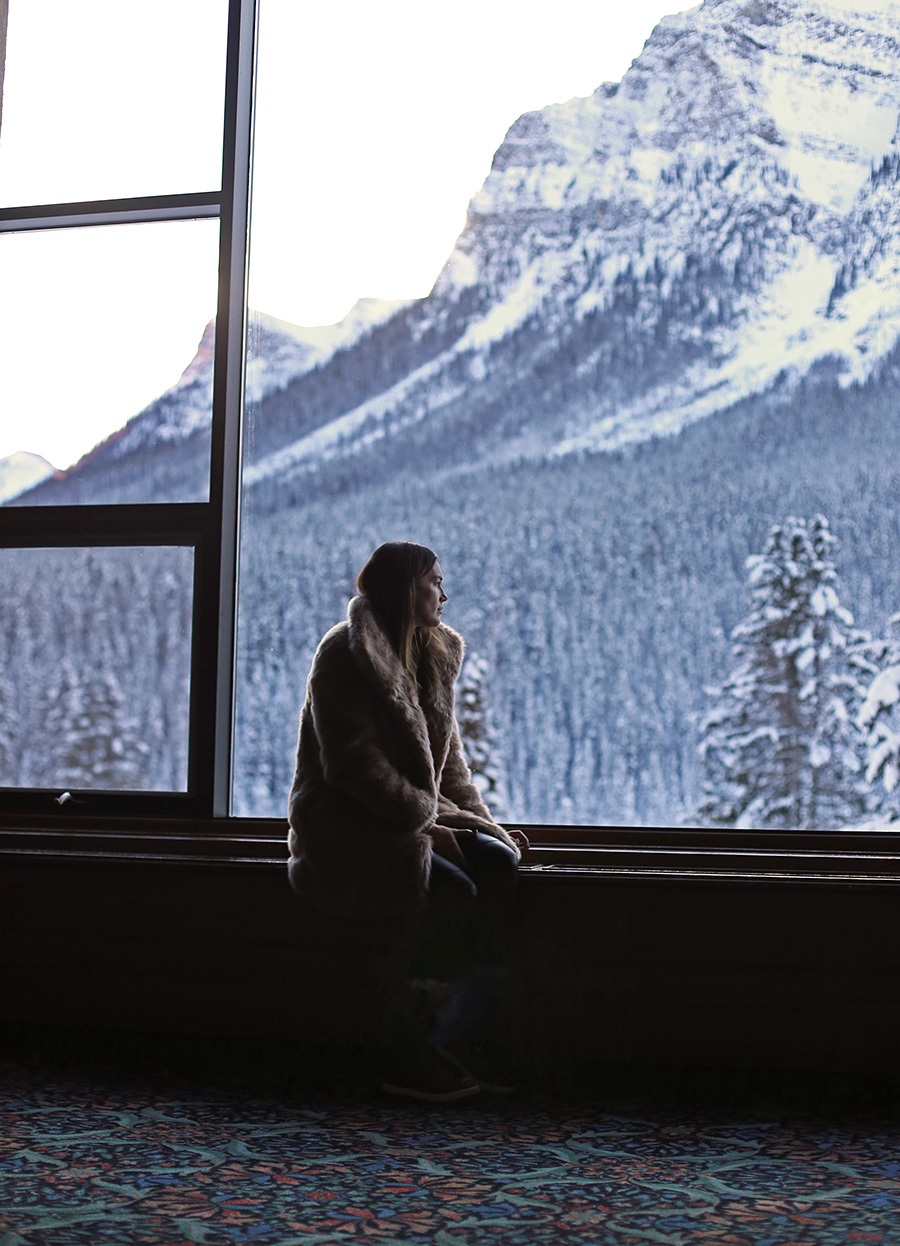 We headed for a bonfire and s'mores at Waldhaus Pub and Patio and there was a great hill nearby for sledding, which was probably the funniest part of the day because there was a little "snow ramp" built so Anthony and Jadyn kept trying to get air off it, pretty entertaining.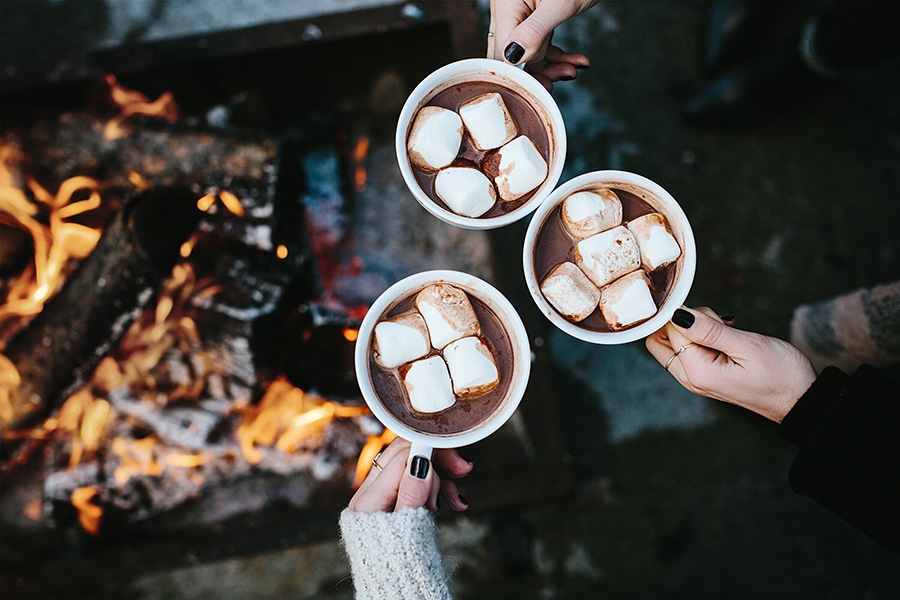 Thursday:
This day we knew we were going to be colder than ever… we were headed to Sunshine Village for a snowshoeing adventure. After the gondola and ski lift ride, we were literally above the clouds with fresh powder all around, so peaceful.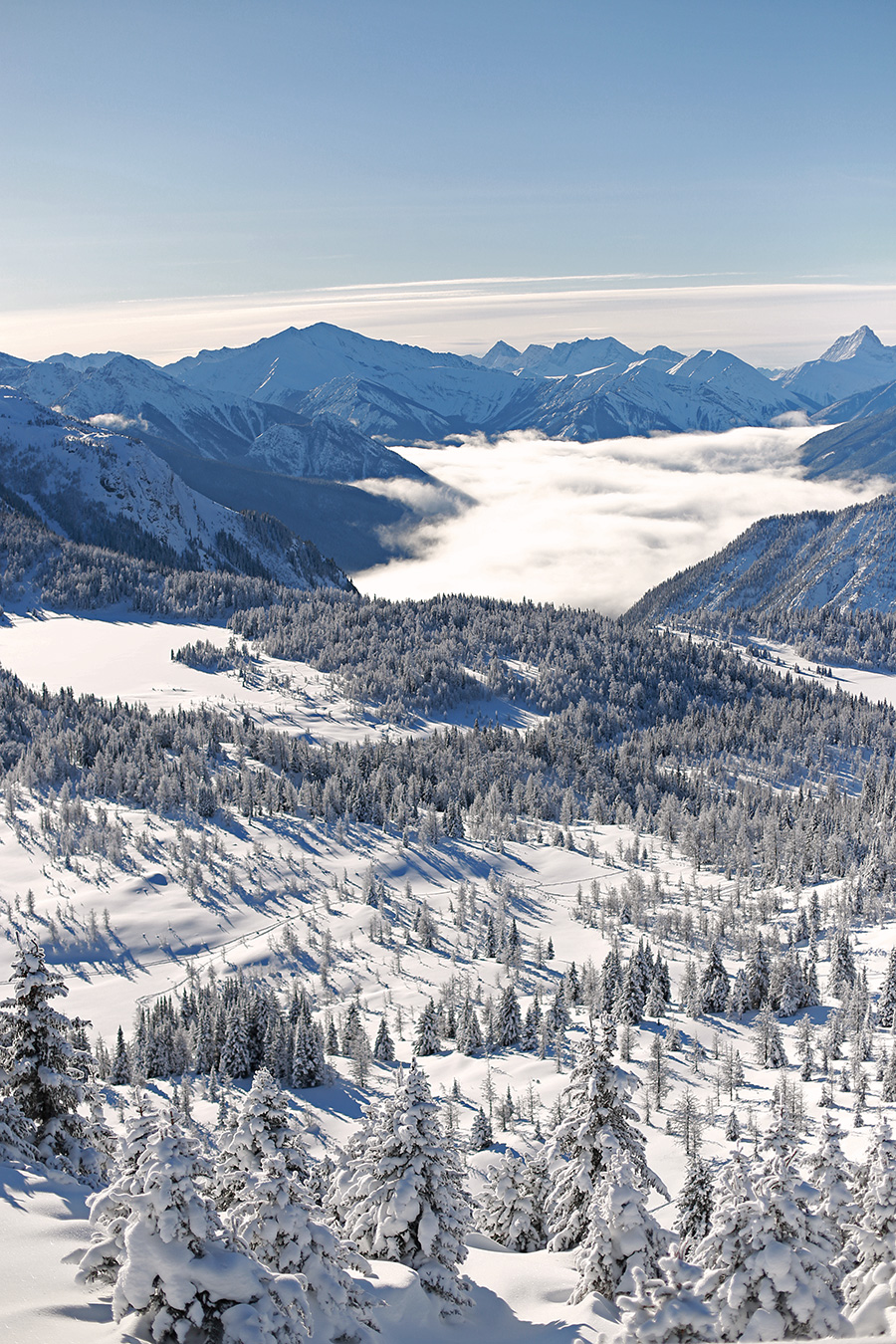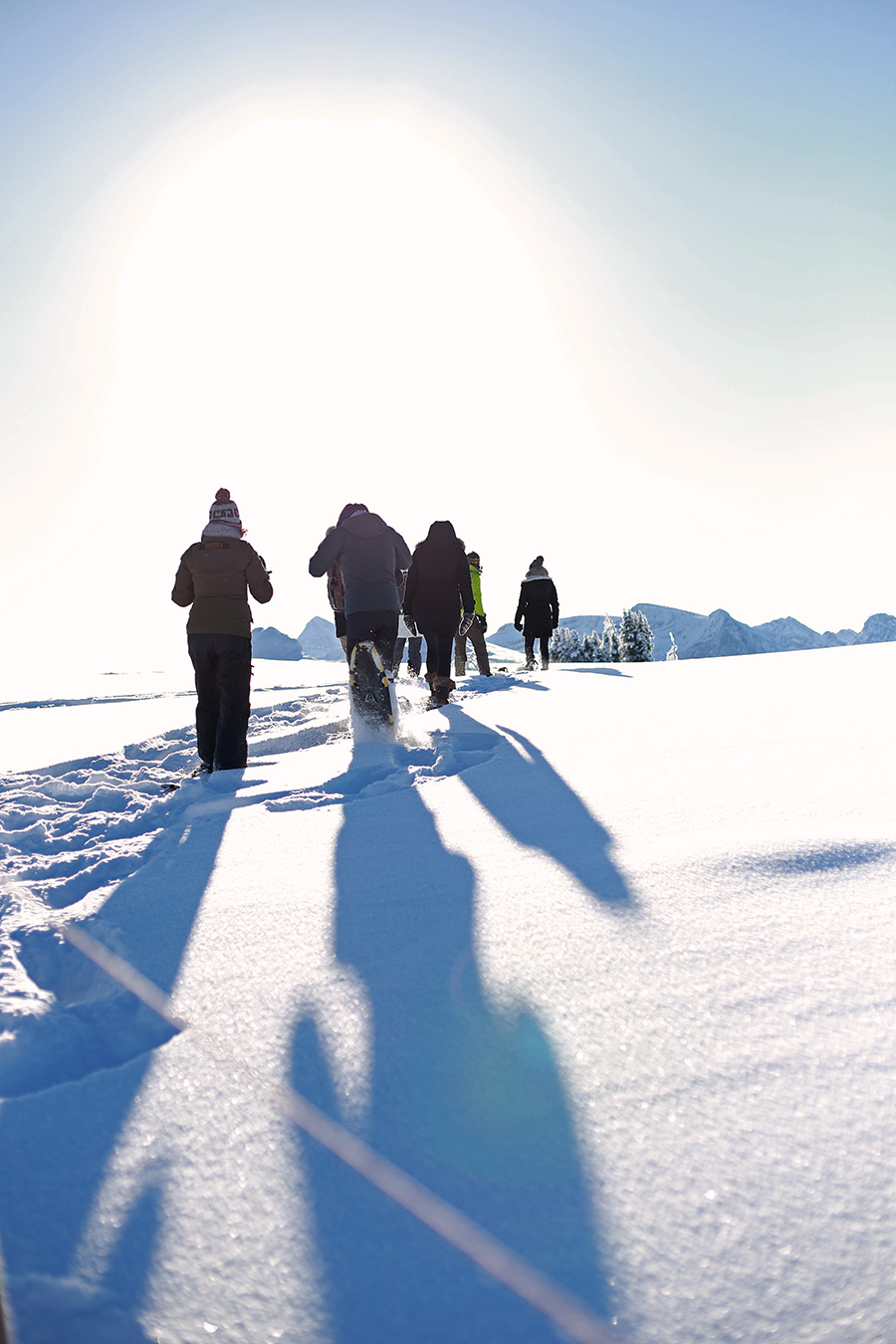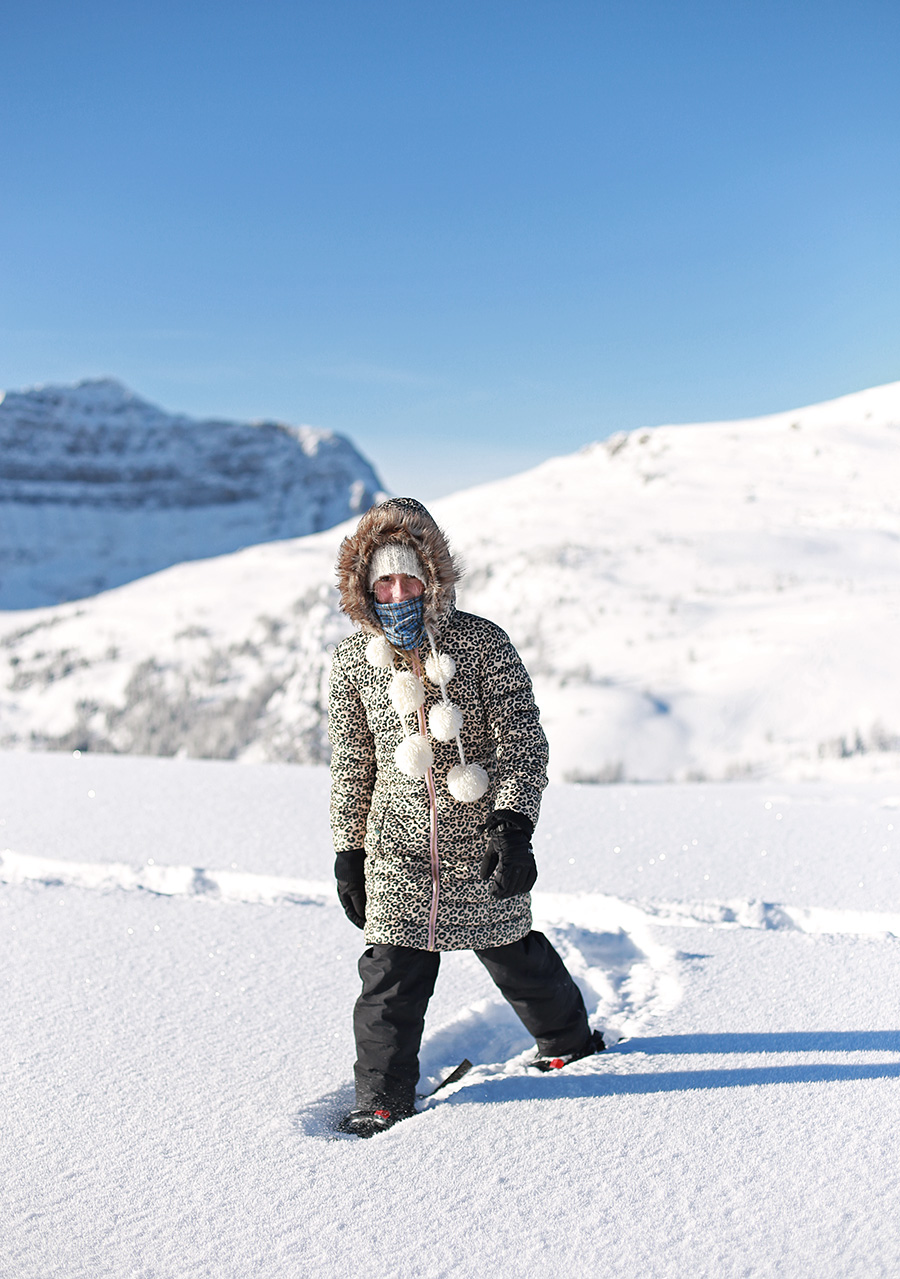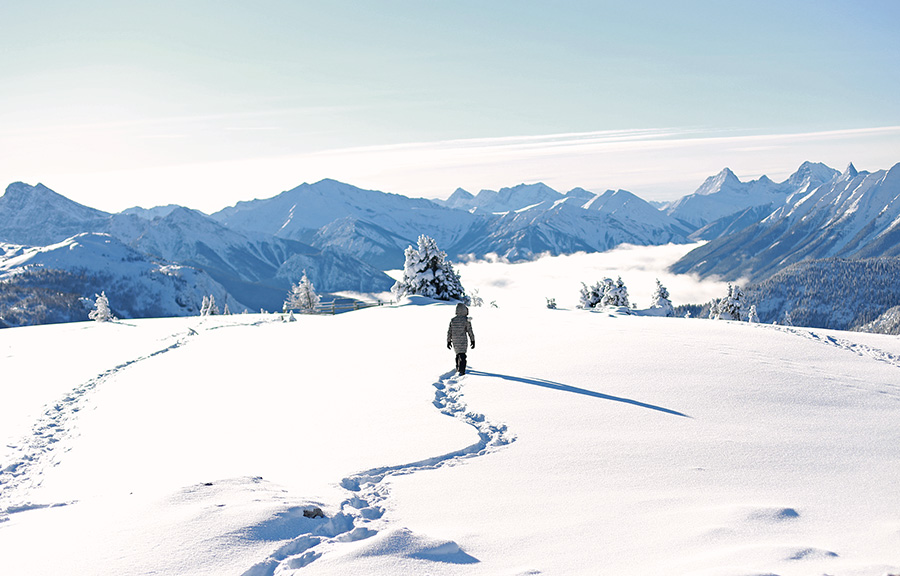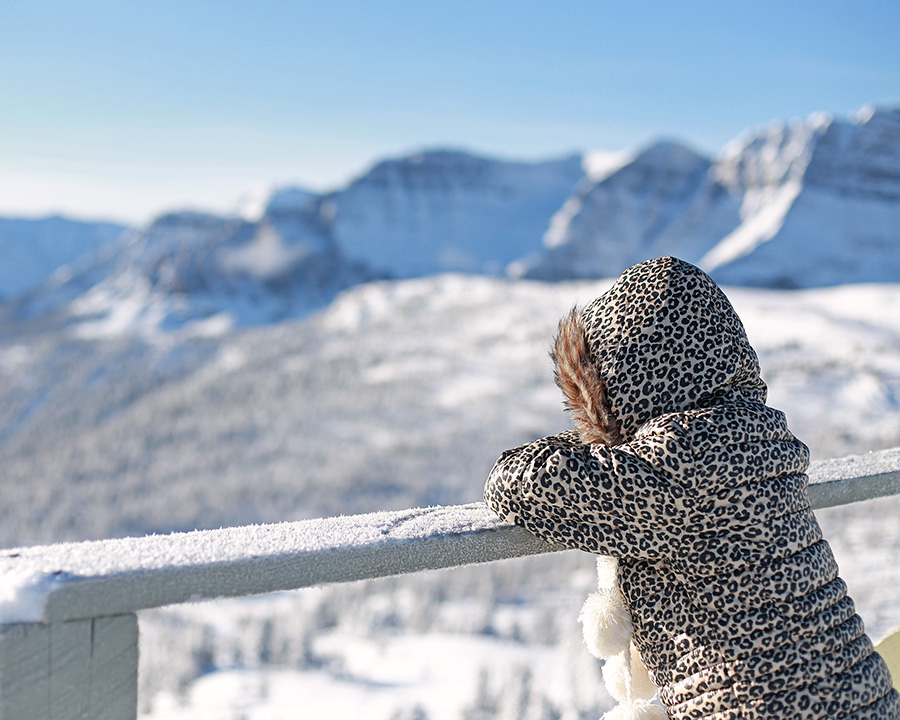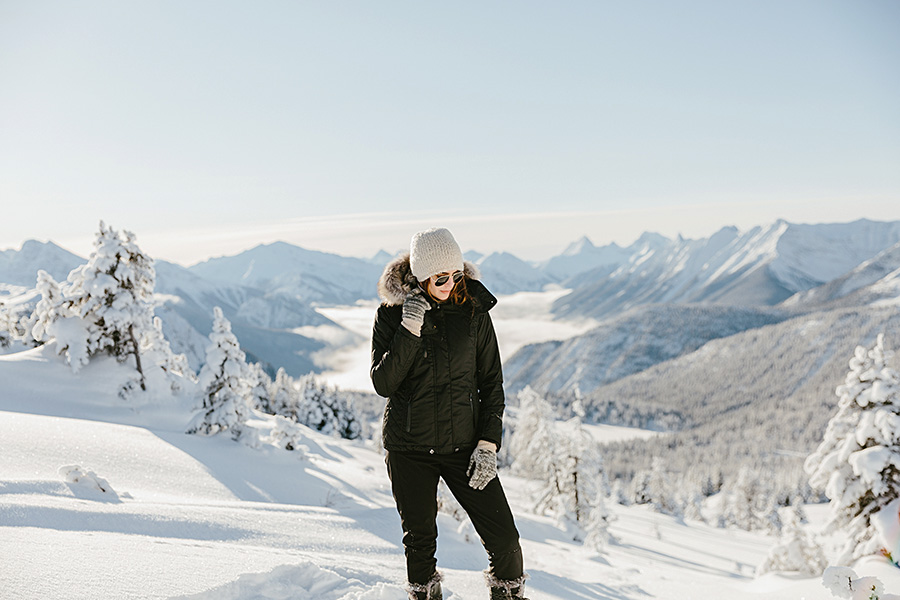 After we trekked around in the snow for a bit we made our way back down the lift to the Chimney Corner at the Sunshine Mountain Lodge to enjoy a warm mug of German mulled wine (see my snap story below for how the sugar was burning on top, I need to learn how to make that at home).
For lunch we drove into the cute downtown area of Banff and ate at Park Distillery, the food (and drinks) were on point.
Later for dinner we headed to 1888 Chophouse in the hotel for the most amazing meal with Michelle and Tyler and it was our last night of hanging out before we flew back home the next day… a great way to end our trip!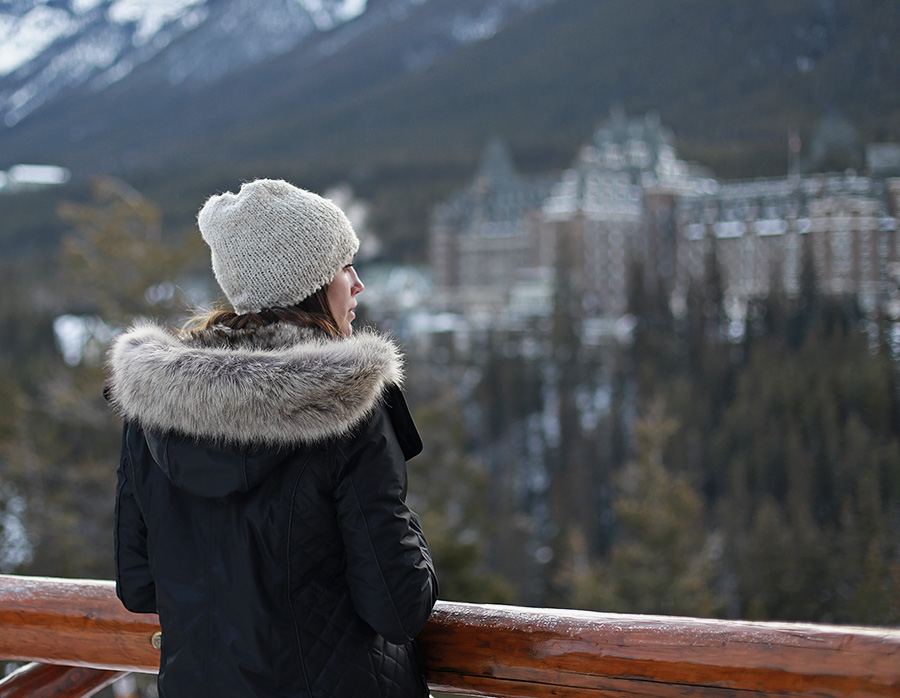 Overall we had a great time experiencing a true winter wonderland, it really got us in the spirit of the season! We may need to make a visit to Banff during the summer as well… I hear the lake is turquoise.
A special thank you to Banff Lake Louise Tourism, Fairmont Chateau Lake Louise, Fairmont Banff Springs and Roots Canada for hosting such an amazing trip!
Check out the video of our trip below and make sure to follow me on Snapchat for future adventures (username: thriftsnthreads)! 🙂